Top 10 Things to Do in Hiroshima
Hiroshima is a vibrant metropolis that refuses to be defined by the tragic events in its past. Often overlooked by first-time visitors in favor of more famous destinations such as Tokyo and Kyoto, the city has a lot to offer tourists and is well worth including on your itinerary.

To get you inspired, here are our top suggestions of things to do:
Learn About the Past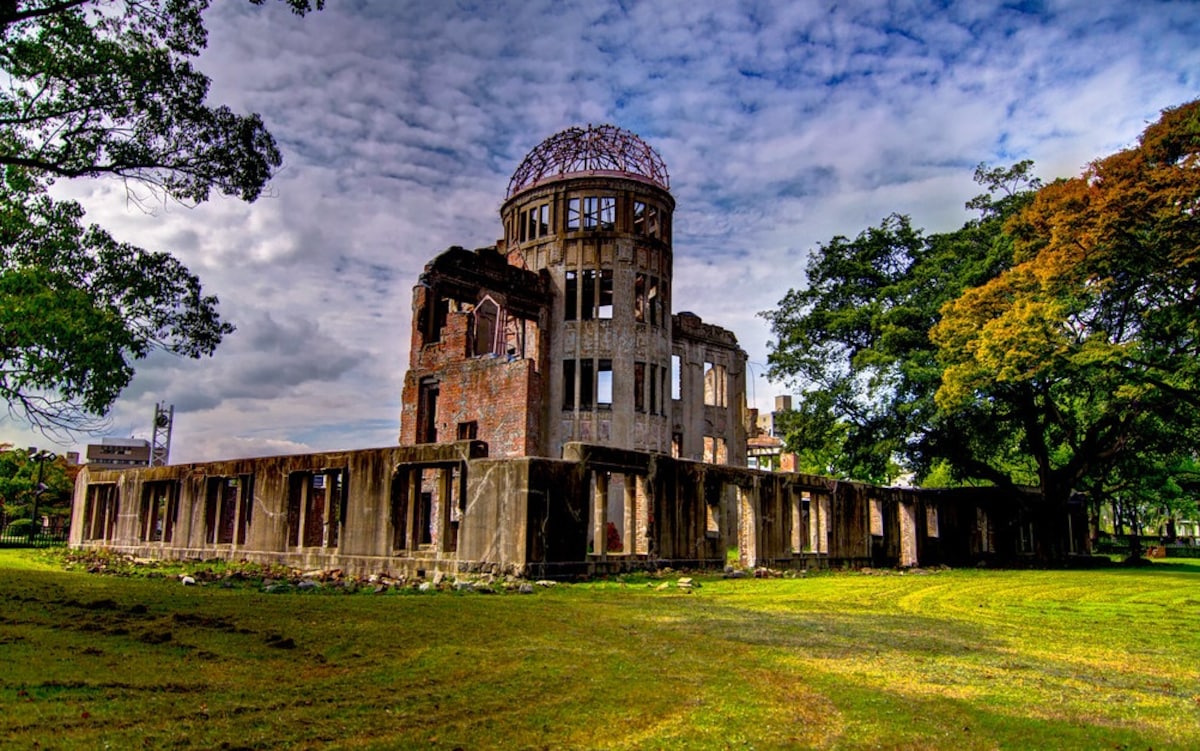 While Hiroshima has plenty of other reasons to be on your radar, it is perhaps best known as the first victim of the atomic bomb. Though a dark part of our shared history, the city does not try to ignore its past. As expected, several of its major landmarks are linked with the events of 1945. The most striking of these is the Atomic Bomb Dome, whose haunting skeletal husk has been left un-repaired as both a memorial and a stark reminder of the horrors of warfare. Nearby you'll find the Peace Memorial Museum, which—although harrowing—has to be visited in order to truly appreciate not only what the city went through, but how amazing its recovery has been.
Wander Through the Peace Park
The Peace Museum sits within the Peace Memorial Park, a pleasant expanse of greenery dotted with numerous commemorative features for the over 140,000 people who died as a result of the atomic bomb. These monuments include the Cenotaph—an arched tomb engraved with thousands of names—and the Peace Flame, which will be kept alight until the world is free of nuclear weapons. One of the most poignant memorials is the Children's Peace Monument. Dedicated to a young girl named Sadako Sasaki who died of leukemia as a result of the radiation, it displays some of the approximately 10 million folded origami cranes that are still sent in every year, from all over Japan, as a prayer for peace.
Be Awed by Hiroshima Castle
Hiroshima originally developed as a castle town, and although the current structure is a reconstruction, it still makes for an impressive sight! Affectionately known as "Carp Castle," the interior of the main tower has been transformed into a museum about its history. This includes displays of armor and weapons belonging to its former lords, and it's a fascinating place for anyone interested in samurai or Japanese history more generally. When you've had your fill of the exhibits, you can also enjoy sweeping views out over the city from the observation deck at the very top.
Chill Out in Shukkeien Garden
Aptly translated as the "Garden of Shrunken Scenery," Shukkeien is a picturesque tableau of different landscapes recreated in miniature form. Each season brings with it particular highlights to enjoy, whether it's cherry blossoms in the spring, vivid fall foliage, or a dusting of snow in the winter. Special events are held throughout the year, and it's also possible to attend tea ceremonies here. Follow the designated path around the central pond and through the various meticulously cultivated sections to make sure you don't miss anything.
Eat Okonomiyaki!
As with so many cities in Japan, no visit is complete without trying the local cuisine. For Hiroshima, that means Hiroshima-style okonomiyaki. This is a savory type of pancake made from pretty much anything you like, including noodles, vegetables and seafood. Hiroshima's version is distinct from the Kansai style because the ingredients are layered during cooking rather than all mixed together in the batter—plus the aforementioned noodles. Restaurants across the city serve this dish (vegans should head for Nagataya near the Peace Park for a version with no animal ingredients), and it's usually cooked right in front of you on a metal hotplate. Just be sure to leave a bit of time afterward for a nap, because this dish is decadent!
Catch a Carps Game
Baseball is super popular in Japan, and Hiroshima is no exception. The season runs from spring to autumn, and going to watch the city's much-loved team—the Hiroshima Carps—is a wonderfully enjoyable experience. Dedicated cheering squads lead the crowd in energetic chants and individual fight songs for each player, all to the beat of hundreds of miniature plastic baseball bats being struck in unison. A dramatic balloon release in the seventh inning brings things to an exciting head, in a spectacle that is guaranteed to capture your attention—even if you don't know anything about the sport! Games in Hiroshima are always packed, so be sure to look into getting tickets early!
Hike up to the Peace Pagoda
Slightly more off the beaten track, Hiroshima's Peace Pagoda is a barely-visible glint of silver atop the 136-meter Mount Futuba in the north of the city. Despite being called a pagoda it's actually a Buddhist stupa, and the shining silver dome contains ashes of the Buddha alongside a multitude of memorial stones that were donated by local residents. A hiking trail runs up from the back of the nearby Toshogu Shrine (pictured above) through a tunnel of red torii gates towards the monument. The walk takes about an hour, but the summit is also accessible by car. Whichever way you get there, the view out over the city is fantastic.
Find Zen at Mitaki Temple
To really get away from it all, head into the forested foothills of Mount Mitaki to explore the grounds of its atmospheric temple complex. From the eye-catching two-storied red pagoda to the waterfalls, rustic tea house, and legion of moss-covered stone jizo statues, there's plenty to see as you wander around. If you fancy more of a hike, you can follow one of the trails up to the 365-meter mountaintop, which boasts a picnic spot with a panoramic view. The most magical time to visit the temple is during the autumn, when the leaves change to a vibrant sea of red and orange—but be aware that it will be much more crowded at this time!
Experience Cuteness Overload on Okunoshima
Okunoshima is a tiny, tranquil isle that can be reached as a day trip from Hiroshima City. Better known as Rabbit Island, it's home to an adorable colony of over 1,000 wild bunnies! These bundles of fluff are exceedingly friendly, and will bound up to visitors to demand food and cuddles. As well as snuggling up with the furry residents, there are a couple of walking trails to explore and, more sinisterly, a Poison Gas Museum that informs people about the island's dark history as a secret site for the production of poison gas during World War II.
Explore Miyajima
One of Hiroshima's—if not Japan's—most iconic locations, Miyajima is where you'll find the ethereal floating torii gate of Itsukushima Shrine. Constructed offshore, during high tide it appears to be buoyed up by the waters of the Seto Inland Sea, whereas at low tide it's possible to walk all the way out to the imposing structure. The island's other main attraction is 500-meter Mount Misen, which can be traversed via ropeway or one of the many hiking trails snaking up its slopes. Miyajima can easily be done as a day trip from the city, however an overnight stay enables you to really lose yourself in the atmosphere as nights falls, the lanterns are lit, and the town is enveloped in peace.