New KitKats Combine Mint, Peach & Rum
Every summer, Japan goes through a mint chocolate boom, with everything from biscuits to ice creams and even sweet bean fish cakes packed with the cooling sensation of peppermint. This year, Nestlé Japan is joining the trend with two new premium KitKat varieties that switch things up by adding fruit and alcohol to the minty mix.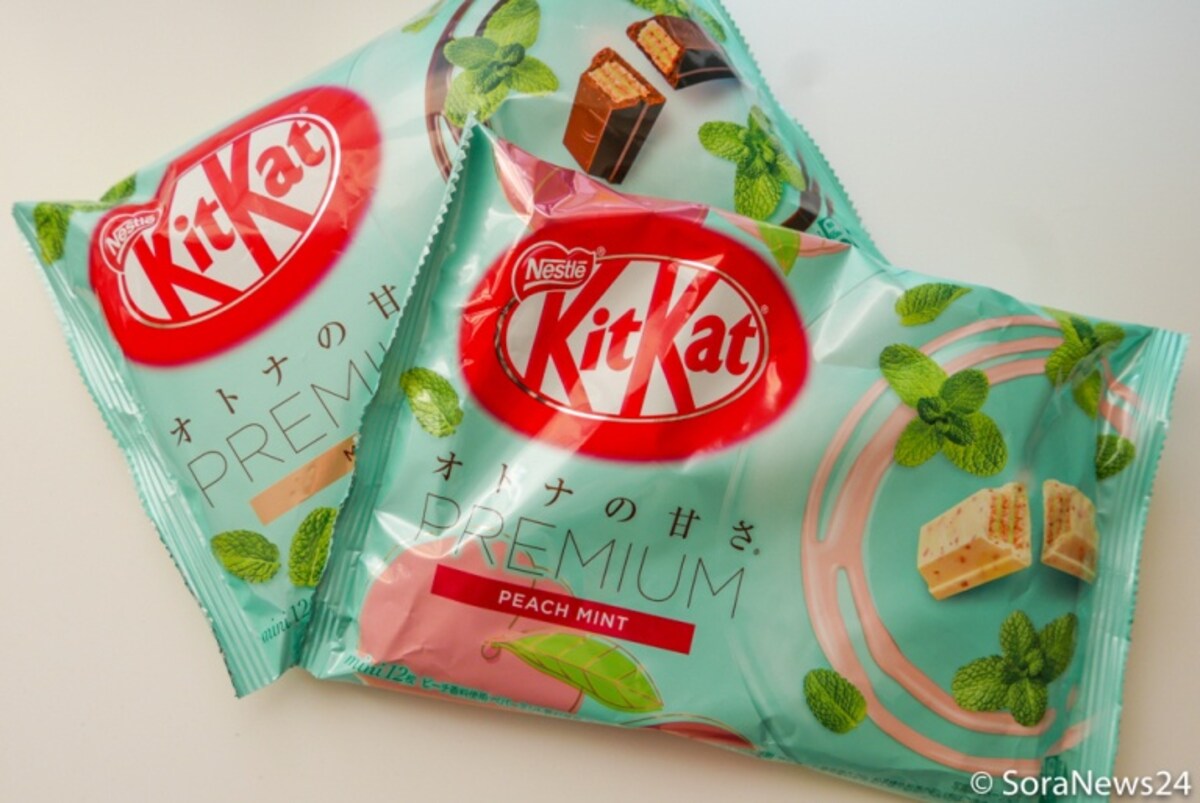 So how well will these ingredients work together as a chocolate? SoraNews24 grabbed a pack of each to find out.

The new flavors are being introduced to the market as part of the Otona no Amasa ("Adult Sweetness") Premium KitKat range, which appeals to more refined palates with a subdued sweetness that sets it apart from its regular KitKat collection.
According to Nestlé, over 20 prototypes were tested in order to create the ultimate chocolate and mint combination that would appeal to a wide variety of tastes. And these ones are said to be so good that even people who don't normally like mint-flavored sweets will fall in love with them.

So let's get to it and open up the Otona no Amasa Premium Mint KitKat!
Each pack contains 12 individually wrapped KitKats, and these ones come covered in a pretty mint-blue packaging, with a chocolate swirl and an image of the star ingredient: peppermint.
Opening the package immediately releases the distinct aroma of mint, and while these look like ordinary KitKats on the outside…
... they're a brilliant, bright green on the inside!

As soon as you bite into one of these, you can instantly tell it's a premium KitKat. Low on sweetness, these come with a surprisingly refined flavor, probably due in part to the fact that they contain tiny pieces of feuilletine, a crispy confection made from thin, sweetened crêpes, which adds a buttery flavor and crispy texture to the chocolate coating. However, what really impressed us was the way the mint didn't overpower the chocolate, letting it shine through while leaving us with a refreshing aftertaste and a wonderfully cool sensation on our taste buds.
Next is the Otona no Amasa Premium Peach Mint KitKat!

We had no idea what to expect with a peach-mint-alcohol-chocolate combination, but when we broke open one of the packages, we were immediately hit with the intense aroma of mint.
This particular KitKat is said to contain two times the amount of mint usually added to mint chocolates, and after tasting one, you'll be sent to chocolate-mint heaven!
The first thing that hits you upon first bite is the fruity and intense taste of peach. This immediately gives way to a strong mint flavor, which cleanses the palate and leaves you ready to start the taste sensation all over again with another bite.

The white chocolate, flecked with pieces of feuilletine, binds the two flavors together with a hint of sweetness while adding a crispy texture to the whole experience. And while the balance between all the flavors was truly impressive, our favorite thing about them was the intense mint aftertaste, which cooled our mouths down to such an extent that it felt like we'd just gulped down a glass of cold water.
Another thing that surprised us with these new chocolates was the fact that although they both contain powdered rum powder kneaded into the wafers, we couldn't taste any alcohol in there at all. Still, each pack comes with a warning that these chocolates 0.2-percent alcohol, so they shouldn't be eaten by pregnant women or anyone with a low tolerance to alcohol.

Both varieties are currently available at supermarkets and convenience stores around the country, in 12-piece mini bar packs for ¥600 (about US$5.37) each, plus tax. The Premium Mint variety is also available in a three-pack, at convenience stores only, for ¥150.

Photos © SoraNews24/Oona McGee

Read the original story from SoraNews24 via the link below!