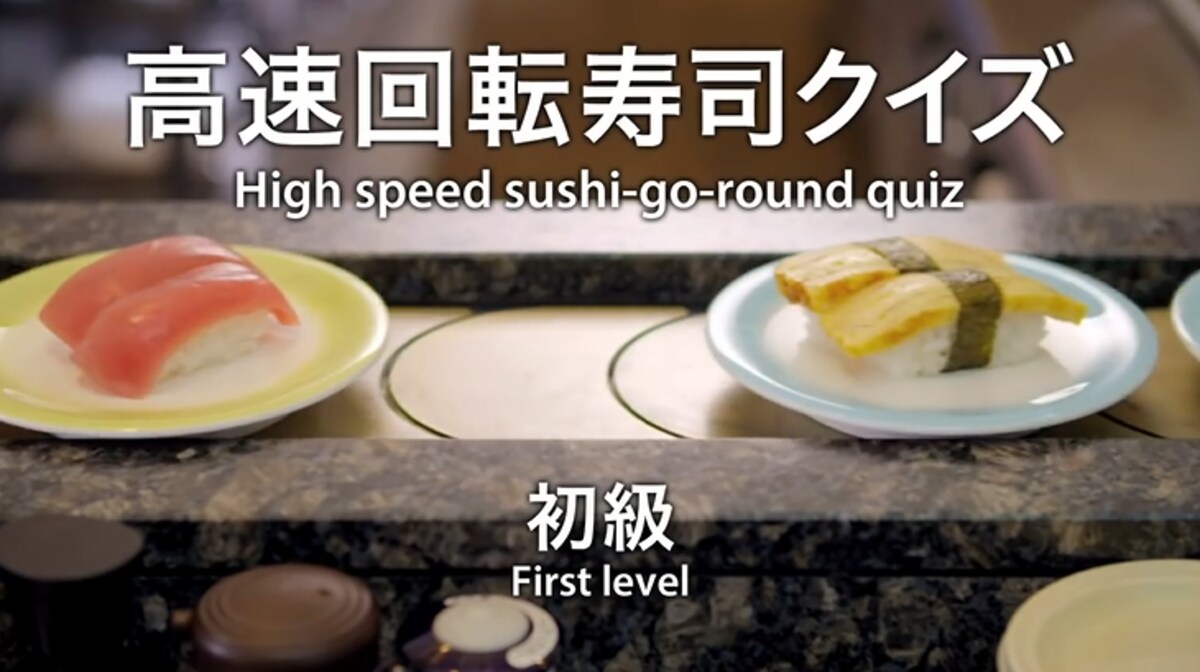 About the only downside to kaitenzushi is that if you're not paying attention, the type of sushi you wanted to eat might slip past before you realize what it is. But as with any skill, the ability to quickly identify sushi ingredients is something you can develop with practice, and here to help you get started is a series of videos called "High Speed Sushi-Go-Round Quiz."

The format of the five-video challenge is simple. The camera is positioned at eye-level of a diner in a kaitenzushi restaurant and focused on the conveyor. As the sushi goes by, you have to guess what it is from one of three choices. The film is sped up so that the conveyor is moving much more quickly than the ones in actual kaitenzushi restaurants, but if you can handle this speed, you should have no problem with the real thing.
Let's get started with the First Level: Salmon roe (ikura in Japanese), sea urchin (uni), or corn?
Pretty fast, huh? But we're just getting started, so let's move on to the Second Level. Since kaitenzushi restaurants also sometimes put desserts out on the conveyor, this time the choices are Bavarian cream (babaroa), steamed egg custard (chawanmushi), or pudding (purin).
The quiz's higher difficulties aren't tougher just because the conveyor is moving faster, either. The possible answers also become much more similar to one another. For example, in the First Level, salmon roe (orange), sea urchin (brown), and corn (yellow) are all different colors. The Higher Level video, though, asks you to pick between red tuna (akami), medium fatty tuna (chutoro), and extra-fatty tuna/fattest tuna (otoro), all of which are some shade of red.
Sardine (iwashi), horse mackerel (aji), and Pacific saury (sanma) are your options for the Highest Level, which ironically enough is only the second-most difficult video.
Finally, the Super Highest Level asks you to make a selection from between flounder edge (engawa), spear squid (yari ika), and bigfin reef squid (aori ika), as the plate zooms past in a white blur.

The entire series is the work of credit card company Visa, which wants to remind us that the company's card is accepted at Kappazushi, one of Japan's largest kaitenzushi chains, as well as "some [other] sushi-go-round restaurants." Since there are still many restaurants in Japan that operate on a cash-only basis, this is good to know. But even if the video is a marketing ploy, next time you hit up a kaitenzushi restaurant, at least you'll be able to identify some key dishes at lightning speed!