New Mint KitKat Flavors Sure to Refresh
Japan has been going through a mint chocolate boom over the past few years, andthe trend peaks every summer. As temperatures rise and people start craving the cooling sensation of peppermint, and now Nestlé Japan is joining the craze with two new KitKat varieties that look set to tantalise the taste buds of choc-mint fans around the country.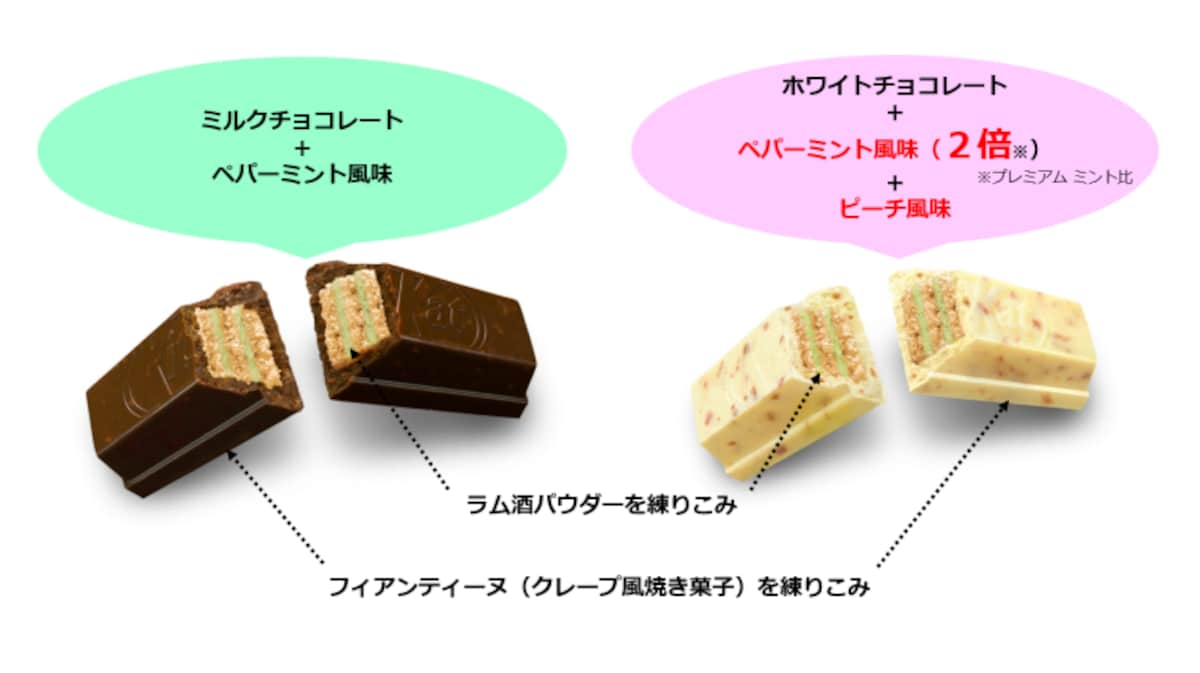 The new flavors are being introduced to the market as part of the Otona no Amasa ("Adult Sweetness") Premium KitKat range, which appeals to more refined palettes with a subdued sweetness that sets it apart from its regular KitKat collection.

And adding to the very adult-like appeal of the chocolates is the fact that they both contain a special secret ingredient: rum powder.

Both varieties have gone through rigorous trials, with over 20 prototypes tested in order to create the ultimate two that appeal to a wide spectrum of choc-mint customers, from the most timid through to die hard fanatics.

The Otona no Amasa Premium Mint KitKat appeals to true lovers of peppermint, with two times the usual amount of mint added to each bar. The blend between milk chocolate and mint is said to be incredibly refined, creating a strong and invigorating hit of freshness that choc-mint fans will fall in love with.
The Otona no Amasa Premium Peach Mint KitKat is designed to appeal to customers who are a little more wary of trying choc-mint combinations. The mix of peach with a white chocolate base is said to create a harmonious balance between sweet and fruity flavours, with a gentle touch of mint interspersed in between to win over the choc-mint naysayers.
Both varieties will be sold at supermarkets and convenience stores around the country from May 13, 2019, in 12-piece mini bar packs for ¥600 (about US$5.37) each, plus tax. The Premium Mint variety will also be sold in a three-pack that will only be available at convenience stores for ¥150.

Source, images: Nestlé Japan

Read the original story from SoraNews24 via the link below!