Awesome Shopping at World's Biggest Starbucks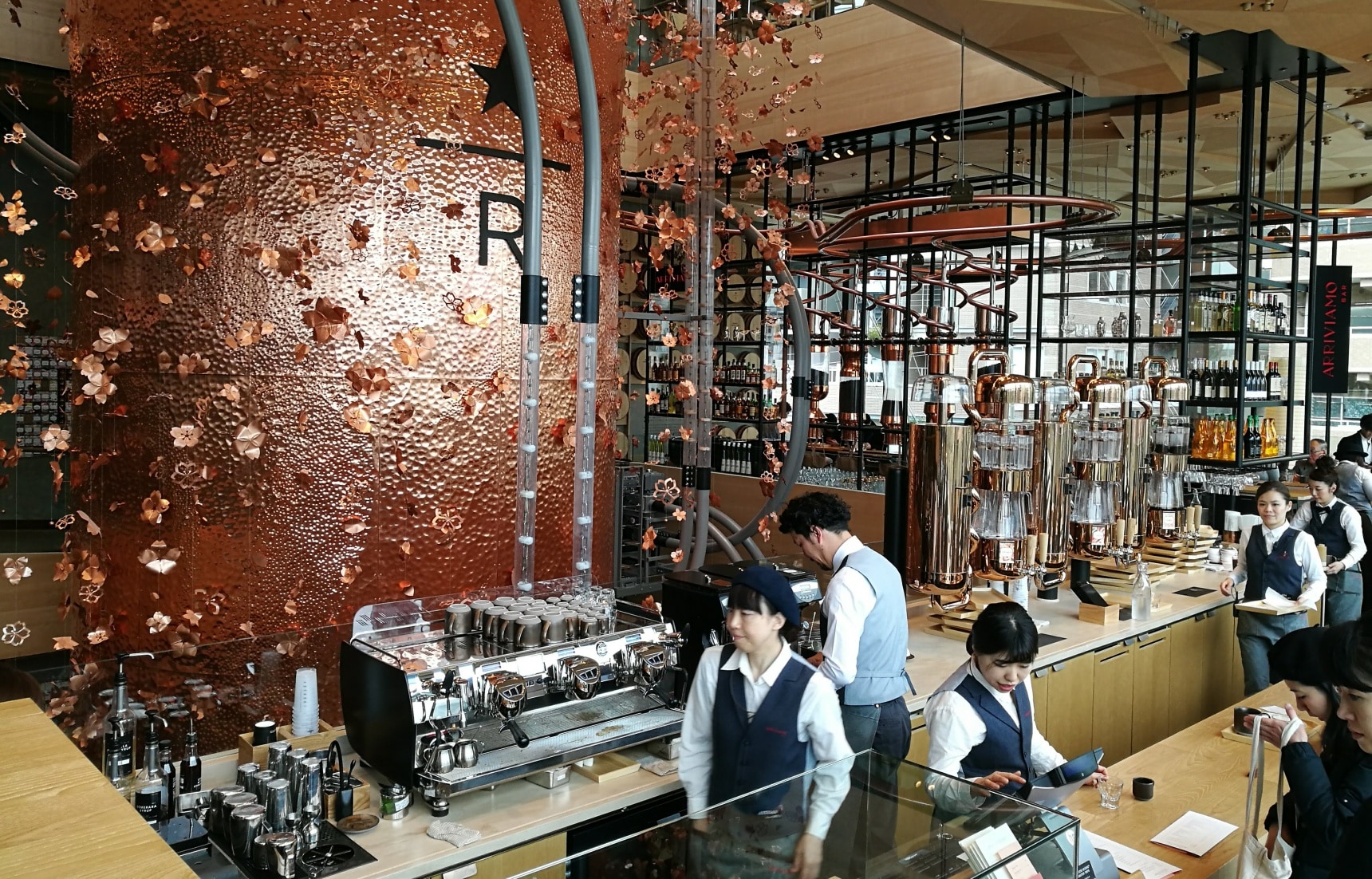 Much has been said about the world's biggest Starbucks Roastery, now sitting in the heart of Tokyo right by the sakura-lined Meguro River. The grandiose architecture, the theme park-like experience and the visual spectacle all make for an incredible shopping and dining experience! Here are just a few of the incredible finds waiting inside.
Add Tokyo to Your Starbucks Map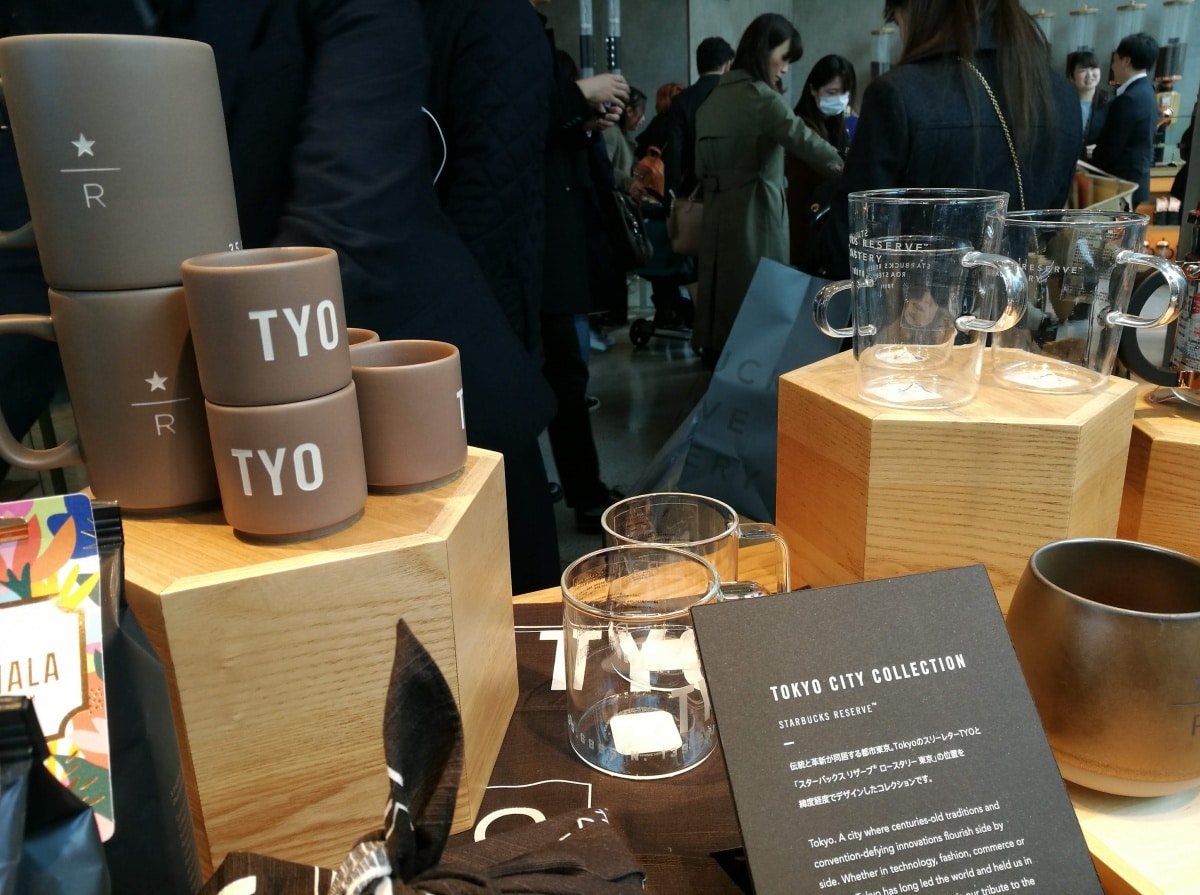 There's nothing fresher or catchier than the TYO minimalist design embossed on the glass, ceramic, aluminum and plastic Starbucks tumblers on sale as part of the Tokyo City Collection. You can choose from white, black, gray or rose gold, and no matter which you select, you're going to be sipping with some seriously chic style.
Commemorate Sakura Season
Nakameguro is one of the best places in Tokyo to visit in spring when the cherry blossoms are around, especially if you want to enjoy food, booze and the pastel views of the sakura. If you want a memento to remember that moment forever, pass by the Starbucks Reserve Roastery for these limited-edition sakura souvenirs, so that you can take a piece of this ephemeral and beautiful season home with you.
Snag a Japan-Inspired Coffee Canister
These incredible coffee canisters—modeled after casts of Japanese sake—are so eye-catching that you won't want to leave them hidden away in the pantry! These ceramic and wood containers will keep your coffee (or cookies!) nice and fresh in signature Tokyo Starbucks style. Keep in mind that these popular items are only one purchase per customer!
Enjoy Princely Pan
Pan (bread) is a staple of many cafés, and the Starbucks Roastery is no exception. Here you can enjoy the authentic Italian goodness of Princi bread, available on the first floor. The sheer variety of crusty, delicious bread available at Starbucks' full-fledged bakery make it a must-visit for anyone craving some crunchy carbo-loaded goodness.
Consume Colorful Pastries
If you like your baked goods sweet instead of savory, the Starbucks Roastery has that covered as well! The mini panettone packs come with three colorful and delectable flavors: classic (the traditional for which this Italian treat is known), lemon and sakura. Regardless of which flavor is your favorite, they're sure to be a perfect accompaniment to your cup of coffee!
Try Flavorful Fusion
The second floor of the Starbucks Reserve Roastery is home to an incredible café that is perfect for a flavor-packed pick-me-up! Well-versed baristas can walk you through the flavor notes of all of the teas they offer, and even help you pair it with an equally delicious pastry! We tried the Mandarin mimosa and apricot canestrelli, and can vouch for their expertise firsthand!
Tea to Take Home
This Tokyo location also sells Starbucks' Teavana line of premium teas, which can be bought by the gram. That means you can purchase a plethora of small-packed teas to enjoy in the comfort of your home. Once again the baristas have a chance to demonstrate their expertise, and can carefully explain the characteristics of each tea. Plus they can point you to "Only in Tokyo" varieties, such as the sakura tea blend!
Dig Designer Goods
Tourists are known to flock to Japan for designer goods, and aficionados can add even more to their collection courtesy of the Roastery. The world's biggest Starbucks has collaborated with famous names such as Issey Miyake, Marcel Wanders and Tom Dixon for designer tableware, ceramics, cocktail mixers and special glasses that aren't available anywhere else!
Enroll in the Coffee Campus
If you've always wanted to be a coffee connoisseur then Starbucks Reserve Roastery is the perfect place to get schooled. While the schedule for classes hasn't been released yet, the Amu Inspiration Lounge on the fourth floor is already preparing to host classes. Most Starbucks stores in Japan already offer coffee cupping sessions, so don't be surprised if the Reserve takes things to the next level!
Booze or Brews? You choose!
The Roastery's third floor doubles as a cocktail bar. Dubbed Arriviamo, this sleek and modern corner offers whiskey-barrel aged coffee beans made into a smooth cold brew. This same brew is used as a base for other interesting libations, such as the alcohol-infused Nakameguro Espresso Martini, or the Melrose Tokyo non-alcoholic cocktail. In addition to their fancily named creative concoctions, they also offer wine, sake and top of the line whiskey. What better place to enjoy it than this stylish bar, which blends the warmth of an Italian café with the retro vibe of an old-school bar.