By the River Meguro, I Sat Down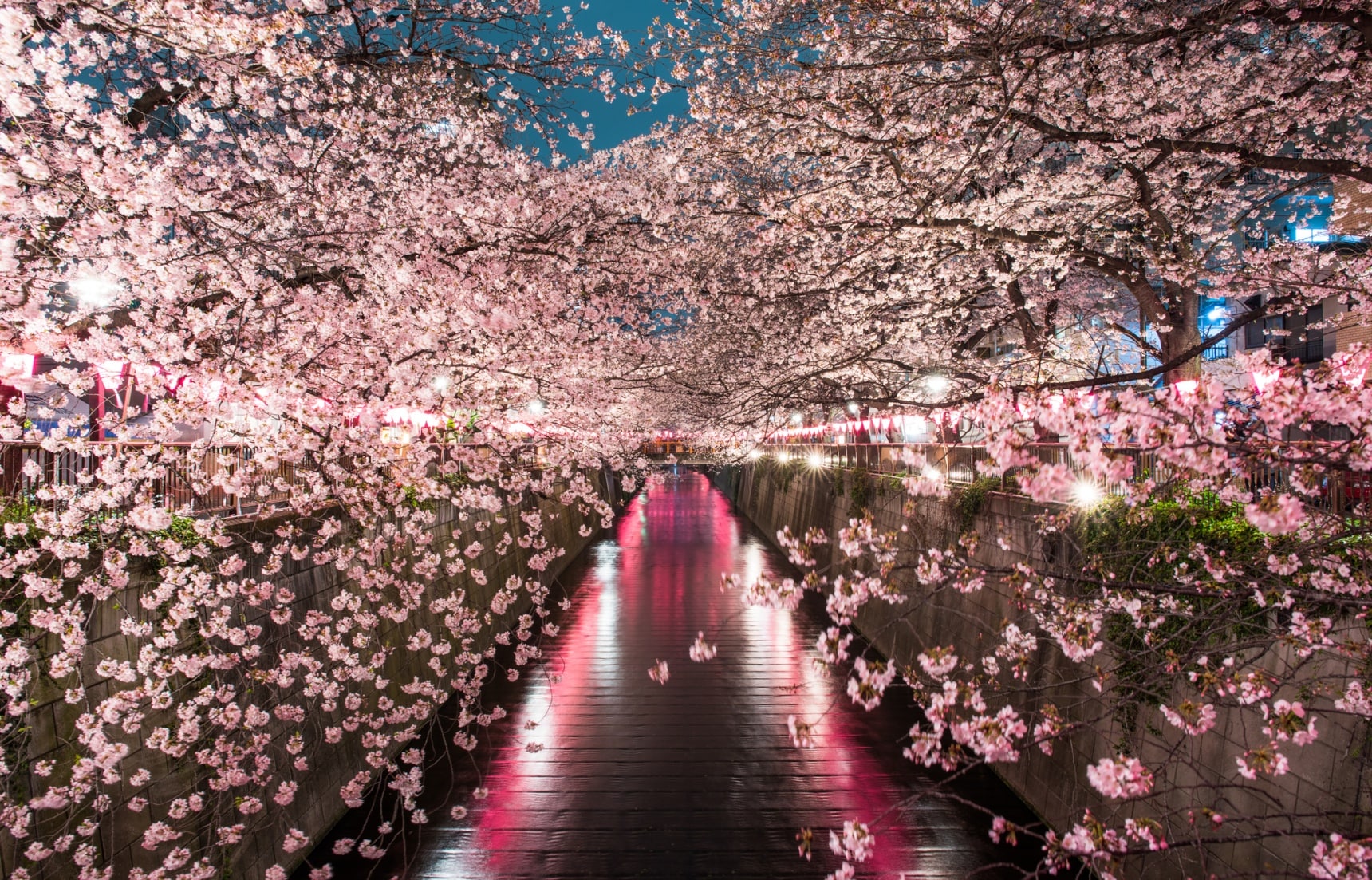 Nakameguro is a wonderful place to go any season. The cafés and restaurants by the river are nice spots to unwind, while the bespoke shops are fun to explore since most of the products can only be bought in Japan. For sakura season, Nakameguro shifts from its usual chill vibe to a bustling, colorful neighborhood. Come join us for a walking tour!
1. Sip on a Sakura Martini to Get Started
If the enthralling blossoms encourage you to make a toast, what better way to do it than to enjoy the moment with a seasonal drink! Sakura beer, shochu (Japanese alcohol), martini and champagne are just a few of the options you can enjoy before you hit the sakura-lined street. Don't worry about having to do a bottoms-up right away, as some sellers will pour your drink into disposable flutes or wine glasses. You can get a drink and sip it as you stroll. These sakura-themed tinctures are not difficult to find; they are sold by most cafés, restaurants and special booths that surround the river. Be ready with ¥500 for this unique experience.
2. Pose with Picture-Crazy People
Since cherry blossoms are fleeting, many people who flock to see these pretty flowers wouldn't be content with just snapping a shot or two. Picture-crazy people head to Nakameguro to capture the picturesque street with their smartphones, GoPro cameras and professional DSLRs, with some even bringing out bulky tripods. As such, bring along an extra dose of patience for people who might refuse to let you obtain the perfect shot (Hello, photo bombers!). Nakameguro is walkable from Shibuya, which is the one of the most popular tourist spots in Tokyo. This means many people could easily walk to this sakura spot, if they can squeeze it into their itineraries.
3. Feast on Food from Around the World
While I love going to Nakameguro in any season, there's a bigger reason why I endure a mad crowd during this season—festival food options. On regular days, Nakameguro is usually serene, but during cherry blossom season, the streets are lined with booths that sell all kinds of sakura stuff. It may just well be an opportunity for an around-the-world street food experience, as booths offer most anything: from Middle Eastern kebabs to European sausages, Chinese noodles to all kinds of Japanese festival foods such as takoyaki, okonomiyaki, yakitori and more.

Because everything will pique your curiosity, you may end up spending around ¥2,000 by the time you reach the end of the street. Food and drinks are not exorbitantly priced; each purchase from a booth can easily cost you ¥500. It's fun and worth it, but without discipline, those on a budget may just overspend.
4. Marvel at the Cotton-like Blooms
Do you remember when Agnes from the movie Despicable Me says: "It's so fluffy, I'm gonna die!" upon seeing a unicorn? That's probably the feeling these cotton-like blossoms might elicit from you because they are not your usual pretty flowers. While ume (plum) blossoms are equally beautiful, the sakura petals falling on the pavements, or those that remain in big clumps on the trees, just look so fluffy. Make sure not to pluck the flowers or break the branches, however, despite the strong temptation to bring home the experience. You'd surely be frowned upon by the locals if they see you, and perhaps say to you "失礼な" (shitsurei na or" how disrespectful") for doing such an act to these glorious seasonal wonders.
5. Stop by the Iconic Red Bridge for your Final Bow
Laugh at me all you want, but I've posed at this bridge more times than I've gone to the gym. This red bridge is picture-worthy, hanging above an enchanting river. During the sakura season, this bridge becomes even prettier, as the pinkish-white trees that line the streets become a breathtaking backdrop to an eye-catching red structure. It may just be the place to take your final bow, err, photo, because by the time you reach this spot, the festivity has subsided, as fewer trees and lamps line the road. If you've lost your companions, this is actually the perfect place to pause and sit down. The Works, a café that's three minutes away from this iconic bridge, offers good food, free Wi-Fi and electric outlets (making it a good place to fully recharge); it even has an outdoor seating area facing the river. As you conclude your Nakameguro experience here, you might as well post a nice photo on Instagram and contemplate your amazing trip.