Hello Kitty Coming to Converse Sneakers!
Hello Kitty fans will no doubt be delighted to know that the feline mascot has now teamed up with Converse, resulting in some seriously adorable footwear. But don't take our word for it; just take a look at some of the photos of the "Hello Kitty x Converse" sneaker line and see Hello Kitty's magic touch for yourself!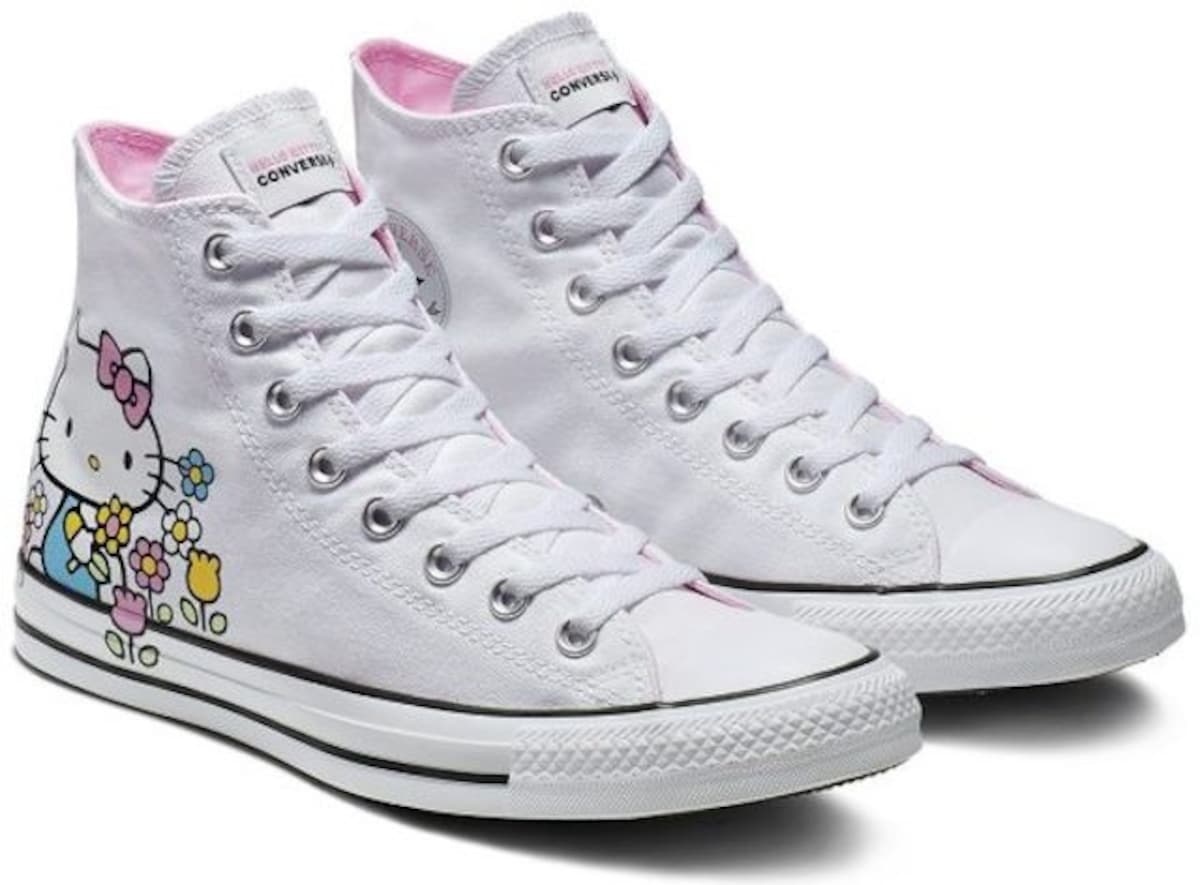 The collaborative Hello Kitty sneaker line comes in a wide variety of designs and colors, from timeless black and white to pastel colors perfect for spring. Combined with Hello Kitty's charm, just looking at them is loads of fun!

The sneakers come in both high and low-top designs, and the insoles feature Hello Kitty's face and the collaborative logo to add another dose of cute.
There's also a special logo featuring Hello Kitty's ears and ribbon placed in the back, right above the heel—a lovely detail that should delight any Hello Kitty fan.
The variety in design, from simple and understated to brightly colored and decorated, is quite impressive.

If you like something that's not too obvious, you can get something with Hello Kitty patterns printed only on the inside of the shoes.
But you can still get Hello Kitty details with the shoelaces that have "Hello Kitty" printed on them in pink.
And depending on which country you're ordering from, including the U.S. and U.K, you can even customize the colors and patterns on different parts of the shoe to create your very own pair of Hello Kitty sneakers!
Unfortunately for those of us in Japan, the Hello Kitty sneakers aren't available for purchase or shipping to Japan. We can only hope the sneakers will be brought to Hello Kitty's home country sometime soon, as they look pretty awesome as far as we can tell from the pictures.
The Hello Kitty x Converse line also includes apparel such as T-shirts and parkas as well, so if you're delighted by anything Hello Kitty, it should be fun to check those out on the Converse website as well!

Source: Converse Australia website, Converse UK website, Instagram/@converse
Top Image: Converse Australia website
Insert images: Converse Australia website, Converse UK website

Read the original story from SoraNews24 via the link below!