Nestlé's New Twist on the Tokyo Banana Kit Kat
Last year, Nestlé Japan delighted customers with the news that they would be collaborating with one of Tokyo's most beloved sponge cake souvenirs, Tokyo Banana, for a very special flavor release.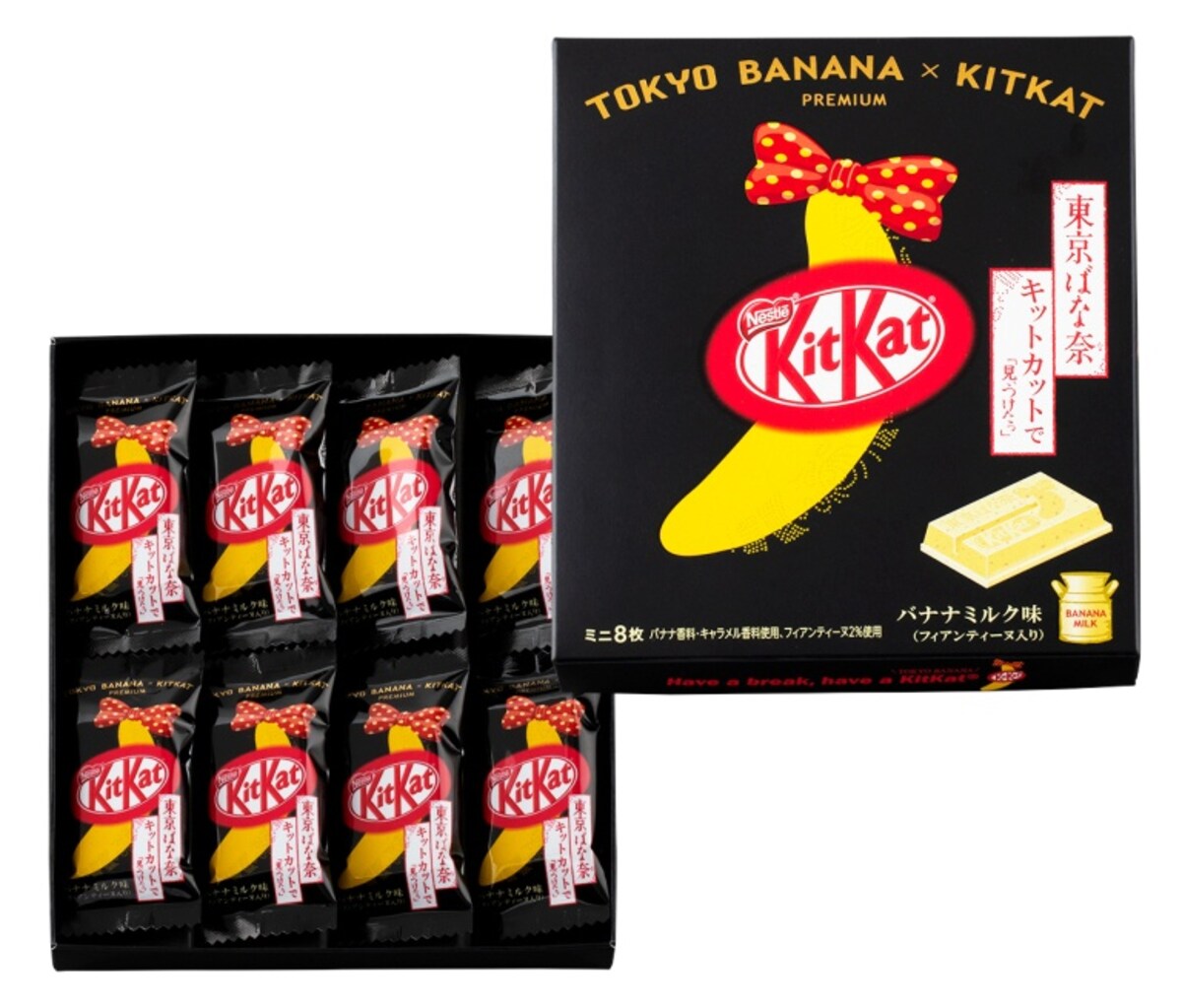 With lines out the door for the banana-flavored offering, demand for the Tokyo Banana Kit Kat exceeded all expectations, so the two have decided to join forces once again, this time for an all-new premium version that looks set to be even more special than the original.
The premium edition has the same intense banana-milk flavor as the moist creamy filling used in Tokyo Banana cakes. It also boasts the same unique "moist-crunch combination" that made the original Tokyo Banana Kit Kats so popular, only now with the addition of a very special premium ingredient: Feuilletine.

Feuilletine are brittle, crispy flakes made from crushed cooked crepes or pie pastry, which are used to add sweetness and a light, crispy texture to professional pastries. ▼ Promotional posters for the new Kit Kat show it being showered in pieces of gold-colored Feuilletine flakes.
This new Kit Kat has Feuilletine kneaded into the banana-milk-flavored white chocolate coating, while the wafers are layered with a cream made from banana powder and a spiced caramel powder, to create a crisp, crunchy sensation and a deliciously bittersweet aftertaste.

▼ The new release is officially called "Tokyo Banana Kit Kats Premium Banana Milk Flavour with Feuilletine."
Each wafer piece is imprinted with the words "Tokyo Banana" and "Kit Kat," alongside an image of a bow-topped banana, which is Tokyo Banana's well-known logo.
Like the original Tokyo Banana Kit Kat that came before it, this new premium version will be limited for sale to one spot in Tokyo upon release. The one place you'll be able to buy it is at a special event space that will be set up in the Daimaru department store which is directly connected to Tokyo Station.

▼ The new Kit Kats will be sold in boxes of eight for ¥680 (about US$5.99) plus tax, or boxes of 15 for ¥1,250 plus tax.
To help celebrate the new release, the first 20,000 people who spend more than ¥1,000 on the premium Kit Kats will receive two free Tokyo Banana Kit Kats.
The Tokyo Banana Kit Kat Premium Banana Milk Flavor with Feuilletine will be on sale at the Daimaru event space from December 19, 2018, to January 8, 2019. If you can't make it to the event space during this period, the Kit Kats will also be available at Haneda Airport from December 26, and at other stores around Tokyo, including JR Tokyo Station and Tokyo Solamachi at the base of Tokyo Skytree, from January 9.

Source, images: PR Times

Read the original story from our friends at SoraNews24 via the link below!