10 Wine Tasting Spots in Yamanashi
Grace Wine (グレイスワイナリー)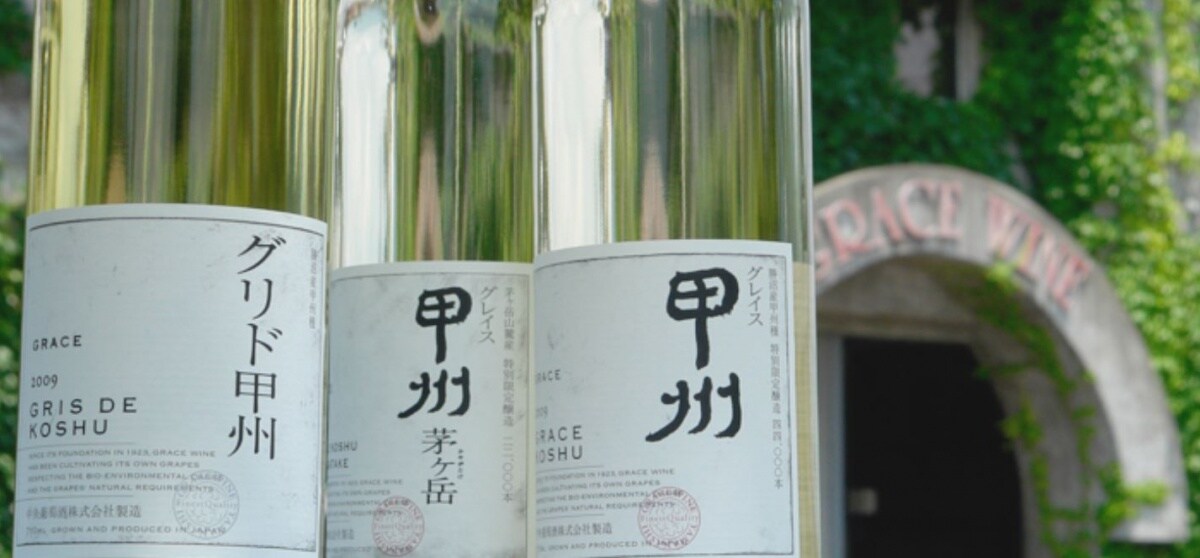 If you want to try wines made from Japan's local Koshu grapes, Grace Winery is the place to go. There is only one winery tour per day which lasts 100 minutes and takes you through all the steps of creating this truly Japanese wine. During the tour you will get to try six of their vintages.

Address: 173 Katsunumacho, Todoroki, Koshu-shi, Yamanashi
How to get there: the winery is 3.5 kilometers away from Katsunumabudokyo Station, so taking a taxi is recommended
Telephone number: 0553-44-1230
Business hours: 9 a.m. to 4:30 p.m.
Irregular closings
Marquis Winery (まるき葡萄酒)
Sheep wander through the vineyards of this winery, where they avoid using pesticides as much as possible. The Marquis (sometimes also written Maruki) Winery wins prizes yearly for their vintages, so you are in for a treat. Winery tours on weekdays are available at 2 p.m., while on weekends there are two tours per day at 10:30 a.m. and 2 p.m., at the end of which you can enjoy a tasting of their lovely whites and occasional red.

Address: 2488 Katsunumacho, Shimoiwasaki, Koshu-shi, Yamanashi
How to get there: the winery is four kilometers away from Katsunumabudokyo Station, so taking a taxi is recommended
Telephone number: 0553-44-1005
Business hours: 8:30 a.m. to 5 p.m. 
Closed during New Year's holidays
Kurambon Winery (くらむぼんワイン)
Housed in a gorgeous traditional Japanese-style house surrounded by vineyards, this is a lovely atmospheric location for a wine tasting. While they do have tours which you can reserve online, the tasting room is free to visit and visitors can sit and relax inside the main house and check out some small exhibits.

Address: 835 Katsunumacho, Shimoiwasaki, Koshu-shi, Yamanashi
How to get there: the winery is four kilometers from Katsunumabudokyo Station, so taking a taxi is recommended
Phone number: 0553-44-0111
Business hours: 9 a.m. to 5 p.m.
Closed during the New Year's holidays
Marufuji Winery (丸藤葡萄酒工業)
The carefully preserved Japanese-style building and large variety of types of wines they make are two trademarks of this historical winery. Small groups don't need to make reservations for tours, and in general the tour and tasting of six to eight types of wine are both free. Check out the old labels and atmospheric wine tasting salon, and get a feel for the owner's deep commitment to producing high-quality wine for an affordable price.

Address: 780 Katsunumacho, Fujii, Koshu-shi, Yamanashi
How to get there: the winery is just under five kilometers away from Katsunumabudokyo Station, so taking a taxi is recommended.
Telephone: 0553-44-0043
Business hours: 9 a.m. to 4:30 p.m.
Closed during the New Year holidays, and from January to March the shop is only open on weekends and national holidays
Tomi no Oka Winery (登美の丘ワイナリー)
Run by Suntory (who are also well known for their beer and whiskey), Tomi no Oka Winery's vineyard is at the highest altitude of any in Yamanashi Prefecture. Explore the winery and enjoy gazing down at the views of the Kofu area. The tasting rooms offers samples of all their varieties for reasonable prices, and visitors are allowed to wander freely through the vast vineyards, making a fun destination for children and adults alike.

Address: 2786 Onuta, Kai-shi, Yamanashi
How to get there: the winery is about six kilometers from Ryuo Station, so taking a taxi is recommended
Telephone: 0551-28-7311
Closed on Tuesday and Wednesday, but from August to November closed only on Wednesday. Closed from January to late March.