All About's Guide to Kyoto
Kyoto is just bursting with Japanese history! From thousands of beautiful temples and shrines to the picturesque back alleys of the geisha districts, you could easily spend a year exploring the city without getting bored. Read on to find out more on how to make the most of your time in this beautiful city!
Key Kyoto Facts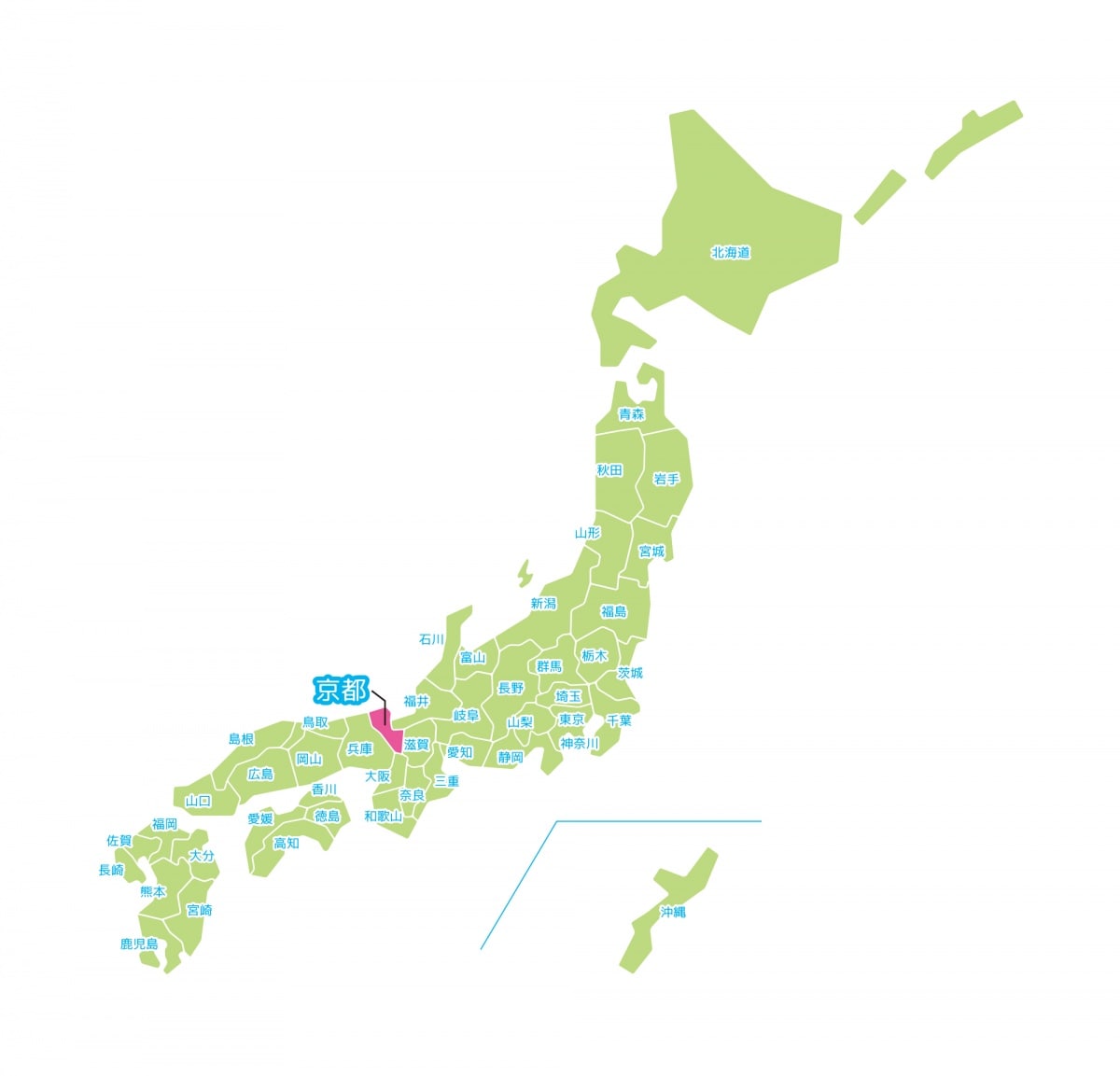 The city of Kyoto (京都市) was Japan's capital city for over 1,000 years, from 794 to 1868. Located in a basin in Kyoto Prefecture and laid out in a grid based on the Chinese Tang Dynasty capital Chang'an (Xi'an), the city has a population of just under 1.48 million.

With its historical buildings, cultural importance, and serving as one of the biggest centers of Japanese Buddhism, Kyoto still retains an important relationship with Japanese people despite no longer being the capital. The city was fortunately spared from being destroyed by atomic bombs during the Second World War (despite originally being on top of the list) which has left the city brimming with history.
Starting in the nineteenth century, the imperial family started to lose power across Japan and over time became more of a symbolic presence. The country was split into smaller sections controlled by local feudal lords and military families, leaving Kyoto to be the capital city in name only. Political power and state affairs were often not controlled in Kyoto, but elsewhere.
Kyoto has over 1,600 Buddhist temples, making the city one of biggest Buddhist hubs in Japan. Some of the oldest temples in Japan can be found within the city limits and dotted around the prefecture. Zen Buddhism also has a strong presence in the city. There are currently three sects of Zen Buddhism in Japan: Rinzai, Soutai, and Oubaku schools. The oldest Zen temple in Kyoto (Kenninji Temple, part of the Rinzai sect) dates back to 1202 and was founded by the priest Yousai (1141-1215) who is also known for bringing the tea ceremony to Japan.
During the Edo Period (1603-1868), despite political power shifting to Edo (currently Tokyo), Kyoto flourished and became the cultural, economic, and religious center of Japan. Much of the traditional architecture you can see in Kyoto today was built during this period.
Top 5 Kyoto Sights
Kyoto has so many spots to discover, but if you want to get your visit off to a great start, the following five sights are a perfect way to kick-start your time in the ancient capital.
1. Kinkakuji Temple
Kinkakuji Temple (金閣寺), also known as the Golden Pavilion, is a must-see hotspot in Kyoto. Kinkakuji is located in the north-west part of the city and is one of many Zen temples. Originally intended as a retirement villa for the shogun Ashikaga Yoshimitsu, it was converted into a Zen temple at his request after his death in 1408. The top two floors and the interior of the top floor are covered in gold leaf produced in the city of Kanazawa. The current structure was built in 1955 after the original was destroyed by a monk who set fire to the temple in 1950.

Price: ¥400 per person
Hours of Operation: 9 a.m. - 5 p.m. everyday (no holidays).
Access: Take bus 101 or 205 from JR Kyoto Station.
2. Arashiyama Bamboo Forest
A quick train ride away from downtown Kyoto will take you to the bamboo groves of Arashiyama. The tall bamboo towers over walkways that look like they could transport you into a whole different world. The sound of the bamboo swaying in the wind is also classed as one of the top 100 soundscapes of Japan. This lovely spot is very popular with visitors, but the path through the forest is open 24 hours a day so you can get there early in the morning to avoid the crowds and really take it in.

Access: Take the JR Sagano Line from Kyoto Station to Saga-Arashiyama Station, the grove is a 10-minute walk from the station.
3. Fushimi Inari Taisha
Fushimi Inari Shrine (伏見稲荷大社) is perhaps Kyoto's most iconic spot. The thousands of vermilion torii gates line paths that start from the shrine at the base of the mountain. There are several paths to choose from and energetic visitors can climb all the way to the summit, which takes between two to three hours.

Fushimi Inari is the head shrine for the Shinto god of rice. Around the shrine there are countless fox statues, said to be the messengers of Inari. For those hungry after the hike, there are plenty of restaurants nearby serving inari sushi and kitsune (fox) udon—both dishes feature aburaage fried tofu, which is supposedly a favorite among fox spirits! Due to the popularity of the torii gates, try to arrive early in the morning or very late in the evening to beat the crowds.

Access: Take the JR Nara Line from Kyoto Station to Inari Station. The entrance to the complex is just opposite the station.
4. Gion District
Gion is Kyoto's largest geisha (also known as geiko in the local dialect) district in Kyoto. Wander through the back streets of this district to discover some of the most picturesque walks in the city. The old teahouses in the area add to the charming old-Kyoto feel. If you are walking through the area after 5 p.m., you may also catch sight of geisha and maiko rushing off to their evening appointments. Keep an eagle-eye out as they are surprisingly fast!

Access: Take bus 86, 100, 106, 110 or 206 from Kyoto Station to Gion.
5. Philosopher's Path
The Philosopher's Path (哲学の道・Tetsugaku-no-Michi) is located in the northeast part of the city. The path starts from Ginkakuji Temple (銀閣寺, called the Silver Pavilion) so you could always pay a visit to both in one go. The name is said to come from the philosopher Nishida Kitaro who used to meditate while strolling along this path, on the way to the university where he taught. The path is also lined with cherry trees which bloom in beautiful shades of pink in the spring. There are plenty of cafés and restaurants along the path as well, should you prefer to sit and take in the views more leisurely.

Access: Take the bus 100 from Kyoto Station to Ginkakuji (Silver Pavilion) and follow the street signs to the path.
Off the Beaten Track in Kyoto
As Kyoto is home to some of the most historically and culturally significant sights in Japan, you will often be surrounded by plenty of other visitors. However, there are still some places off the beaten track that are well worth a visit if you want to avoid the crowds. Read on to discover some of the quieter spots in Kyoto.
Daikakuji Temple
If you are looking for a bamboo grove that isn't too crowded, Daikakuji Temple is a good bet. Just behind the temple and the Osawa-no-ike Pond lies a small but usually empty bamboo grove. What's even better is that though there is a set path through the small area, there are no walls, which means that you can walk right through the bamboo and truly immerse yourself in the magical atmosphere. Afterward, you can relax in the large garden and pond area alongside the temple.

Price: ¥500 for the temple and ¥200 to visit the garden around Osawa Pond.
Hours of Operation: 9 a.m. to 5 p.m. (final entrance at 4:30 p.m.)
Access: Take the bus 28 from Kyoto Station to Daikakuji Bus Stop.
Nanzenji Temple
Nanzenji Temple is a bit unusual. When you walk through the temple grounds, you will come across a large brick aqueduct built in the Meiji Period that was used to transport water and goods between the city and Lake Biwa. Though it's no longer used for its original purpose, it is certainly an odd sight to see alongside an old temple. For those interested, you can take a stroll along part of the aqueduct.

If you walk past the temple grounds and take the short hiking path up into the mountains, there are also waterfalls where people undertake taki gyou (ritual waterfall training). If you do go, please be aware that this is a holy place and be respectful towards those practicing the ritual.

Access: Take the subway Karasuma Line from Kyoto Station and change to the Tozai Line at Karasuma Oike Station, then alight at Keage Station. The temple is a 12-minute walk from there.

For more interesting hidden gems, check out some of our other articles about Kyoto:

Kyoto Butoh-kan: Explore some unusual avant-garde butoh performances at the first theatre dedicated to the art.

"Truly Kyoto" Finds for the First-Timer: Find some truly Kyoto spots if it is your first ever visit to the city.

The 15 Top Fall Color Spots in Kyoto: If you are visiting Kyoto in the fall, read this to find some of the best places to catch the autumn colors.
Top 5 Must-Eats in Kyoto
Kyoto is known for its pickled vegetables and matcha green tea, along with some of the best traditional Japanese meals in Japan. Read on to find out some of the best places to sample Kyoto's cuisine.
1. Kokoraya Pontocho Izakaya
Nestled in the picturesque Pontocho alleyway is a great izakaya (Japanese tapas style restaurant) called Kokoraya (ここら屋). They specialize in local vegetable-based dishes, making this a great spot to try some Kyoto specialties without breaking the bank. The restaurant is very small so booking in advance is advisable. Make sure to take someone who can read Japanese, or get ready to point at tasty looking dishes ordered by fellow diners, as all the menus here are in Japanese.

Access: Take the bus 4, 17, or 205 to Shijokawaramachi Bus Stop and walk through Pontocho.
2. Nishiki Food Market
Though this may not be a restaurant, it is the perfect place to sample the pickled vegetables, green tea and other goodies Kyoto is famous for. There are plenty of vendors selling and offering free tastes of their specialties, so you could potentially eat your way through the market. If the samples don't fill you up, there are plenty of delectable street foods for sale in the market as well, so you definitely won't leave hungry!

Access: Take the subway Karasuma Line from Kyoto Station to Shijo Station and it is a 10-minute walk from there. Look out for the brand new Apple store on the corner of a small road, which happens to be the entrance to the market.
3. Falafel Garden
Although Falafel Garden does not offer Japanese cuisine, it is certainly one of the best restaurants in the city. With fantastic pita sandwiches and lunch plates, the food here is sure to make you a repeat visitor. For those with dietary requirements, they also offer delicious vegetarian and vegan options!

Access: Take the JR Nara Line from Kyoto Station to Tofukuji Station and change to the Keihan Main Line. Alight at Demachiyanagi Station, the restaurant is a 2-minute walk from there.
4. Dangoro
Nestled away in Arashiyama, this restaurant feels like a delightful discovery. This establishment offers excellent soba noodle dishes, but their speciality is dessert: dango (Japanese sweet dumpling made from mochi rice flour). The quality of the food is excellent but not too expensive, and they can also cater to some dietary requirements.

Access: Take the JR San-in Line to Saga-Arashiyama Station. The restaurant is a 15-minute walk from the station, and it is located close to Saga Park.
5. Kyoto Ramen Street
For those craving a filling bowl of ramen, head over to the 10th floor of Kyoto Station. Here you will find a plethora of ramen restaurants showcasing styles from all over Japan, at least one of which is sure to suit your tastes. Most restaurants have a vending machine outside of the establishment for you to order what you want, and many machines have English-language guidance as well. This makes a perfect quick stop as soon as you arrive in Kyoto!

Access: Take the "Daikaidan" (grand staircase/escalator) to the 10th floor of the station building. The ramen area is located next to the observation deck.
How to Get Around Kyoto
With so many different places to see across the city, your best bet to get around cheaply is public transport!

Buses
Kyoto has an extensive bus network, which covers all of the main sights (and some hidden treasures). It is a great way to see the city as you move around as well. You can purchase a one-day bus pass at the bus station just outside Kyoto Station which allows you unlimited travel on the bus network for ¥600 per person (¥300 per child).

Subway
There is a subway network in Kyoto, but it is not as comprehensive as the bus network. It is useful for visiting downtown districts such as Shijo if you are looking for a quick form of transport that is less congested than the buses. If you prefer to have the flexibility to use both, you can purchase passes which give you unlimited access to the bus and subway networks for up to two days. For adults, a one-day pass costs ¥900 and a two-day pass costs ¥1,700. For children, it is half that price.

Japan Railways
If you are in possession of a JR Pass, then you can also make use of the pass to take day trips outside of Kyoto (or visit Fushimi Inari Taisha). Nara and Osaka are both around 30 minutes away from Kyoto on the JR network and you can also use the bullet train to explore cities further afield, such as Himeji or Hiroshima!

Taxis
Taxis are plentiful and there are "foreign-friendly taxis" available at no extra cost, driven by taxi drivers who have a slightly better understanding of English. With the extensive bus network, taxis are only recommended if you are going to a remote or hard-to-find place or if you are tight for time, as the buses can get crowded and stuck in traffic. Make sure to have a copy of the address written out in Japanese before you get in.
How to Get to Kyoto
Kyoto is one of the major destinations in Japan so getting there is a breeze. Read on to find out some of your options for getting in.

By Plane
The nearest airports are Kansai International Airport and Itami Airport (which only offers domestic flights). Kansai Airport has become the low-cost carrier (LCC) hub in the area which means you can get in and out for a very low price. Peach Aviation can be a viable option for traveling from Tokyo, with tickets going for as low as ¥2,000 one-way on weekdays! From the airport, take the express train HARUKA all the way to Kyoto. It takes about 75 minutes and the fare is just under ¥3,000, which also happens to be covered by the JR Pass.

By Bullet Train
Shinkansen (bullet trains) are the most convenient way to get into Kyoto Station. If you have the JR Pass, this is the best option for you, since they include unlimited rides on the bullet trains. Just be sure to avoid the Nozomi and Mizuho trains, since they aren't covered.

For those without a JR Pass, the journey can be a bit pricey. A one-way ticket from Tokyo will cost around ¥15,000 (about US$135) per person.

By Bus
If you're looking to kill two birds with one stone (three birds, if you count saving money on accommodation) then a night bus is the perfect option for you. Willer Express has an extensive network of night buses connecting Kyoto to other cities for reasonable prices, and they're fairly comfortable. They also offer passes that can add up to some serious savings if you have the time to travel exclusively by bus.
Kyoto Local Tips
Kyoto can be a little overwhelming for first-time visitors, so here are some tips to make your trip here the best it can be!

1. Try to use the subway system whenever possible. The bus network is extensive but it can be prone to delays and congestion on the roads, whereas the subway network is less crowded and much quicker.

2. Bicycle rental shops are everywhere in Kyoto, so you can rent a bicycle from around ¥1,000 per day. Cycling around this mostly flat city is an excellent way to get to know Kyoto and maybe make some serendipitous discoveries.

3. Head over to Gion between 5 p.m. and 7 p.m. for the best chances to see a geisha or maiko. Head into the quieter back streets of the district to avoid the crowds. Be sure to take photographs from afar so that you don't disturb these entertainers on their way to work!

4. Find detailed maps of local areas in Kyoto (or zoom in on Google Maps) and pick a random temple or shrine to visit. You may well be the only visitor and will get a better sense of the serene atmosphere they are supposed to have.

5. Kyoto's streets form a grid. Take back streets that run parallel to the busier main streets to avoid the crowds and get a more local experience of the city!