'Truly Kyoto' Finds for the First-Timer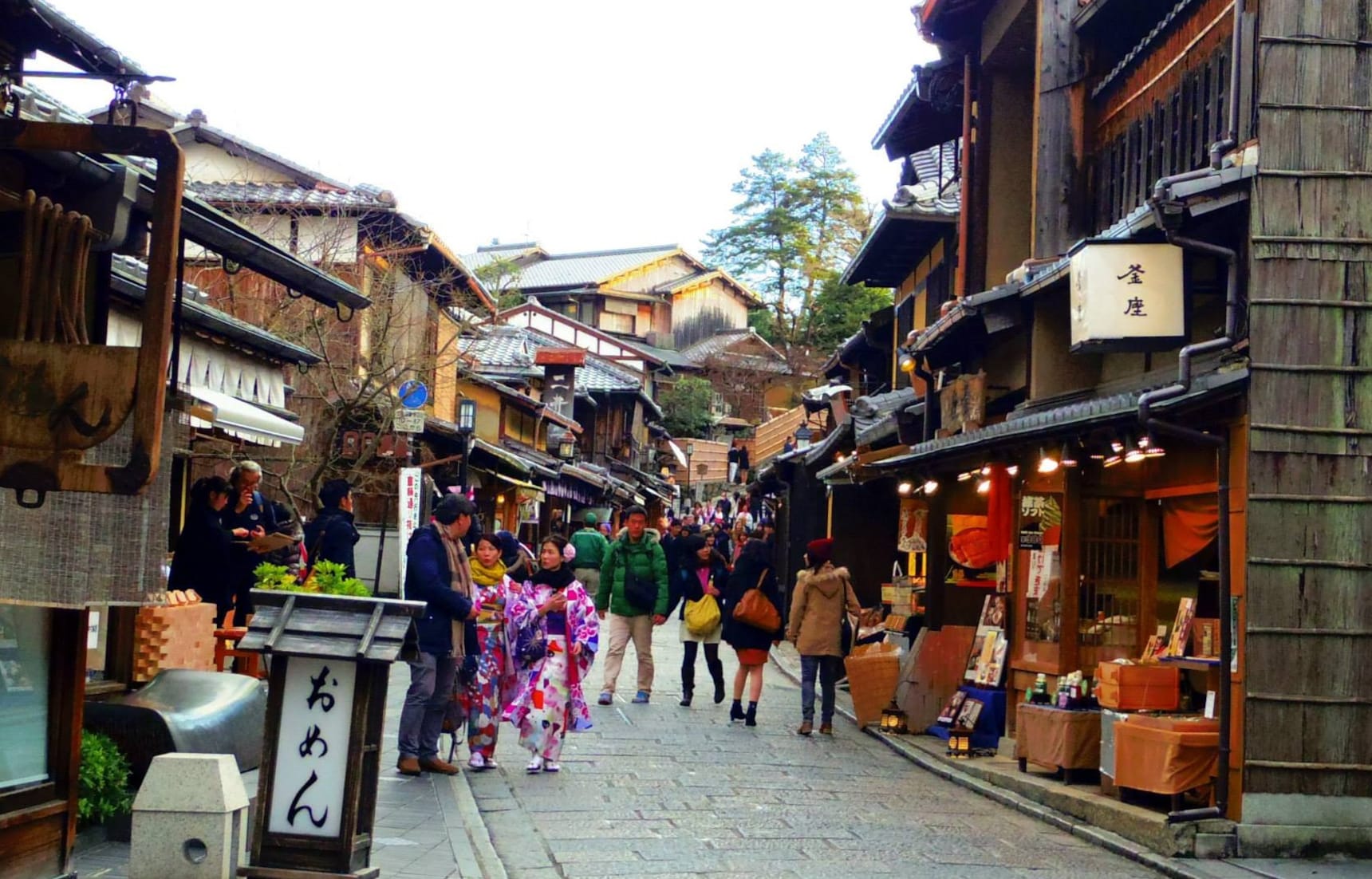 Japan is so much of a wonderland that no two prefectures are alike. A Shibuya Crossing pic and a purchase from Donki may obviously spell out "I went to Tokyo," while a snapshot of snow and a purchase of Shiroi Koibito declares "I was in Hokkaido." Of course Kyoto, in all its old-charm uniqueness, also has a lot to offer. Here's a list for you!
5. Try the ¥100 Street Food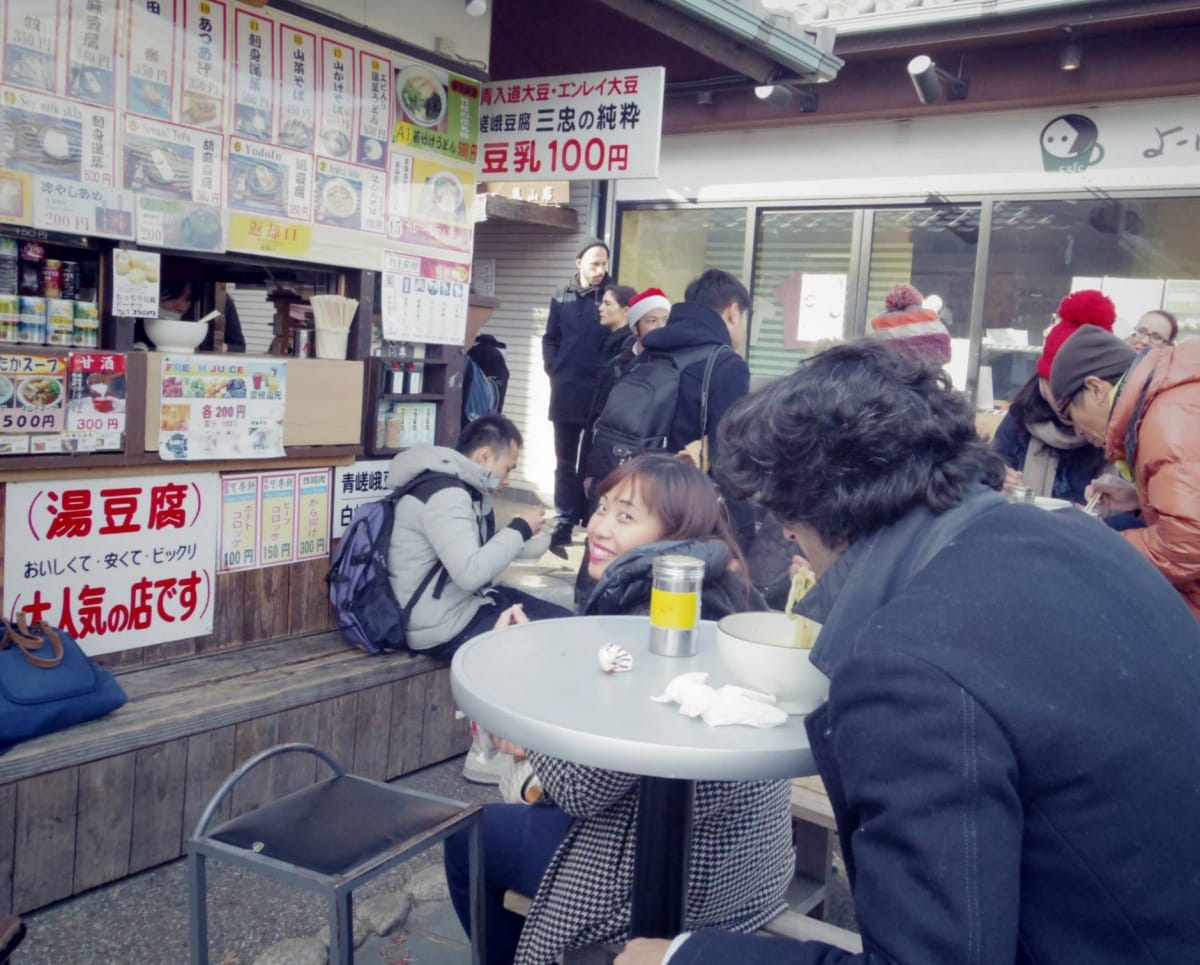 If you head to Kyoto on a chilly month, nothing is more comforting than a bowl of hot udon or soba sold on the street. At spots along the way to most of the popular destinations in Kyoto, such as the exit point of the Arashiyama bamboo grove or along the road leading to the UNESCO World Heritage Sites, you'll find food stalls like these that are not to be dismissed, even if they are advertising cheap food. The ¥100 meals are tasty and filling enough to keep you going on your walking tours around the city. Good choices are udon and takoyaki soup bowls.
4. Munch on Matcha Choux Cream
While choux cream (profiterole cream puff) is French, Japanese pastry-makers throughout the country seem to have perfected this puff pastry. While regular cream-filled choux cream pastries are available in most cities, the truly authentic and flavorful matcha ice cream choux cream can be found along the streets of Higashiyama. It's easy to spot the select shops that sell these, because the salespeople will be screaming at the top of their lungs, inviting you to try these treats. Another clue is to look for the stall that has a longer queue, as it will most likely be the one selling the most delectable dessert that is "truly Kyoto." (Photo courtesy of Robe Paccial)
3. Don a Kimono While Walking Along Higashiyama District
A walk along this road is a "truly Kyoto" experience, because whether you turn to the right or the left, you'll see a hint of ancient glory. Kyoto, known for its 1,200-year history, has made great efforts to preserve the Higashiyama District, an area reflective of the traditional culture of the prefecture. Wood, brick and cobblestone paths mark your every step on the road. Nothing can be more worthy of a photo opportunity than a stroll along this novel street wearing a kimono. Kimono rentals, which can go from ¥3,000-¥5,000, are available in most shops along the street. Windows usually display kimono and signs in English that say "Kimono Rental." Don't get intimidated by the complicated obi (belt), as shopkeepers will help you put on the unique garb to make sure you look picture perfect during your first kimono experience.
2. Capture the Sunset at Kiyomizu-Dera
There's something breathtaking about sunsets. What if you could get to enjoy the changing sky with the view of the scenic Kyoto? Catching the sunset at the top of Kiyomizu-dera means you'll get enjoy a theatrical show: the picturesque sky, the glimmering city lights and the curtain of leaves and trees, all in one act. If only this place wasn't packed with too many tourists. Still, whether you decide to linger or to move to your next destination, this spot is the perfect place to end your busy day touring Kyoto.
1. How's Burnt Ramen for Dinner?
If you you've had enough of ramen in Tokyo and Osaka, give Kyoto ramen a try. This burnt ramen is a Kyoto original, and not even a tsukemen-hunter and ramen-lover like me could say that I could get anything like this in the capital city. If you've tried matcha latte and roasted matcha latte, you'd know that there's a subtle yet distinct difference in flavor. This is the same thing to expect from a bowl of burnt ramen. It's toasted, a bit bitter to taste, but bursting with an aromatic smoky flavor in every slurp. The nice thing about Kyoto Gogyo is that it's spacious enough for you to linger for a while, compared to the usual cramped ramen stalls in Tokyo.