6 Unique Capsule Hotels in Tokyo
Tokyo is known for its numerous classy and luxurious hotels located around the city. But Japan is also famous for capsule hotels—a type of hotel with small rooms called "capsules"—that provide basic accommodation for those who do not require conventional hotel services, usually at a very reasonable price! Here are six unique lodgings in Tokyo!
6. Kangaroo Hotel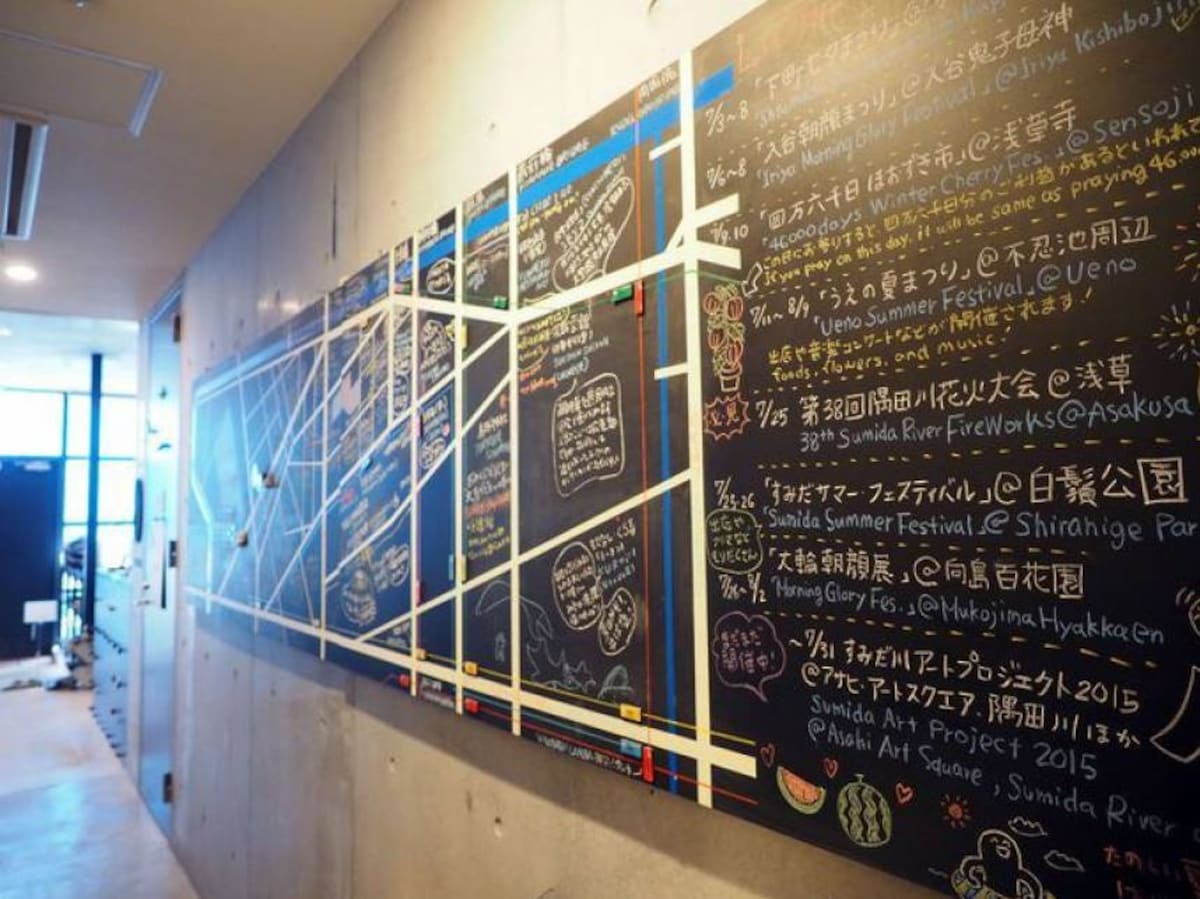 Kangaroo Hotel is located just 10 minutes from Minami-Senju station by foot and won the Good Design Award—an award that recognizes designs in the market that enhance the quality of life—in 2011.

There is a lounge on the first floor that has musical instruments—such as acoustic guitars, bongos and electrical percussion instruments—that you can freely play with your friends. The friendly staff members will sing along with you sometimes! The also have a huge chalkboard with lots of useful information and such as local tips that you cannot find elsewhere.

Furthermore, the rooms in the hotel are individual rooms unlike most cabins or capsule hotels. They come with air-conditioning, a hairdryer, towels and a television. Shower rooms and laundry rooms are also available in Kangaroo Hotel, which makes it great for backpackers!

To add even more, they also have bicycle rental services for just ¥500 per day. They will come in handy if you want to explore nearby places like Ueno and Akihabara!
5. Book & Bed Tokyo
Book and Bed Tokyo is only one minute away from the Ikebukuro subway station. Found on the 7th floor of the Lumiere Building, it's the perfect hotel for book-lovers.

Dozing while reading your favorite book is a blissful feeling. Book & Bed Tokyo has over 1,700 manga, magazines and books of different genres available, which means you can take a seriously deep literary dive. With the wide variety available, many are books that you probably never imagined you would ever come across.

Built based on the concept of "an accommodation bookshop," some of the cabins in Book & Bed Tokyo are literally inside of the bookshelves—your dream of being surrounded by books when sleeping can actually come true! There are also standard rooms and compact rooms available.
4.Centurion Hotel Residential Cabin Tower
The Akasaka area in Tokyo is famous for its various fashionable and luxurious hotels, and Centurion Hotel Residential Cabin Tower is no exception. Part of the Centurion Hotel group, this capsule hotel was opened in November, 2015.

The rooms within the hotel are designed stylishly in red and black, and each capsule has a charger, mirror and table. A television is also provided and it comes with headphones, so you don't have to worry about disturbing your neighbors. Each is also provided with an individual locker and basic amenities, and shower rooms are located within the hotel. At the Samurai Lounge, visitors can enjoy free drinks and even try on different types of samurai armor!

Despite all the facilities provided, a room at Centurion Hotel Residential Cabin Tower can be as cheap as ¥2,500 (about US$22.70). All you need to do is top up another ¥500 for a fantastic breakfast, which includes unlimited salad and bread. Family cabins are also provided at Centurion Hotel Residential Cabin Tower, which come with a cabin with two bunk beds.
3. First Cabin Akasaka
First Cabin Akasaka is more of a compact hotel rather than a capsule hotel. Instead of sleeping in a capsule, you will be provided with your own cabin—a personal room, but not as big as those typically found in a hotel. The hotel is a new addition to the First Cabin hotel group and it opened in March, 2016. It is conveniently located just one minute from Akasaka station.

The front lobby is on the second floor, where you'll find an eatery called Key's Café & Bar, which functions as a café during the day and transforms into a bar after 17:00. One of the cocktails there, "A3136 Coffee Milk," is a specialty cocktail exclusive to the bar. Vodka, coffee and milk are perfectly blended to create a harmony of alcohol and sweetness.

The cabins at First Cabin Akasaka, with their black walls and white furniture, have a calming atmosphere. There are two types of cabins available; the first class cabin and the business class cabin. A safe box, television and basic amenities (as well as electrical outlets) are provided within the rooms. A communal bath is provided within the hotel that plays soothing music to provide a comfortable and relaxing time. Lounges are available too, and guests can use their computers and engage in reading. Over 600,000 people having become a member of First Cabin ever since its advent in 2009, and the numbers are increasing. It is definitely a fantastic hotel to consider.

To see what tops off the list, read the full article from Trip101 via the link below!