5 Retro Hangouts in Greater Tokyo
Shibamata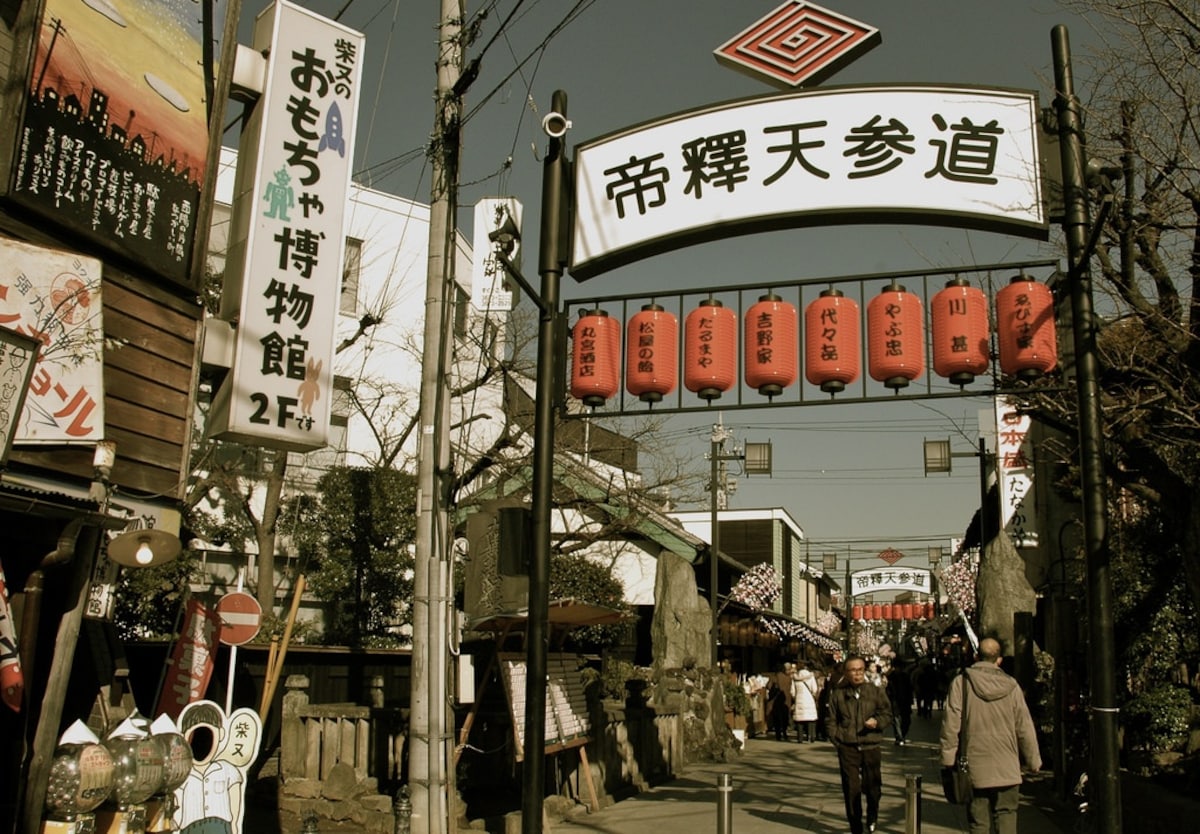 You'll find Shibamata in the eastern corner of Tokyo, on the border of Chiba Prefecture. It's a quaint town overflowing with old-style shitamachi charm. If you're looking for an authentic experience of classic Tokyo but want to avoid the packed streets of Asakusa, this peaceful town right by the Edogawa River is a well-kept local secret, relatively untouched by the world of tourism.

In general Shibamata is famous for two things—the impressive and sacred Taishakuten Temple, and a film series known as Otoko wa Tsurai Yo (literally "It's tough being a man"). Home to a lovely garden complex and a 500-year-old pine tree that's said to look like a dragon, Taishakuten Temple is an impressive piece of architecture, and is especially notable for the intricate wood carvings that decorate its wooden buildings.

Between 1969 and 1995 the insanely popular Japanese series Otoko wa Tsurai Yo was responsible for producing 48 feature films in total. They all followed the exploits of Tora-san, a loveable character who was very unlucky in love. After each adventure Tora-san would return to the family dango (sweet dumpling) shop in Shibamata. So if you do find yourself in town, be sure to try the dango! For even more retro goodness check out the Tora-san Museum, which contains memorabilia and stage sets from different films in the series.
Yanaka
Perhaps a bit more well-known among international visitors, you'll find the delightfully ramshackle streets of Yanaka just a short stroll from Ueno Park. An interesting combination of fashionably laidback contemporary cafés and old-style retail and food outlets, its identity is a unique mix of old and new.

This little corner of Tokyo still stands as is does because it somehow survived the Great Kanto Earthquake of 1923, and thankfully managed to avoid the bombings of WWII. With an atmosphere far more relaxed than its more metropolitan neighbors like Ueno, it's an easy escape for those wanting to take a break from the manic energy of Tokyo's busier areas.

The best way to really appreciate Yanaka is to put aside a few hours to make your way down Yanaka Ginza, the neighborhood's main shopping strip. It's home to an eclectic selection of retail outlets, traditional sweet stands, fresh produce stalls and endless cat-related homages. For a more immersive experience of the area, hunt down the Yanesen Tourist Information Center to sign up for a foreigner-friendly culture class.
Jimbocho
Sprouting from the literary haunts of nearby Meiji University, Jimbocho has been considered Tokyo's go-to neighborhood for bookworms of all breeds since the late 1800s. Just north of the Imperial Palace grounds in central Tokyo, its streets are home to an estimated 160-200 bookstores. And if that wasn't enough, the area regularly hosts large, public book fairs too. This little town is literally overflowing with books!

Although a massive fire in 1913 devastated the neighborhood, burning down a large portion of the area's bookstores (turns out books and fire don't mix well), Jimbocho bounced back—thanks in part to the establishment of the publishing house, Iwanami Shoten—and is now bigger, better and more bookish than ever. A large percentage of the stores you'll find here specialize in Japanese novels (many are secondhand, and can be quite old), but there are a number of stores that sell English books too. Just keep an eye out for the kanji, 洋書 (yosho, which means "western books"), and you'll be on the right track.
Noge
Yokohama is Tokyo's port-side neighboring city, and well worth a visit if you have a little extra time up your sleeve. It may not be as famous as Osaka or Kyoto, but Yokohama is actually Japan's biggest city after Tokyo, and it's also home to one of the country's most interesting (and booze-loving) retro hangout, known as Noge.

Jammed between the tourist magnet Minato Mirai—the city's biggest entertainment and business district—and the sports bar-loving, expat populated corner of Kannai, Noge is a little more down to earth than either of its neighbors. Dotted with tiny jazz-houses, dive-bars and niche eateries, it boasts an intimate charm, one that can be hard to come by in a city as big and slick as Yokohama.
Kagurazaka
If you find yourself getting overwhelmed with the sensory overload and crowds of Shinjuku, escape to the nearby neighborhood of Kagurazaka. Like Yanaka, this part of the city also avoided any major structural damage during Great Kanto Earthquake, although it does have an even more international feel to it. This is due in part to the two nearby French schools, which have also influenced some of the restaurants and cafés in the area.

Besides that, Kagurazaka also boasts a rather unique blend of cultural influences, since the town first gained popularity as an entertainment district, with upscale Japanese restaurants and numerous geisha houses, some of which are still around today. Head down any street corner and you'll find a boozy izakaya or dive bar pumping jazz music. In July, Kagurazaka also hosts an Awa Odori festival, based off of the famous even for which Tokushima Prefecture is famous.