Exploring Art in the Ultimate Tokyo Staycation
With Shinjuku to the north and Aoyama and Omotesando to the south, Gaienmae is a central pocket of Tokyo where you'll find some of the city's most exciting attractions, as well as the new Olympic stadium. If you're staying in Tokyo, this prime location provides the perfect launching point for exploring some of the city's incredible art scene.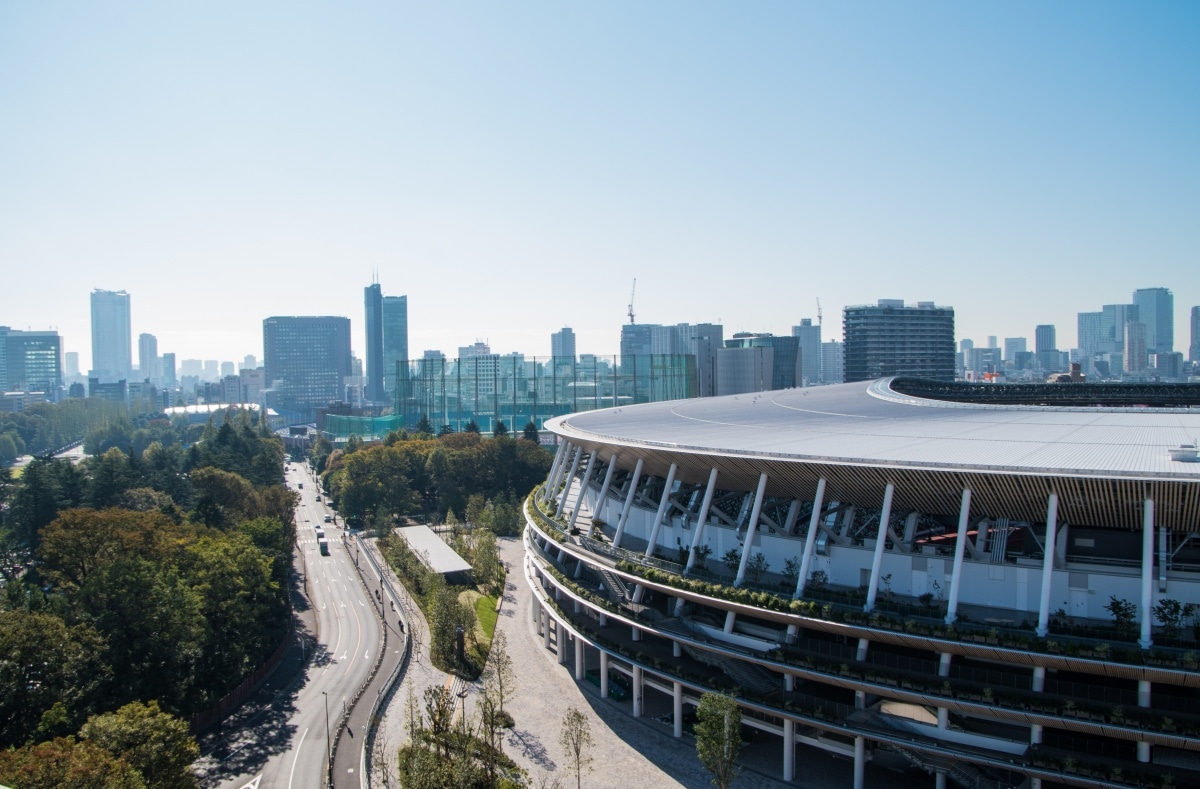 Impossible to ignore (the nearest subway stop is actually named after it), the aforementioned New National Stadium is actually a bit of a misnomer; the original stadium that was used in the 1964 Tokyo Olympics has been rebuilt, based on a design from the renowned Japanese architect, Kengo Kuma. The new stadium has many of the architect's signatures; its soft curve is complemented by beautiful Japanese cedar, the lattices of which cover much of its outer facade. Flora installed on every level makes it seem to blend in with nearby greenery, and from above it almost seems to emerge from its surroundings. The ceiling is open to the sky, providing natural lighting of the events, while a wooden canopy covers the seating to provide shade for spectators.

Across the street is the Mitsui Garden Hotel Jingu-Gaien Tokyo Premier and in a way, it shares a very unique bond with the stadium. The aesthetic of the hotel draws heavily from that of the stadium; the hotel is similarly curved, as if they could fit together like puzzle pieces, and also features touches of gorgeous Japanese cedar. The generous use of wood means that even in the middle of one of the world's busiest cities, you never feel trapped in a concrete jungle. The interior of the hotel is modern and chic, and incorporates three key design elements—water, wood and light—which are dispersed throughout the facility in the form of unique objet d'art. Perhaps the most beautiful aspect of the hotel are the views. Each room has a balcony attached (quite a rarity for Japan, actually), and from the 13th floor rooftop balcony visitors have an incredible panoramic view that sweeps over the city, the pockets of greenery scattered throughout, and even Mount Fuji if the weather is clear.

It's a great place to stay, and with so much to enjoy at the facility you might be tempted to go full on staycation mode—but the city is just waiting to be explored!
Day One: Contemporary Tokyo
Explore Modern History at Meiji Jingu Shrine

Flanked by the multi-colored chaos of Harajuku's main Takeshita Dori on one side, and the lush, green expanse of Yoyogi Park on the other, Meiji Jingu Shrine is the perfect place to begin your Tokyo adventure.

This Shinto shrine is one of the city's most well-known historic landmarks in the city. Built in honor of Emperor Meiji and Empress Shoken, it was completed in 1920, which means 2020 will mark its 100th year. When you pass through the towering torii gates and follow the tree-lined path that leads to the shrine's main grounds, it's hard to believe you're right in the middle of one of the busiest cities in the world. The tranquility is the perfect environment to reflect upon its unique history, and enjoy the traditional architecture of the shrine complex.

It's also a very popular tourist destination, so we definitely recommend visiting in the morning—a stroll throughout these peaceful grounds is the perfect way to start the day.
Marvel at the Contemporary Design of Meiji Jingu Museum

When you're done exploring the main grounds of Meiji Jingu Shrine, head back out towards the main entrance and keep a lookout for the newly opened Meiji Jingu Museum. This minimalistic museum blends effortlessly into the woodland pathway, and the blend of contemporary aesthetics, traditional values and natural materials that complement their environment are hallmarks of Kengo Kuma, who is responsible for this design as well.

As well as admiring the building from the outside, be sure to pop in, admire the museum's cultural properties, and learn a little about one of the nation's most influential Emperors.
International Flavors at WORLD BREAKFAST ALLDAY

After exploring the history of the area, it's time to dip into more modern, international Tokyo. WORLD BREAKFAST ALLDAY is a concept restaurant-café with a unique twist.

Their slogan, as described by their website, is to "get acquainted with foreign culture over breakfast." Each month or so, the restaurant serves up a new menu item featuring a breakfast that's representative of a different country from across the globe. There are two locations, one in Harajuku and a smaller original store in Gaienmae.

The team behind these pastel places of culinary travel regularly meet with embassies, government bodies, and expats based in Japan, to ensure their homages to a country's cuisine are authentic. It might be the francesinha, a Portuguese sandwich, or pierogies and Polish soup, zurek, but no matter what's on offer, it's always delicious! They also have standard menu items, too, which include classic American, British, Taiwanese, Mexican and Swiss breakfasts for those hungry for a little taste of home.
A Living Fashion Show on Cat Street

All fueled up thanks to World Breakfast; it's time to wander the stylish Cat Street, one of Harajuku's main fashion thoroughfares. This wide, carless road that juts off Omotesando (an area you'll explore in more depth later), Cat Street is lined with glass-fronted designer outlets showcasing the most exciting contemporary fashions and brands from across the world.

The home of youth fashion culture in Japan, Cat Street is a great place for shopping and an even better location for people watching. It's also the perfect place to do some bargain hunting; if you're lucky, you might even be able to pick up some Comme de Garçon, and Issey Miyake for cheap at vintage and second-hand stores in the area!
Soak in the History

Another perk to staying at the Jingu-Gaien Tokyo Premier is the large baths on the premises. More than just a luxurious fixture, these baths are actually deeply tied to the history of the area, and Japan as a whole. The hotel is located on the former site of the swimming pool that was used for the previous Tokyo Olympics in 1964, and as homage to the event, tiles and stones that were part of the pool have been repurposed into an art installation that can only be experienced by entering the baths. You can literally soak in the history of the country while soaking it up, which is the perfect end to a day of exploration.
Day Two: Dine & Wind Through the City
Start Slow with Breakfast

Whether you're waking up to a hot bath or sleeping in, the extensive breakfast buffet offered at the hotel's in-house Ristorante & Bar E'volta is a great way to get ready for the day. Breakfast service runs from 6:30 a.m. (for early birds) to 10 a.m. (with last entry at 9:30), and combines the culture and regionality of Italian cuisine with the essence of Japanese hospitality. A selection of freshly baked breads, decadent cheeses, meats roasted on a wood fire kiln and more are sure to satisfy, especially when washed down with a bevy of beverages like coffee, tea and smoothies.
After breakfast, why not take a stroll in the garden next door? Enjoy the nearby greenery and the view of both the stadium and the hotel in the early morning sunshine.
Explore Local Art at Galerie412

Located inside a renovated former apartment, Galerie412 is a cute multi-purpose exhibition space worth a visit if you find yourself strolling along Omotesdando's main street.

While physically separate, Galerie412 is part of the Omotesando Hills Complex. The complex—designed by Tadao Ando—stretches 250 meters along Omotesando, housing modern shopping outlets overflowing with stylish designer boutiques and stores blurring the line between the art and retail worlds. Galerie412 regularly hosts a rotating roster of art events and stores within its compact third-floor space. It's open for public rental, so no matter when you visit, you'll always stumble across someone presenting something unique!

If you're feeling peckish, this is also a great opportunity to head to crisscross—this stylish café is awash in sunshine and aromas of freshly baked bread. They offer classic breakfast offerings like buttermilk pancakes, as well as dishes for the health-conscious, such as a kale and quinoa salad with roasted sweet potatoes.
Tradition Done Differently at Urasando Garden

Just behind Omotesando Hills, you'll find another complex but one of a very different sort. For what Omotesando Hills has in modern style, Urasando Garden has in old, townhouse-style charm. The facade is tastefully decorated with a flower wreath, beckoning passersby into the garden within.

The first floor is where you'll catch most of the action, since that's where the dining area is. The store is actually a collection of shops specializing in Japanese treats, including Ujien, the Mican Club and Riz Labo Kitchen. Whether you have a sweet tooth or are interested in experience some Japanese traditions artfully modernized, you're in for a treat!
As hinted, these are not your regular run of the mill snacks, but artisanally crafted, carefully considered treats. While there are plenty of options from which to choose, including wiggly, jiggly gluten-free pancakes, a beautiful take on warabi mochi called mizu shingen mochi, if anyone is looking for a bit more of an experience, you have to try DIY mitarashi dango. These rice ball skewers are brought to the table with a mini charcoal grill on which to roast them, and your choice of three sweet or savory sauces from a selection that includes basil pesto, cinnamon, Korean chili paste and more!

The second floor of Urasando Garden is home to a small gallery space with rotating exhibitions, so it's also a great place to get in touch with the local art scene.
Omotenashi Culture at SunnyHills Minami Aoyama

A flagship store in Tokyo for a Taiwanese pineapple cake shop, the incredible design and unique hospitality of SunnyHills cements it as a staple of Tokyo's Aoyama neighborhood.
The distinctive, almost pineapple-like design was also created by Japanese architectural icon Kengo Kuma. The latticed wooden exoskeleton looks great from the outside, but also gives the interior a natural, sunlit atmosphere, like strolling through a light-drenched white cedar forest. You're welcome to explore the three-story building at your leisure before heading up the second floor for a complimentary, sit down tea and cake tasting. There's no obligation to purchase the cakes, which are citrus sweet and quite decadent, but after you've sampled them it's almost impossible not to pick up a few extra boxes for home!
Yakitori & Drinks at Agaru Sagaru

Agaru Sagaru (sometimes referred to as Joge Saito) is a well-kept secret hiding in plain sight. This cozy, cavernous, basement-level yakitori restaurant is right in the center of Harajuku's most colorful fashion neighborhoods, but it's quiet, laidback, and the perfect place to unwind after a day exploring this busy corner of the city.
With outposts in Kyoto and Paris too (there it's called Guilo Guilo), you can trust this place takes their yakitori very seriously, without being pretentious. Depending on what you're after, you can order by the dish, or leave it up to the chef, and selecting the restaurant's course menu—which is a modern interpretation of kaiseki dining (small, meticulously prepared plates)—features a diverse selection of yakitori and incredible side dishes. It's easy to understand, but elegant and very affordable.
Day Three: Time Travel Tokyo
Step Back at the Meiji Memorial Picture Gallery

It's time to take a trip back to a more traditional Tokyo, with a visit to the Meiji Memorial Picture Gallery. The impressive and slightly imposing gallery, which opened in 1926, has been recognized as an Important Cultural Property, and rightly so, but rarely seems to be overrun with tourists like other nearby hotspots. So, if the manic energy of Harajuku and Shibuya are getting too much, you know where to go.
The museum's walls are lined with eighty paintings, half traditional nihonga style, and half by leading western-style artists, each depicting a different scene from the life and times of Emperor Meiji. It's a reverent and fascinating look back on one of modern Japan's most influential eras.
Historical Elegance at Meiji Kinenkan

Originally the Meiji Kinenkan (also known as the Constitution Memorial Hall) opened in 1881, and was used to host important international guests—it was also used for meetings and deliberations for the drafting of the Meiji Constitution. The location was changed and the facility was rebranded, and today it is a publicly accessible facility that is regularly used to host parties, weddings and receptions, as well as popup events.

If the venue isn't booked and you have some time to spare, be sure to visit, if only to admire the impressive architecture, perfectly manicured garden, and tranquil atmosphere. It is an elegant snapshot of Tokyo of yesteryear, nestled in the modern world.
A Natural Oasis in Tokyo

While only a short walk from Shinjuku Station—one of the world's busiest transportation hubs—Shinjuku Gyoen National Garden is a peaceful retreat that feels worlds away from big city life. A perfect place for an afternoon stroll, the grounds are made up of gardens of different styles; there's a traditional Japanese garden, a formal garden and a landscape garden, as well as a greenhouse filled with tropical and subtropical flowers.

If you're a bit of a history buff, you'll be interested to know that this site was once the residence of a feudal lord during the Edo Period (1603-1867), but was redesignated a national garden following World War II. While Shinjuku Gyoen's landscape changes dramatically with the passing seasons, with cherry blossom in spring and golden leaves in autumn, it is quite stunning all year round.

Photo provided by Shinjuku Gyoen National Garden Management Office.
Jump to the Future at the National Art Center, Tokyo

From the traditional natural surrounds of Shinjuku Gyoen, it's time to jump into the future with a visit to the National Art Center, Tokyo. An inspiring, almost sci-fi styled modern art gallery and cultural space, the NACT is one of the biggest exhibition spaces in the country. Here you'll find 12 galleries hosting a rotating roster of exhibits, both free and ticketed, covering all facets of the art world, as well as several cafés. It's the perfect place to kick back and relax while soaking up some culture.
Soak it Up at Mannen-Yu

Japanese bath houses, or sento, were the center of communities. Everyone would gather there to bathe, while chatting with friends and neighbors. Now, although almost everyone has a bath at home, many people still gather at sento to relax in the warm and spacious baths. They are truly a great place to dive into one of the unique cultural aspects of Japan.

Located less than a 5-minute walk from Shin-Okubo Station, this traditional but tattoo-friendly sento features a selection of (gender separated) hot baths, a massaging jet stream bath, and a cold water plunge pool for the ultimate refreshment afterward. There's also a bath that massages your muscles with low electric currents! If you stop by unprepared, that's no problem—they have face towels, soap and shampoo for free, and other amenities can be purchased for a small fee.
With that, there's nothing more to do than make the most of the remainder of your stay at the Mitsui Garden Hotel Jingu-Gaien Tokyo Premier! Whether you're hoping to catch 2020 Olympic fever, looking to dive deep into the culture of Tokyo, or are just hoping for a little rest and relaxation, this lux hotel is the perfect place to do it. Happy travels!