5 (Sort Of) Secret Kakigori Spots in Tokyo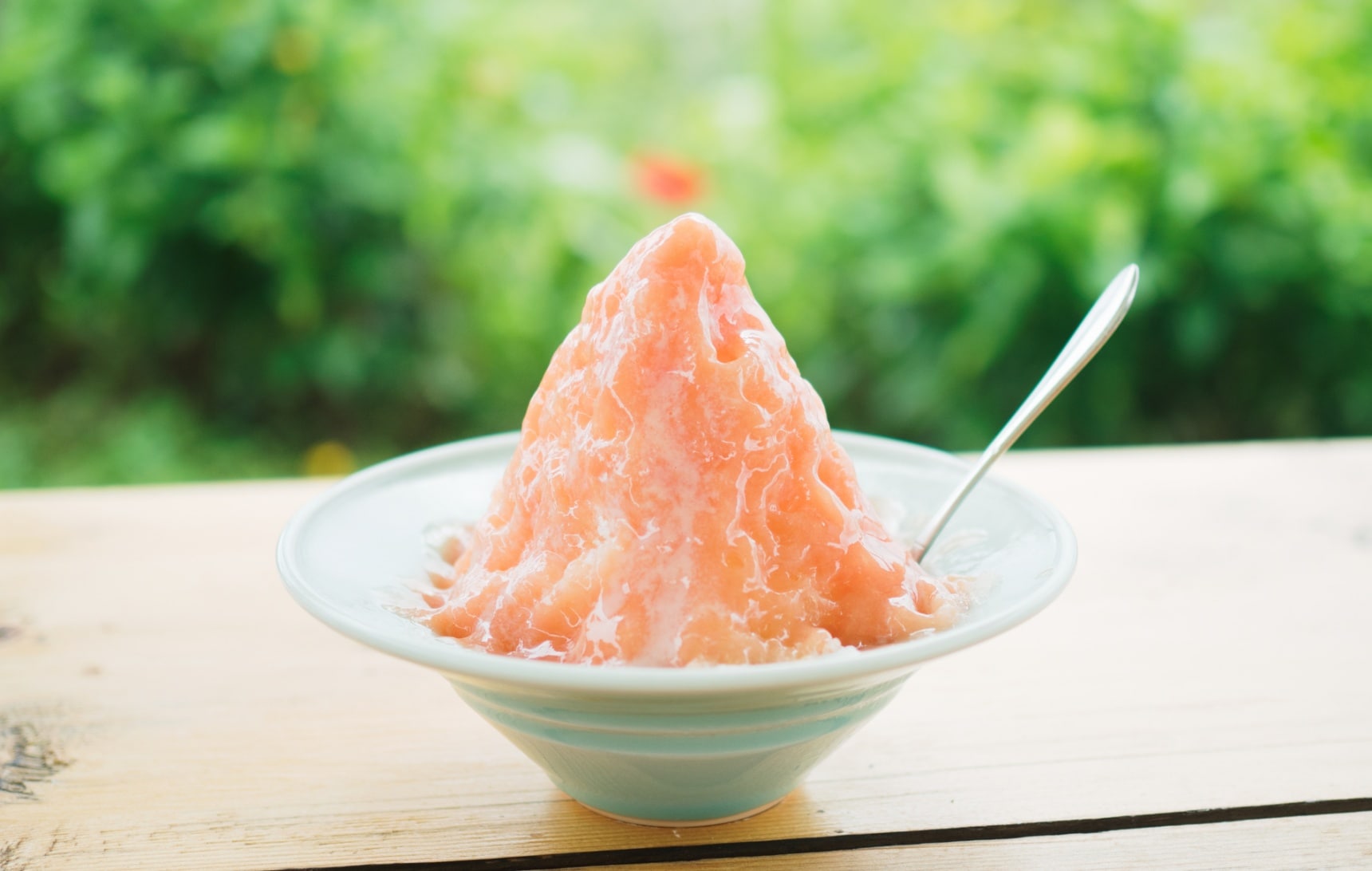 Kakigori are Japanese shaved ice desserts which are flavored with syrups, fruit and even lashings of condensed milk. A beloved summer treat, these cool icy delights have become increasingly popular over the past few years, with specialist kakigori shops popping up across the country. Of course Tokyo is no exception!
Koriya Peace in Kouenji
Known for their architectural, fruit-filled shaved ice domes, Koriya Peace attracts serious fans of this traditional Japanese summer treat, often ordering two per person! Toppings vary from squares of fresh jelly studded with perfectly round balls of melon to fluffy whipped cream and caramel, and the seasonal flavors of this year-round kakigori parlor change regularly, making it well-worth a second visit.

This little spot accepts reservations, although you have to go write down your name on the list tacked to the door in advance. A bit hidden from sight, look for the red door frame and small flag with the character for ice (氷).

Address: Kichijoji Jizo Bldf, 1-9-9, Kichijoji Minamicho, Musashino,Tokyo
Closest Station: Kichijoji Station
Hours: 10a.m to 9:30p.m Tuesday through Saturday, 10a.m to 6p.m on Sundays and national holidays (last order 30 minutes before closing)
Price: from ¥700 to ¥1600, depending on size and ingredients
Minatoya in Sasazuka
Tucked away in a narrow shotengai shopping street, you will quickly recognize Minatoya by the line of eager foodies waiting to try their tasty takoyaki and kakigori, for a perfect harmony of savory and sweet.

Their shaved ices tend towards healthy ingredients like pistachios, almonds and even avocado/milk, which are blended fresh right before being combined with the icy base layer. More decadent options that pop up on the ever-changing menu are tiramisu, pumpkin and sakura (cherry blossom) flavored concoctions, along with perennial favorites like matcha and strawberry/milk.

Address: 2-41-20 Sasazuka, Shibuya, Tokyo
Closest Station: Sasazuka Station
Hours: 11a.m to 7p.m daily except Wednesdays, last order 30 minutes before closing
Price: ¥750 to ¥1200
Kanmidokoro Hatsune in Ningyocho
Right in the heart of Ningyocho, Hatsune has been satisfying local sweets lovers since 1837. The small shop's wooden interior blends traditional tastes with just enough modern touches to create a perfectly soothing atmosphere, further enhanced by the complimentary cup of hot green tea (no matter the season).

If you are looking for a truly classic kakigori experience, there is no better place. The flavors are limited to old-school options like matcha, sweetened red azuki beans, anzu (preserved apricot) and strawberry/milk. You can also try their famous anmitsu dessert, which incorporates mochi rice balls, sweet beans, agar jelly and fresh fruit, all covered in handmade kuromitsu (black sugar sauce).

Address: 1-15-6 Ningyocho, Nihonbashi, Chuo, Tokyo
Closest Station: Ningyocho Station
Hours: 11a.m to 8p.m Monday through Saturday, 11a.m to 6p.m on Sundays and national holidays (last order 30 minutes before closing)
Price: ¥600 to ¥900
Toraya in Ginza
One of Japan's oldest confectioneries, Toraya has several branches around Japan which offer their famous matcha green tea kakigori. However the elegant Ginza branch is special, as it is the only spot where you can sample their luscious strawberry ice treat, known as ichigo mizore. Of course there are also other options, such as a tingly ginger kakigori and refreshing sudachi, a citrus fruit from Tokushima.

The café is located on the second floor of the shop, but be careful about when you visit! They only serve the shaved ice desserts from May 1 until September 30.

Address: 7-8-6 Ginza, Chuo, Tokyo
Closest Station: Ginza Station
Hours: 11:30a.m to 7:30p.m Monday through Saturday, 11a.m to 7p.m on Sundays and national holidays (last order 30 minutes before closing)
Price: ¥972 to ¥1728
Ichounoki in Kita Shinagawa
Ichounoki is a bit off the beaten track, but if you want an Instagram-worthy kakigori, it should be at the very top of your list. The sheer number of options and customizations you can make to your shaved ice at this whimsical shop are staggering, and can be a bit overwhelming if you can't read Japanese. A few popular recommendations are the showstopping ajisai (hydrangea) pictured above, which combines matcha and mint, as well as the pretty and delicious sakura Frangelico. If that isn't enough for your sweet tooth, the apple pie kakigori is also quite an experience.

The interior looks like something out of a fairy tale, and is also fairy-sized. Avoid stopping by with a group bigger than three people, as you are likely to be turned away due to lack of space.

Address: 1-28-14, Kitashinagawa, Shinagawa,Tokyo
Closest Station: Kita Shinagawa Station
Hours: 11:30a.m to 5p.m, from October to June they are closed on Thursday, from July to September they close on Thursday and Sunday
Price: ¥700 to ¥900
Pro Tips!
During the summer—and doubly so on weekends—you can expect to find long lines of Japanese sweets fans waiting to try these delicious cooling treats. If possible visit your intended kakigori shop on a weekday, and get there early in the day to stake your place in line!

Most shops don't have English menus or pictures to help you, so checking out their offerings in advance on Instagram or other sites will help you make your choice without having to deal with all those kanji characters.