Get a Glimpse of the Hello Kitty Shinkansen!
It was a sad day when the Evangelion Shinkansen made its last journey on the rails on May 13, 2018. But where one door closes, another one opens, and West Japan Railway finally let us all peek inside their new Hello Kitty Shinkansen set to make its debut in June, 2018.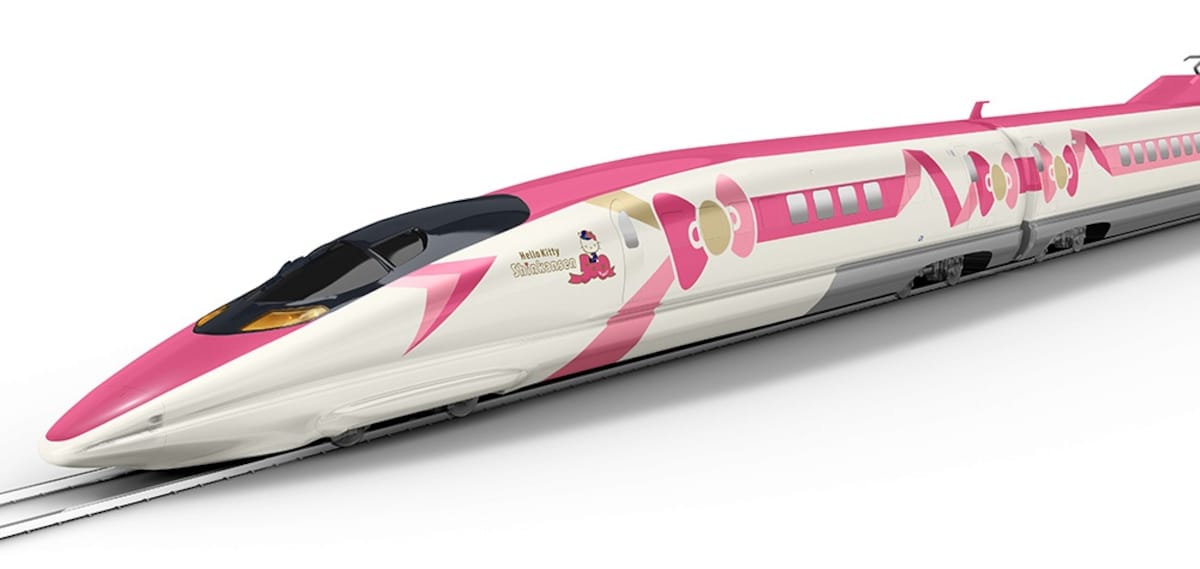 We got our first look back in March, 2018, and have been waiting for more details ever since! The new high-speed train will run on the Sanyo Shinkansen line from Osaka's Shin-Osaka Station to Hakata Station in Fukuoka, and it's all about Hello Kitty helping to "tie and bind customers to the region" with symbolic bows and ribbons on the trains exterior and interior.

The carriages will be wrapped in pink and white, with Hello Kitty's signature bow showcased along the length of a pastel ribbon.
Like the Evangelion Shinkansen which came before it, this special Hello Kitty model will have exclusive design features in its first and second carriages. The first car, called "Hello! Plaza," will feature a pastel pink interior with polka dots, stripes, and ribbon and bow accents. It will also have images of Hello Kitty dressed up in her exclusive train staff uniform.

This first carriage is where passengers will be able to take a break, purchase regional-exclusive goods and watch videos promoting various areas in western Japan. The first of these videos is the "San'in Destination Campaign," which is set to showcase both Shimane and Tottori Prefecture in the San'in region until September. From October, Yamaguchi will be featured, followed by video screenings and goods dedicated to Osaka, Hyogo, Okayama, Hiroshima and Fukuoka Prefecture later in the year.
The second carriage—called "Kawaii! Room"—will feature a comfortable seating area for passengers, with pink Hello Kitty armrests, and decorated windows and floors. It will even have headrests printed with an image of the cute Sanrio character alongside the words "Hello Kitty Shinkansen."
This is where you'll also find the dedicated "photo spot," which provides the perfect backdrop for commemorative pictures of your unique Shinkansen experience.
And the fun doesn't stop there! JR West plans to replace the usual chime used when approaching stations with an original Hello Kitty melody. There's a whole separate slew of goodies in store as well, with campaigns like "stamp rallies"—where passengers can receive prizes for imprinting sheets with ink stamps at various locations—and other exciting collaborations planned for the future.
The new video shows some of the regional Hello Kitty designs we can expect to find on goods aboard the train.

The Hello Kitty Shinkansen will be making its debut on June 30, 2018, for a limited time. To find out more about the train schedule and ticket purchasing, check out the special website here, and read the original article at SoraNews24 via the link below.