Live Simply
The Japanese people are known for their dexterity and attention to detail for everything small. So it should come as no surprise to learn that Japanese no-frills retailer Muji is now getting into the tiny house movement, and recently showcased its range of prefabricated "Muji Hut" minimalist homes and hangouts.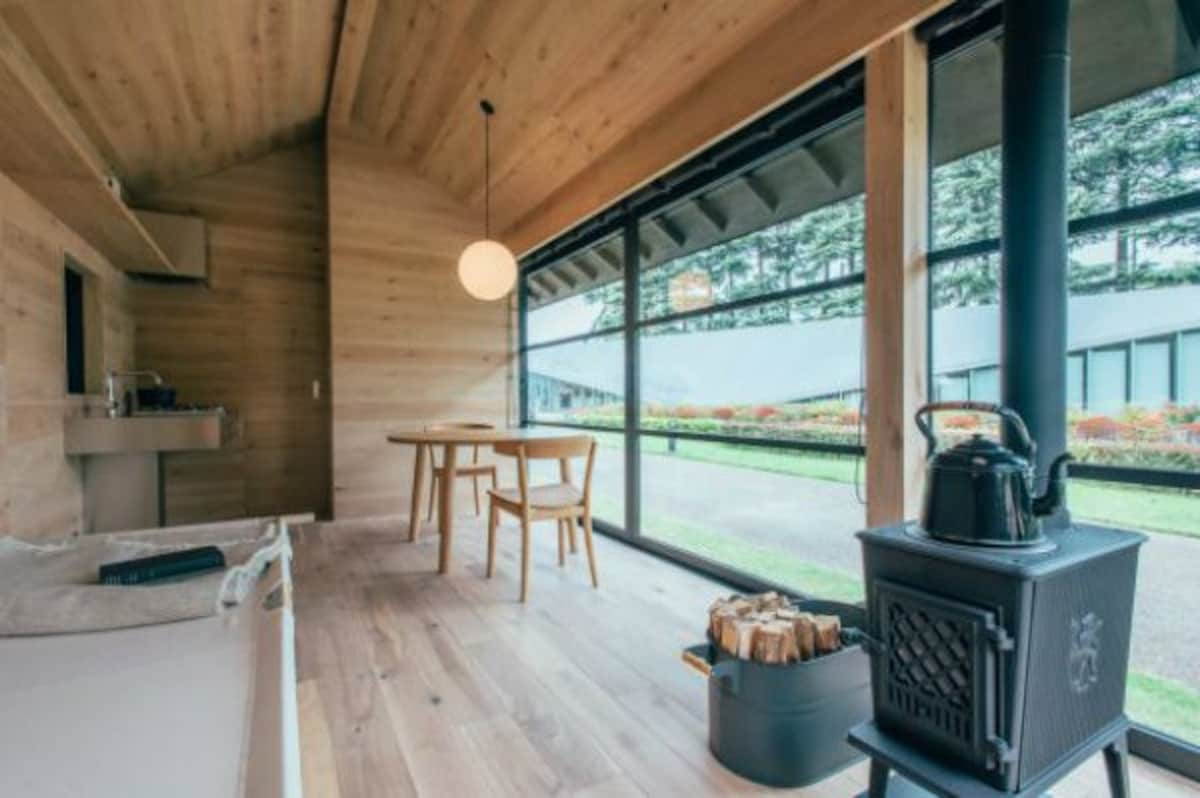 Miicro-home owners have an altogether different view of what a house should be, keeping their possessions to an absolute minimum (or creating clever storage solutions to keep them out of the way), designing their homes so that rooms function differently depending on the time of day, and embracing a lifestyle that favors the use of shared spaces. It's not what you've got but how you use it, they maintain, and it's hard to argue when you see how happy this approach to life makes them.

Although its name is more likely to conjure up images of beige rugs, plain lampshades and stationery than one of architecture and floor plans, Muji—known as Mujirushi Ryohin (lit. "no-logo goods") in its homeland—has been building pre-fabricated homes for quite some time in Japan under the name of Muji House. These simple yet stylish homes are light, airy and functional, not to mention much more affordable than typical homes in Japan, and they seem to be growing in popularity every day.

And now, for those who want to downsize even further, the company has unveiled Muji Hut—a series of three prefabricated buildings of varying styles and dimensions suitable for either straight-up minimalist living or as weekend retreats or shelters.
1. Arumi no Koya
First up is the ultra-small Arumi no Koya (lit. "aluminium hut") by industrial designer Konstantin Grcic. As its name suggests, the building is covered by sheets of aluminium on all four sides, with a front that can be folded out to create additional shelter and a small deck, or closed for additional privacy and security.

The interior, while incredibly bare-bones, is surprisingly light and cozy thanks to the shoji paper doors on the front of the unit. The Arumi no Koya comes minus any kind of fittings besides a simple wooden ladder, but with its high ceiling and private loft space up above, this could easily be used as anything from a simple, single-person weekend dwelling to an artist's studio or office space.
2. Koruku no Koya
Next up is a design that fans of Japanese interiors will no doubt immediately fall in love with. The Koruku no Koya ("cork hut") was designed by English product and furniture designer Jasper Morrison and features, as its name implies, cork cladding on its exterior as well as a narrow, distinctive Japanese-style deck which surrounds the building. Morrison's design features a simple kitchen area, dining space and spacious living/sleeping area fitted with soft tatami-mat flooring, perfect for lazing around on while the wood-burning fire in the corner gets the place nice and warm.
3. Ki no Koya
The third and final structure, Ki no Koya ("wooden hut"), was designed by Japan's own Naoto Fukusawa and is perhaps the most livable of the three designs, even for those unfamiliar with the tiny house movement. The interior features a kitchenette, bathtub, wood-burning stove and dining area. The entire front of the house, meanwhile, is covered in glass to allow for plenty of natural light to enter. It looks wonderfully snug and inviting.

These huts may appear unfeasibly small to some of our readers in the West, but in actuality many of the "one-room" apartments let out in Japan's urban hubs offer less floor space than Muji's two larger weekend retreats here, so with some careful planning and cutting back on one's worldly possessions living in one would be quite possible.

After all, as they always say about the things we own: "You can't take it with you..."