Top 5 Luxurious KAI Ryokan Inns Across Japan
KAI Tsugaru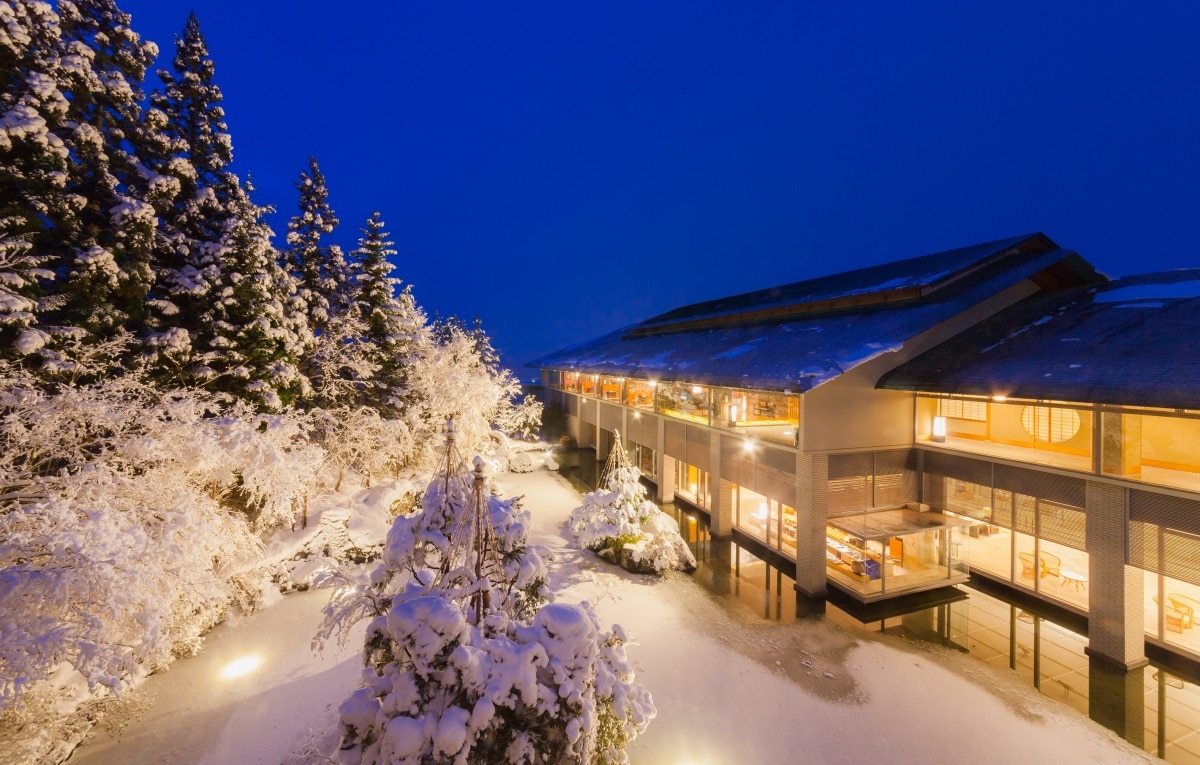 Located 50 minutes by train from Aomori Airport, KAI Tsugaru is a hot spring ryokan in northern Japan. The ryokan is a quiet place designed for guests to get the most out of the local culture, from apple-scented baths fed by the famous Owani Hot Spring to Tsugaru shamisen concerts in front of walls depicting Tsugaru's dynamic coastal scenery.
KAI Tsugaru is located in Tsugaru, Aomori, the northern tip of Japanese main island, Honshu, about 450 miles north of Tokyo. KAI Tsugaru is an elegant ryokan that offers beautiful views of Mount Iwaki, also known as "Tsugaru Fuji" (due to its similarity to Mount Fuji) and the floating garden on the serene water. Murals and paintings by famous Japanese painters and the glow of the Tsugaru lacquer add a touch of class.
Three-stringed guitars called shamisen can be found everywhere in Japan. However, the fast and strong strumming on the Tsugaru shamisen, rather similar to playing a Spanish guitar, is one of the most admired forms of traditional Japanese music performances. A live performance is held on weekends in the lobby in front of the glorious mural. Guests can experience an unexpectedly powerful aspect of northern Japan.
Soak in the bathtub made from 2,000-year-old ancient Japanese cypress, savor the grilled fresh black abalone in seaweed, and experience true luxury of a stay in Aomori.
KAI Hakone
Located 90 minutes by train from Tokyo, KAI Hakone is a hot spring ryokan with rooms offering river views. There is much here that reflects the culture and nature of Hakone, from parquet furnishings to hot spring baths that open out onto vibrant natural scenery, as well as exclusive activities that give a taste of this traditional hot spring town's history.
All guest rooms have a river view, with full-length windows to take in the splendid scenery of Hakone in all four seasons. Past the lobby building, a beautiful corridor of bamboo leads to the guest rooms. There are 32 guest rooms in all (24 Japanese-style, eight Western-style). With its low sofa and bed, the Japanese style room combines the living space and the bedroom into one, creating an open and relaxing feel. The Western-style rooms are located on the highest floor, offering a stunning view.
Hakone has many hot springs and the best among them is the Hakone Yumoto hot spring, which you could enjoy at KAI Hakone. You can also enjoy an infinity hot spring—which blends in with the natural surroundings—in an antique cedar bathtub filled with the bubbling water of the hot spring that's gentle on your skin. Soak in the hot spring and see the changing seasonal scenery of the mountains that spread out before you.

All photos courtesy of Hoshino Resorts