From Silver Mine to Hot Spring Village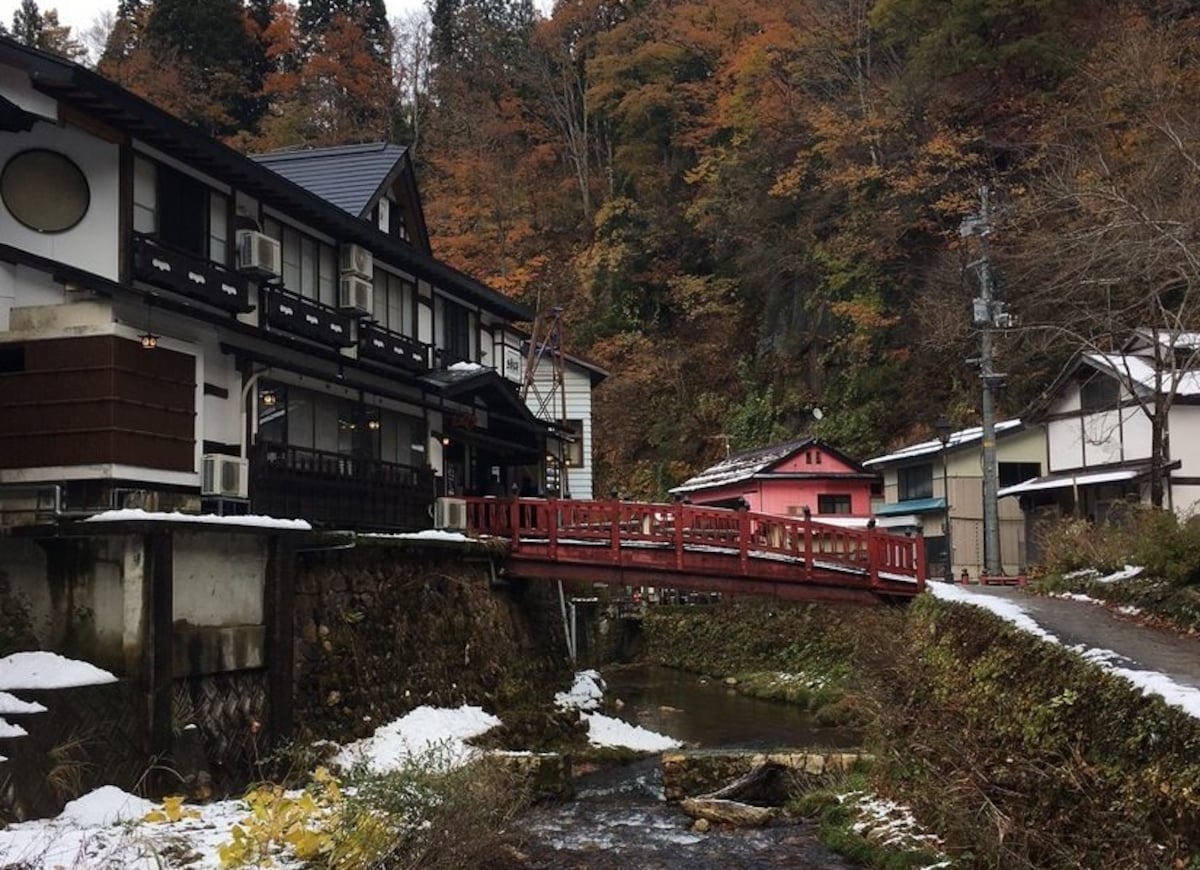 Ginzan was originally founded in 1456 as a silver mine, hence the name Silver Mountain. But it wasn't until 1741 that hot springs were discovered—an unexpected consequences of mining for silver—and the village experienced a renaissance. Ginzan is tucked away in the mountains of Yamagata Prefecture, Japan. But it's more of a hamlet than a village. You can walk from one end to the other in five minutes. But that's part of what makes this quaint little nook so fascinating.
On a recent trip up north, we visited Ginzan Onsen after a hike in Yamadera. If you're headed in this direction we recommend combining the two, as they're only about an hour apart. And after walking up and down 1,200 steps, a soak in one of Ginzan's hot springs is exactly what your body will want. There is a public ashi-yu, or foot bath, for those who don't feel like completely immersing themselves in water. There are also two other public baths for day-trippers and if you're staying at one of the inns, which look like something right out of the movie Spirited Away, you'll of course have access to their hot spring as well.
But a calming river that flows through this picturesque village of hot springs isn't the only thing Ginzan Onsen has going for it. There are quaint little eateries, a bar and souvenir shops that carry local wooden crafts. And if you're up for a little more walking you can even follow the river upstream and explore waterfalls and some of the caves that were old silver mines.
We did not expect to go spelunking in Ginzan Onsen.
Hiking further upstream...
There are 12 different inns to choose from and rates range depending on season but are generally in the range of ¥17,000 (US$144.55) per person per night. Each inn is unique in structure and despite their old-world Japan charm, they were originally built in a Western style, which was characterized by three-to-four-storied multilevel structures. But over time they were slowly renovated and took on a more Japanese look and feel. There are some fascinating historic photos over on the official website below.
The tricky part is getting to and from Ginzan Onsen from the train station. The village is quite isolated and accessible only motor vehicle. If you're staying at one of the inns, they provide shuttles. But if you're day-tripping, you'll have to plan to take the bus, which only runs every two hours. We happened to miss the bus both ways and took a taxi (¥6,000/US$51 one-way trip… ouch).
Ginzan Onsen is beautiful any time of year, and each season presents a different set of colors. The most popular time is spring but winter is pretty amazing too. But no matter when you go, plan to stay in the village until the evening because that's when all the lanterns light up. It really is quite a sight.