The Tomioka Silk Mill
The Tomioka Silk Mill stands in the old city of Tomioka, located in southwestern Gunma Prefecture about 100 kilometers (62 mi) from Tokyo. It was designated an historical site by the Japanese government in 2005, and recognized as a World Cultural Heritage Site in 2014. It is a well-preserved symbol of modernization and international cooperation.
Japan's Modernization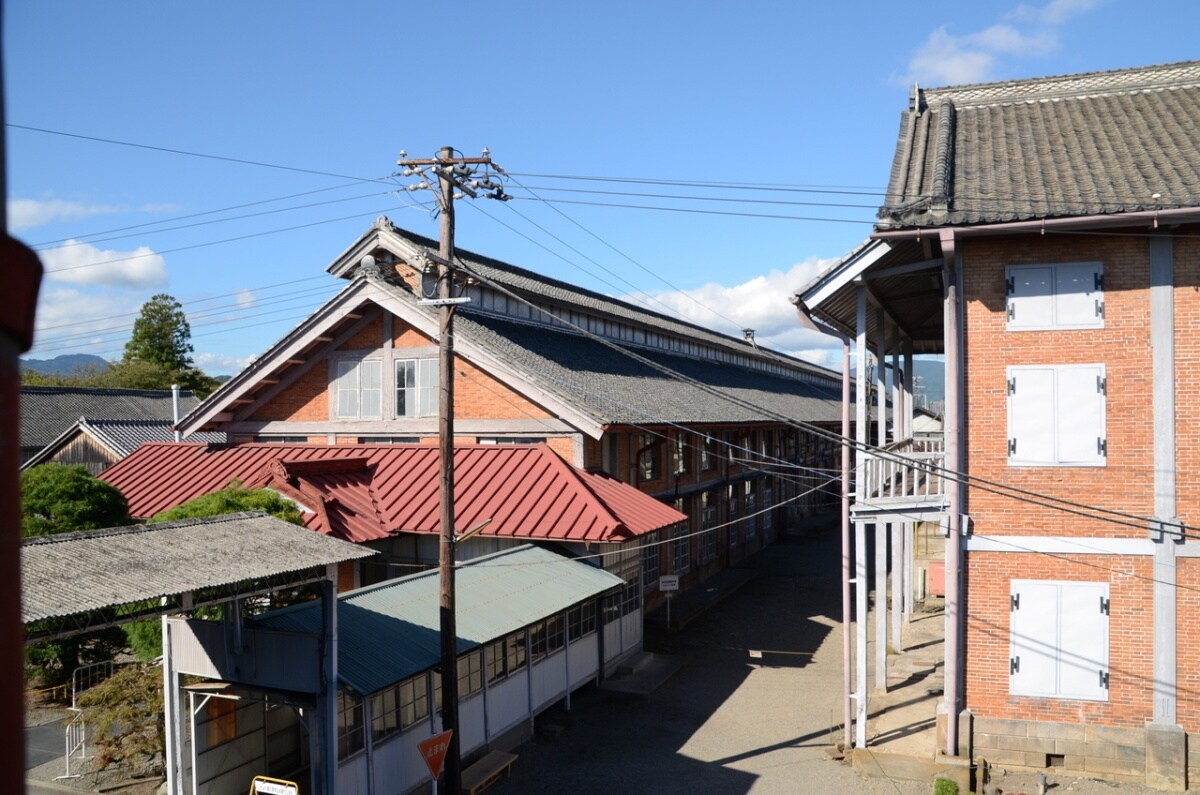 The history of the Tomioka Silk Mill is tied heavily to the Meiji Restoration, and Japan's push to become a modernized country on equal footing with the foreign powers of the time. Silk production and exportation was one of the most essential growth industries in Japan, and with the help of the French trader Paul Brunat, the government decided to establish a modern factory with Western silk-reeling machines to improve the quality of raw silk and the rate of production. Tomioka was chosen as the site of construction due to the popularity of sericulture (rearing of silkworms) in the surrounding areas, and the factory was up and running by 1872.
Landmark Facility
Silk was in high demand in Europe, especially in France, where the domestic silkworm population had been devastated by disease. Japanese silk was the perfect answer to the problem, and helped establish an important trade relationship between France and Japan.

The facility was a pioneer in ways other than its machinery. The influence the French had on the architecture is apparent at first glance, thanks to the beautiful timber-framed brick buildings, which are reputedly the best preserved in the country.

It was also a crucial step in establishing better working conditions for women in Japan. Young women from around the country worked at the mill for no more than eight hours a day (a rarity even in Japan's modern workforce!), and attended school at night, where they were taught the ins and outs of the trade by French experts. Many went on to supervise silk-reeling industries in their hometowns, and helped improve the status and conditions for women working in factories.
The Silk Mill Today
The Tomioka Silk Mill is currently managed and maintained by the city, and is open to the public to help preserve its proud industrial heritage. Operating hours are from 9 a.m. to 5 p.m. Although admission for Tomioka residents is free, it costs ¥1,000 (about US$10) for adults, ¥250 for college and high school students, and ¥150 for elementary school students.

Tours run regularly throughout the day in Japanese, while audio guides are available English, French, Chinese and Korean for ¥200. They also offer hands-on experiences, as well as demonstrations of the reeling machines daily throughout the year.

If you stop by, be sure to sample some of the local specialty, konnyaku (a gelatinous yam cake), and pick up some beautiful Tomioka silk goods!