Take a Luxury Bus Tour of Sasebo!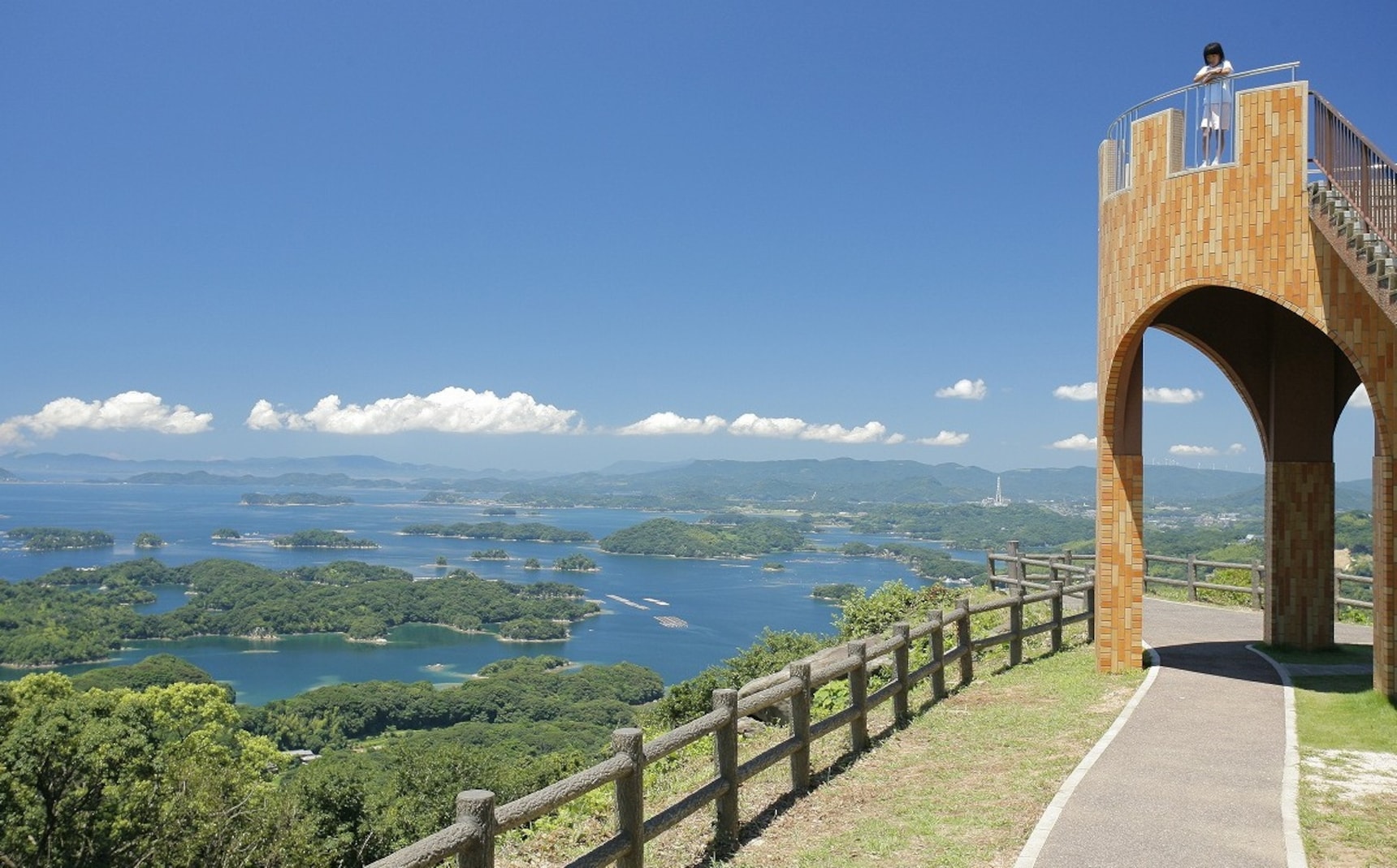 3 Courses to Choose From!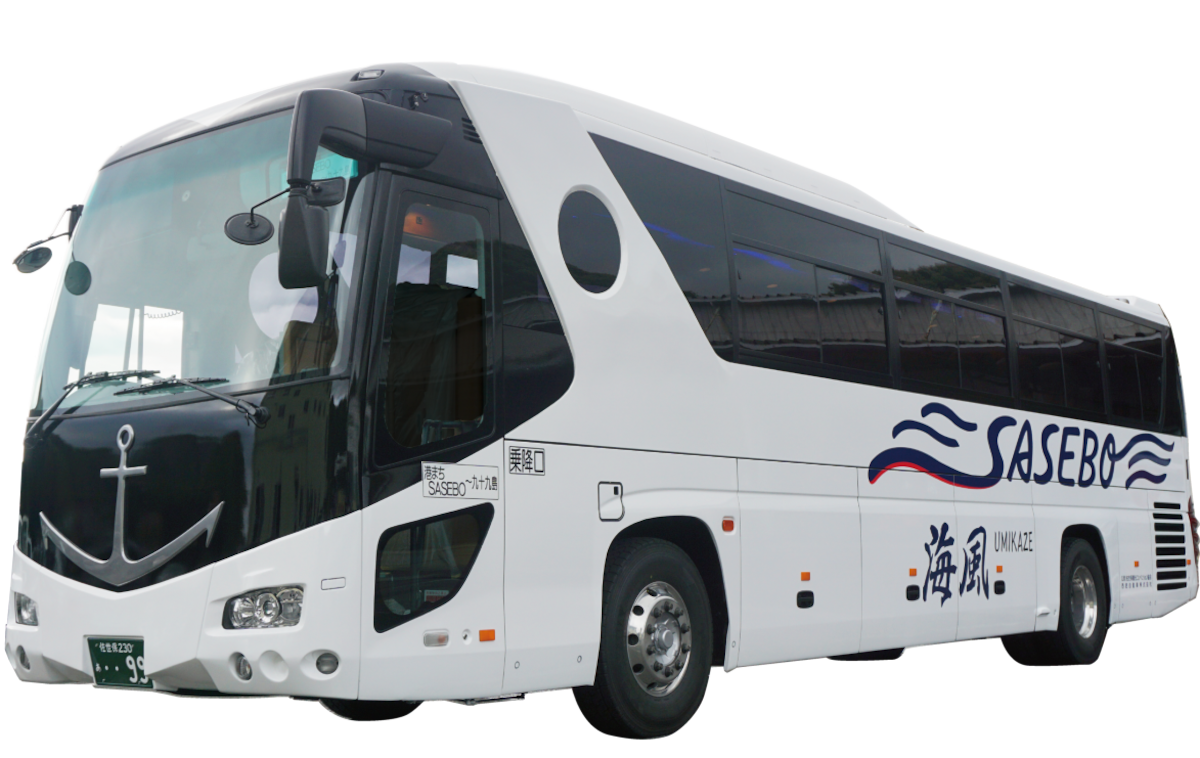 There are multiple different ways to enjoy a luxury cruise bus tour with Umikaze! Whether it's your first time to Sasebo or you're on a return trip, the Umikaze promises half a day spent enjoying Sasebo to the fullest. Below we'll take a look at the three course options, which you'll be pleased to discover are all available nearly every day! (Services not offered on Thursdays. For details on service hours, please visit the site below.)
Like Being at Sea
Modeled after a luxury cruiser, the Umikaze bus interior is outfitted with high-quality natural wood paneling and genuine leather seats. Spend your journey in comfort and enjoy total relaxation!
Course A: Funakoshi Observatory Course (90 min)
Depart in the morning and travel around the highlights of Sasebo, then head to Funakoshi Observatory, with its impressive views. This tour ends at lunchtime, so your afternoon is free for sightseeing at leisure.

Depart Huis Ten Bosch (first tour of the day only) 9: 50 a.m. → depart Sasebo Bus Center 10:30 → depart Sasebo Station Minato Exit 10:40 → Maritime Self-Defense Force (JMSDF) Sasebo Museum (Sasebo Sail Tower) → U.S. Sasebo naval base (CFAS) main gate→ Sasebo Heavy Industries Shipyard, red brick warehouses, No. 4 dock → Funakoshi Observatory→ depart Kujukushima Pearl Sea Resort 12:00 → Sasebo Station Minato Exit → Sasebo Bus Center
Set Sail!
Enjoy both the city of Sasebo and the stunning views overlooking the Kujuku-shima Islands with an attendant who will introduce you to the charms of Sasebo! We start from the Maritime Self-Defense Force (JMSDF) Sasebo Museum (Sail Tower), then go on to view the main gate of U.S. Sasebo naval base (CFAS) from the bus window.
Sasebo Heavy Industries Co., Ltd. (SSK)
Sasebo Heavy Industries' historic shipyard has been in operation since the days of the former Japanese navy. The shipyard is responsible for maintenance and repairs for the Japan Maritime Self-Defense Force (JMSDF) and the the U.S. Navy fleet, both of which have bases in Sasebo. One of the shipyard's tall cranes, which can be seen from all over the city, has been on active duty here since 1913. The Sasebo Heavy Industries 250-ton crane is registered as a National Tangible Cultural Property.
20 Red-Brick Warehouses
These historic warehouses have been in existence since the 1890s. While there are red-brick warehouses left all over the country, the group that exists in Sasebo ranks top in Japan in terms of both quality and quantity.
Sasebo Heavy Industries No. 4 Dock
This large-scale dock was built to repair battleships during the Pacific War. It was said to be the largest dock in the world at the time. Stunning in scale, it remains Sasebo Heavy Industries' largest dock.
Funakoshi Observatory
While relatively low in altitude, this observatory offers powerful views of the Kujuku-shima Islands.
Funakoshi Observatory
Kujukushima Pearl Sea Resort
Our final stop is this resort park situated at the gateway to the Kujuku-shima Islands and Saikai National Park. With island cruises on pleasure boats and opportunities to enjoy the sea on a yacht or kayak, this is the best place to experience Kujuku-shima!
Kujukushima Pearl Sea Resort
Enjoy More of Pearl Sea Resort!
If you'd like to enjoy more of Pear Sea Resort, you can board another Umikaze tour after alighting your bus (providing seats are available). Alternatively, you can also board a city bus free of charge (Pearl Sea Resort – Sasebo Station route). Please collect your free bus ticket from the attendant after alighting the bus at Pearl Sea Resort. Free bus tickets are only valid on the day of your tour.

Of course, the Umikaze bus offers other fascinating tours in addition to the A course above!
Course B: Yumihari-dake Observatory Course (100 min)
Departing in the afternoon, this course takes you around the Sasebo City area before heading to the Yumihari-dake Observatory to enjoy commanding views of nature and the city of Sasebo.
Yumihari Observatory Tower
Course C: Tenkaiho Observatory Course (100 min)
As per the A and B courses, this tour visits spots around Sasebo City before progressing to Sasebo's most popular and impressive observatory, which offers grand panoramic views of the Kujuku-shima Islands.
Tenkaiho Observatory
Free Multilingual Audio Guides!
Another appeal of the bus tours is that you can download an app onto your smartphone and enjoy automated audio guide services in several foreign languages! Once you've downloaded the app, you can enjoy the service offline. Simply download at the Sasebo Tourist Information Center inside the JR Sasebo Station building.