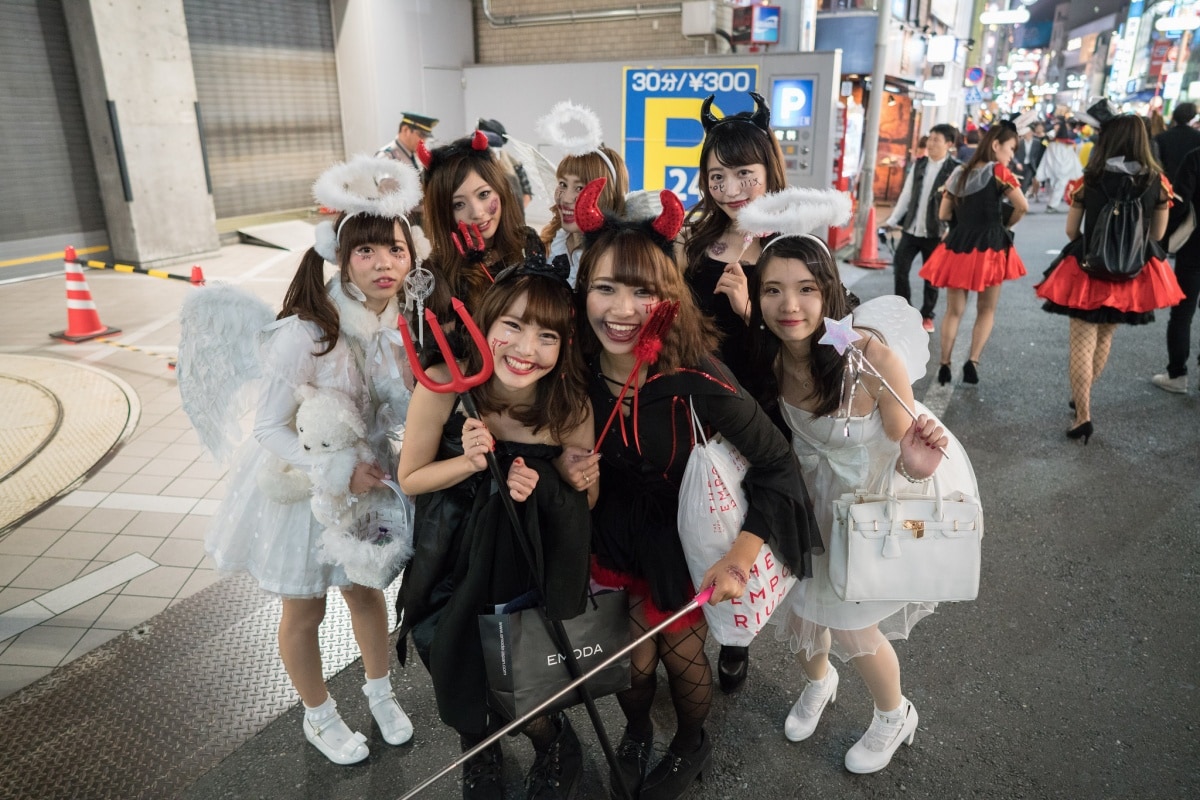 Since it's Halloween, the first thing you would need is a costume. But where to go if you don't want to break the bank?

First of all, it's worth knowing that especially for girls, there are two categories of costumes: either you go the scary way or the sexy way. Whichever way you choose, if you're good with makeup you can always focus on that more than on the costume!
Fake blood and wounds, dramatic eyelashes and body paint can all be found at ¥100 shops. The quality won't be top, but we're trying to save money here! There are also many bloody makeup tutorials on YouTube, and lots of those required items can be found for ¥100 (you won't believe what you can do with glue and toilet paper). In recent years, the same shops also started selling some basic costume props, like animal ears and witch's hats, for around ¥200-300. You can also decorate your nails with spooky cute stickers and pimp your house with all kinds of cute props.
If you want a full-fledged costume, you can try and scavenge your local Don Quijote, but cheaper finds might be rare. In general, girls have it easier when looking for costumes. If you are someone who plans in advance, check out Amazon and Rakuten: you will be able to find some basic costumes (for example nurse or police woman) for less than ¥1,000. In this case, the research becomes easier if you already have some ideas about what to be!

If your Japanese is good, you can also try auction and private sales websites and apps like Yahoo Auctions and Mercari, where you might be able to find second-hand costumes in good condition.
For girls, another shop to consider is Bodyline. While famous for its Lolita clothing, the shop also has an extensive selection of costumes on the cheap. Be aware that the sizes tend to be on the smaller side, and you cannot try them on. The shop sells online goods, but also has physical locations in Harajuku, Nagoya and Osaka.
Finally, you can hit your local thrift shop and get creative with making movie and anime character costumes! Cheap second-hand clothing store chains like Mode Off, Tanpopo House and Don Don Down have clothes that you can rip and alter for as low as ¥100 a piece.

Once you're all prepped with your fancy yet cheap costume, the next thing to decide is hitting the streets or taking part in cheapo events! Be aware that in 2016, October 31 falls on a Monday. So given the well-known Japanese work ethic, a lot of the partying will likely happen on October 29, 2106, which is on a Saturday.
In recent years, people have been gathering in Shibuya on Halloween night and filling the streets, showing off their costumes. While this is probably the cheapest option, be aware that the place is chaotic and later trains tend to be packed, so plan accordingly.
Other neighborhoods in Tokyo have daytime parades or early evening events for Halloween. For many, registration and a small fee are required. Among the best known:

• Kawasaki Halloween Parade (Cost: ¥1,000, registration required)
• Roppongi Hills Halloween Parade (registration required)
• Ueno Halloween (registration fee for the parade is ¥2,500, but the area offers free events like idol concerts, a fashion show and free spooky workshops)
• T-Spook in Odaiba (this event includes a parade with famous guests and concerts. While the concert tickets seem to be sold out, you can still buy tickets for the parade for ¥1,500)
• Bakanako Parade in Kagurazaka (while free, it takes place earlier in the month, usually in the second week of October)

Most of the aforementioned parades welcome kids, and there are some others reserved for the tiny people, like the Halloween Omotesando Parade or the Futako-Tamagawa Shopping Center Halloween Event, Yuteji Halloween, Nakameguro Halloween and the Kichijoji Halloween Festa.