The Ryokan Designed After a Moon Princess
The famous Japanese folk legend of Kaguya-hime (also known as The Tale of the Bamboo Cutter) tells the story of a beautiful princess found in a bamboo stalk who eventually returned to the moon. Built with that story in mind, Kinnotake is a playful, extraordinary inn constructed in harmony with the nature of Hakone.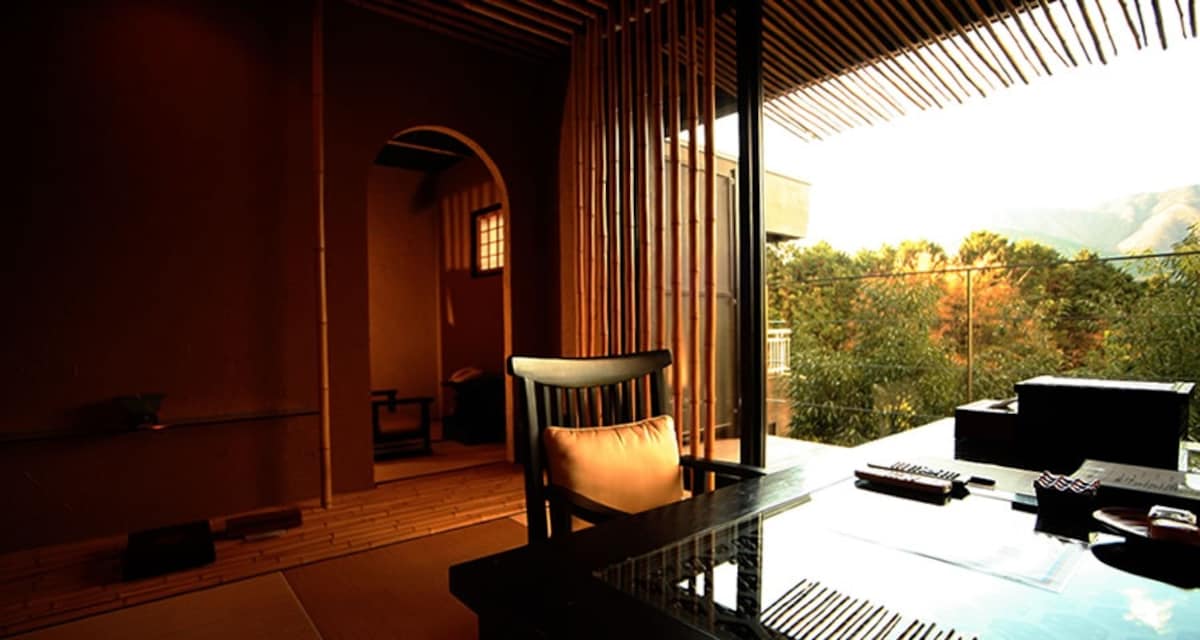 Located in Sengokuhara with its many facilities and art museums, this ryokan is convenient for its location close to Hakone sightseeing spots like Lake Ashi. It also has an excellent view of Mount Fuji and easy access to Gotemba. For a fee, pickup service from the airport is available, and they even have a large collection of wines and a fully equipped spa room. Take in the charms of the bamboo found all throughout the building as you enjoy a first-rate stay in Japan!
Outdoor Baths for Every Guest Room
Before you realize it, your breath will be taken away by the building, which makes you feel like you've been whisked away somewhere, like an ancient Japanese legend brought into the modern era. Enjoy gazing at Kinnotake's objets d'art from any room. At night, watch as the half-moon flower basin transforms into a giant mirror. All rooms come equipped with Wi-Fi, so you can post a picture of the beautiful scenery as soon as the inspiration strikes!
The Beautiful Spirit of Old Japan
Each room has its own flavor. Discovering the characteristics of your own room is one of the pleasures to be had upon arrival.
Gorgeous Traditional Cuisine Brought to Life by Talented Chefs
Enjoy beautiful Japanese cuisine in your own room. The chefs here are especially particular about their rice, so by all means, savor the rice as it brings out the delicious flavors of the other ingredients.

Dinner
•Served in-room, any time between 6 and 7:30 p.m.

Breakfast
• Served in-room; starts at 8, 8:30, or 9 a.m.
• A light bento box can be arranged for guests who intend to depart before 8 a.m. (must be requested the day before)
Feel Like Royalty at a Classical Beauty Spa
Treat your whole body using essential oils extracted from plants. As the pleasant aromas melt away your stress and help you relax, the essential oils will work with your skin and help make your body feel like new again. Take this opportunity to give your travel-weary body a much-needed rest!