3 Great Pumpkin Snacks With a Japanese Twist!
3. Pumpkin Yokan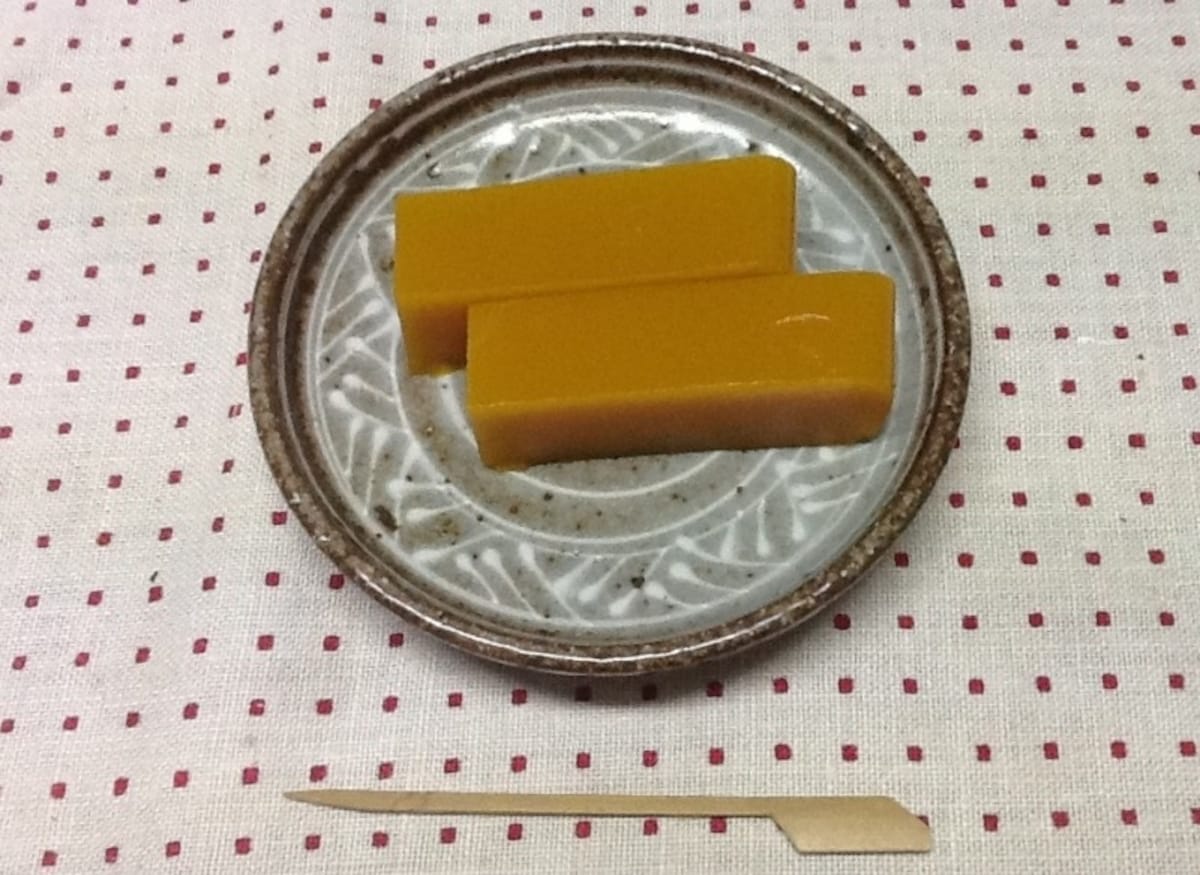 Yokan is a kind of jellied dessert typically made from bean paste, agar and sugar. In this recipe, a dense pumpkin mix is substituted for the bean paste, and solidified using powdered agar. It's safe even for small children, and terrifically delicious! Cut off slices from the finished block to eat.

Ingredients
* 550g (19 oz) pumpkin
* 300ml (10 oz) water
* 4g (0.14 oz) powdered agar
* 180g (6.3 oz) sugar
* A pinch of salt

Directions
1. Scoop out the pumpkin guts and seeds and remove the skin. Cut the pumpkin meat into small pieces and lightly boil.
2. Put the water and powdered agar in a pot and bring it to a boil. Then put in the sugar and salt and bring it to a boil again.
3. Once the pumpkin from step 1 is soft, mix it in a food processor (a blender or masher is fine, too).
4. Add the pumpkin into the pot a little at a time to keep the mixture smooth. Once it's mixed, put the mixture into a mold to cool at room temperature. After it's cooled down, put it into the refrigerator and it's done!
2. Pumpkin & Tofu Maple Cake
This is a healthy cake made using pumpkin, tofu and maple syrup. Just mix the ingredients in a blender, bake, and it's done!

Ingredients
* ¼ of a pumpkin
* 1 block soft tofu (about 300g/10.6 oz)
* 3 tablespoons skim milk
* 3 tablespoons maple syrup
* 1 tablespoon canola oil
* 4g (0.14 oz) powdered agar
* Any toppings you like (we used pumpkin seeds)

Directions
1. Mix all of the ingredients using a blender or food processor.
2. Put the mixture into a cake mold (one with a removable bottom is best) and bake at 180°C (356°F) for about 30 minutes.
3. Once it's cooled down, put it in the refrigerator.

This is a very simple recipe, but the texture of the cake will be bouncy due to the powder agar. The main ingredients are pumpkin and tofu, so it's a nutritious, healthy snack. It's refreshing, but the maple also gives it thickness, which enhances the flavor. At only around ¥300, the ingredients are very cheap! This is a cake that you can feed to even small children with peace of mind.
1. Kabocha Custard Pudding
This pudding uses an entire Japanese pumpkin or kabocha. The recipe leaves the pumpkin's skin as-is and doesn't override its natural flavor, making the vegetable itself into a confection.

Ingredients
* 1 kabocha (Japanese pumpkin)
* 1 egg
* About 150ml (1.7 fl. oz) soy milk
* 2 tablespoons beet sugar
* 1 tablespoon powder agar

Directions
1. Wrap the whole kabocha (pumpkin) in cling film and put it in the microwave (ours runs at 600W) for three-and-a-half minutes. Let it cool off with the cling film still attached.
2. Once it's cooled off, cut off the top part and scoop out the insides of the kabocha. Separate the guts and seeds and mash the pumpkin meat.
3. Add the remaining ingredients to the mashed mixture, then mix them in a food processor and return them to the pumpkin. Put any leftover mixture in a separate container.
4. Pour hot water in a baking tray and place the mixture-filled pumpkin on top. Bake covered for approximately 40 minutes at 160°C (320°F).
5. Take the pumpkin out of the oven. Once it's cooled down, put it in the refrigerator, and it's done!

You can serve this with cream or vanilla ice cream to your liking. If you find the dish isn't sweet enough for you, it goes great with maple syrup, honey or brown sugar syrup. And of course, you can eat the peel!