12 Vegetarian Dishes Served at Most 'Izakaya'
12. 'Sansai' (Mountain Vegetables)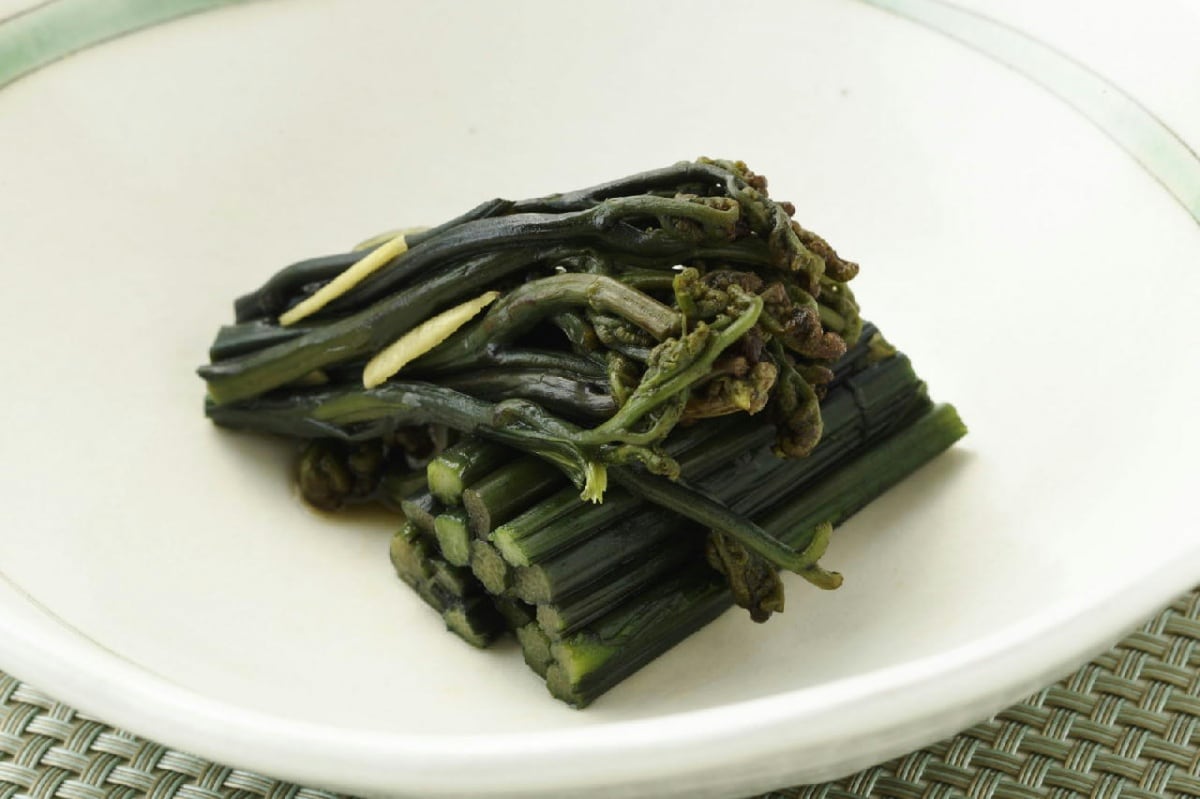 Japanese mountain vegetables such as warabi (bracken) make wonderful pickings, but since they are more often a part of Japanese kaiseki (haute cuisine), they aren't always available in regular restaurants. If you do get an opportunity to try them however, don't miss the chance!
11. Mochi
Mochi, most often found in the form of dense rice cakes, shows up in some okonomiyaki and monjayaki (where it is cut into little rectangles), and it can also be served either grilled (kirimochi) or fried (agedashimochi). It's a nice warm dish that soothes the belly in the autumn when the days are getting cooler.
10. Eggplant (and Other Vegetable Side Dishes)
Eggplant (nasu in Japanese) is often ordered as a side dish at Japanese restaurants. It is served grilled (yakinasu) or baked and flavored with a warm miso sauce (made from soy beans, sea salt, and koji). When cooked properly, it is truly epicurean. Other vegetables served as sides are konyaku (a gelatin type food made from yams), yamaimo potato and pumpkin. Even raw cabbage leaves are served with salt, and they go well with beer!

Tempura is also a favorite food of vegetarians. In addition to fried vegetables, you can also get herbaceous plants such as shiso leaves and even maple leaves. But be careful because mixed tempura sets typically include shrimp and other fish items.
9. 'Kushimono'
Kushimono, or skewered food, is readily available in Japan. Lotus root, mushrooms, green pepper, okra and many other vegetables such as gingko nuts (as well as meats) are served on sticks. Kushiage is the same stuff, but fried, on a stick. Try vegetable croquettes also.

Tip: There are even kushimono restaurants dedicated to the pleasure of eating off a stick. If you're in Osaka, try Tenjin Jinja, a kushimono restaurant on Dotonburi Street next to the Kani Doraku crab restaurant.
8. Noodles
Somen and zaru udon are two of the few noodles not served in a meat-based sauce. As they are a summer food, they'll be difficult to find outside of the hot season.
7. 'Tsukemono'
Tsukemono, pickled vegetables, often come as an accompaniment to a meal. Soaked in brine, tsukemono, can be quite salty. If soaked in sugar or a combination of vinegar and sugar, it can be mild and almost sweet.

Tip: The purpose of tsukemono is to clean the pallet, balance out the umami flavors in a Japanese meal, and to help balance the colors of the meal as, according to Japanese haute cuisine, meals are supposed to contain 5 colors: black, red, yellow, green and white.