5 Oldest Coffee Shops in Tokyo
The cafés in Europe are recognized as avenues for fueled debates, intellectual gossip and closed deals, but not in Japan. When coffee first arrived in Japan, it was embraced for its medicinal value in foreign settlements, and used as stimulant by prostitutes. But thanks to the Taisho Era (1912-1926), we can still enjoy Japan's oldest cafés.
5. Café De L'ambre (Shimbashi)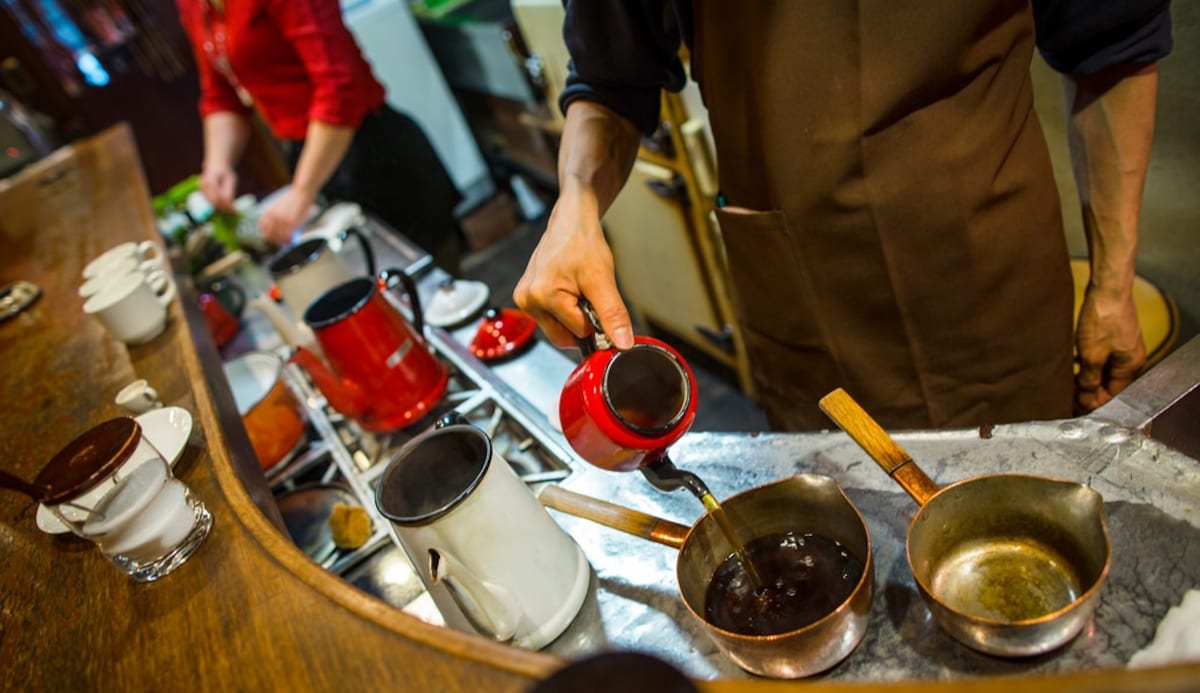 Coffee gymnastics, anyone? Enjoy the art of coffee preparation itself, and then drink "coffee only," at Café De L'ambre, which has been serving good stuff since 1948. Tin, brick and wood give off the vibe of antiquity, which is not surprising at all as the same man who established the café decades ago, Ichiro Sekiguchi, still runs the specialty shop. Though Sekiguchi-san may be a few years away from his centennial birthday, he remains able to serve a good cup of fresh coffee. He even brings fresh ideas to his caffeine shots. How about egg yolk, pudding or bourbon in your coffee?
4. Milonga Nuova (Kanda)
Type "Milonga Nuova" and you may end up being directed to dance lessons by Google. Sadly, the café is not spacious enough to host dance parties, but it was originally a place to listen to tango music when established in 1958.

Milonga Nuova specializes in charcoal-fire roasted coffee, which is best paired with the specialty cakes in the house. If you've had too much caffeine though, the café also serves beer. And what better way to enjoy the booze or the boost (from caffiene), than with a book at hand? The shop also happens to have an old, extensive collection of literature for customers to enjoy.
3. Sabou Kanda Burajiru (Kanda)
If you're looking for no-frills coffee, then this place is for you. Established in 1972, the café specializes in open-fire roasted coffee, with beans mostly from Brazil. Japan began importing beans from Brazil in the 19th century. Under a special treaty at that time, Brazil allowed Japanese migration in order to boost the coffee industry in the Latin country. Today, as Brazil remains to be the largest exporter of non-roasted coffee in Japan, so it's no wonder that this café pays tribute to the sheer goodness of Brazilian coffee.
2. Dug (Shinjuku)
Upon entering the café, you might mistake the place as an art gallery. Well, true.

Built in 1961, Dug is a coffee experiment playground and a exhibition for an old jazz photographer, who has met legends such as Miles Davis. The basement hideout is home to the photographer-cum-entrepreneur's collection since the 1960s. But patrons of the café would agree in chorus that it's not "all that jazz" that brings in the customers. Besides the fantastic coffees, it proves to be a chill hangout place for premium whiskey too, best enjoyed while listening to the calming vibe of jazz in the background.
1. Ladrio (Jimbocho)
As if a secret treasure cove, or a door to Narnia or some other wonderland, entering this café is like going to a magical world. Ladrio is a place for those who take coffee and authenticity seriously. Built in 1949, Ladrio, which means "brick," is said to be a favorite hangout of intellectuals and writers; one of them, Go Osaka, reportedly received good news over a phone call (his Naoki Prize for Literature in 1986) at this café. Also, this "history-making" café did set the record of serving the first "espresso con panna" in Japan.

The café is adorned with wooden shelves housing crisp books, tables with kitsch lamps, leathers seats and old walls with artsy ornaments. The cozy shop is usually frequented by men who like to smoke, or those who prefer "me time" before going home.