3 Karuizawa Hotels with Atmosphere!
Karuizawa is a popular mountain resort just over an hour from Tokyo by bullet train. While this Nagano town is known for its forests, lakes and waterfalls, it's also marked by trendy shops and restaurants, as well as upscale summer homes. If you'd like to stay, we've lined up a few options that appropriately embody the rustic-chic atmosphere!
3. Pension Candytuft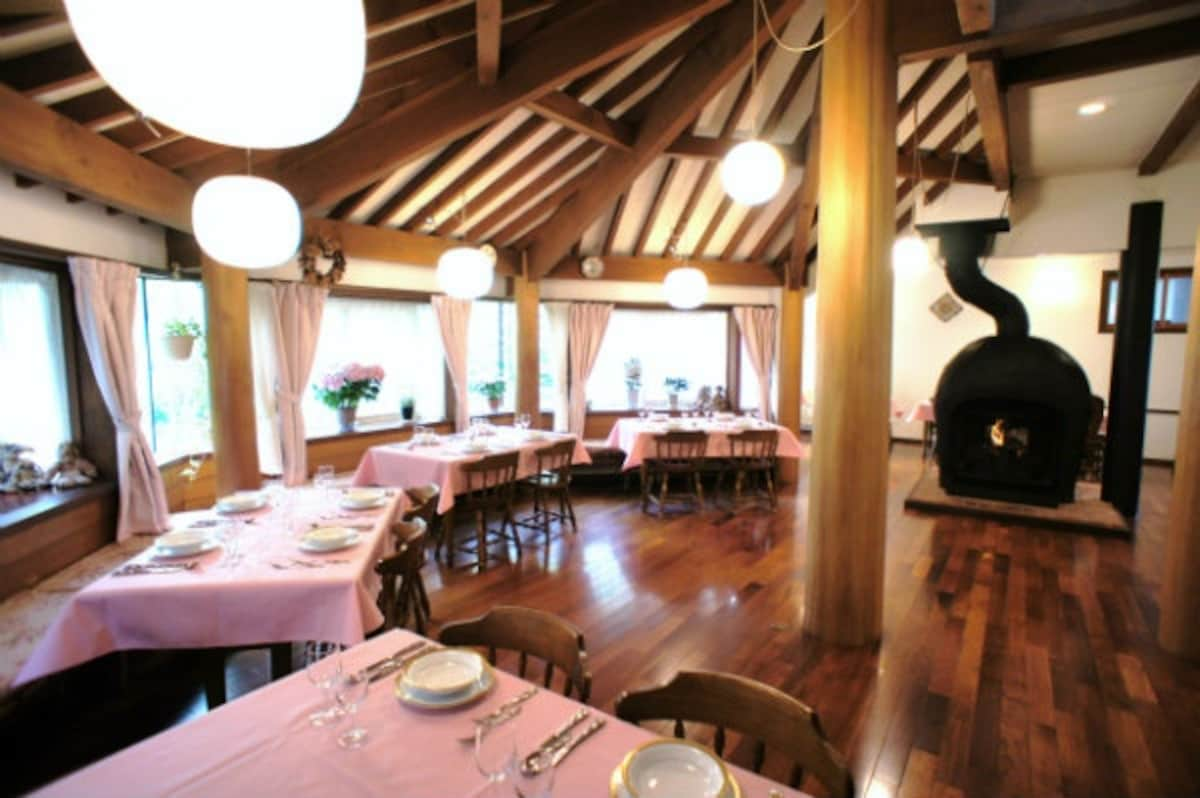 Candytuft is located in a quiet area of Karuizawa called Minamigaoka, where you can find a lot of trees and holiday homes. But it's only 1.9 kilometers (1.2 mi) from Karuizawa Station, and has good access to popular spots like Karuizawa Prince Shopping Plaza and Karuizawa Prince Snow Resort.

This "pension" (the local term for small-sized private hotels or inns) offers 10 nicely decorated, Western-style rooms, nine with a bath and toilet, one with a toilet, and all with a washbasin. Aside from the bathrooms in the guestrooms, the pension has two independent family bathrooms that can be used privately.

For meals, you can enjoy a tasty Western-style dinner and breakfast in the beautiful dining room with a lovely wood-burning stove. At the corner of the dining room you'll also find a display of premium shochu (a kind of distilled alcohol) that you can sip during your meal or in your room.
2. Hoshinoya Karuizawa
To stay at Hoshinoya Karuizawa means to book some time, rather than to book a room. You can safely spend your entire holiday in this resort without going anywhere else!

After you arrive at the entrance way, you'll be welcomed with a drink and taken by special car to the cottage village, where the reception and rooms are. Your destination is a resort surrounded by nature—and the cottages don't spoil the landscape at all. There are three types of rooms with three different views: lake cottages, mountain cottages the garden cottages. All of the cottages are separate from each other and spacious enough to have a living room, bedroom and bathroom. The sound of the swaying tree branches and the gentle breeze enter the room as you sit back with your book or drink.

This luxury resort also offers a spa and two hot springs, as well as a number of different organized activities, from trail running to mountaintop picnics.
1. Mampei Hotel
With a history dating back to 1894, Mampei Hotel is symbolic of Karuizawa. It's long been beloved by Japanese and foreign celebrities alike, and was even frequented by John Lennon.

Today, Mampei Hotel still retains its classic appearance, and is a place you have to visit when you go to Karuizawa. Located in the quiet summer villa area of Old Karuizawa, it's about 30 minutes on foot from Karuizawa Station, and 10 minutes from the Karuizawa Ginza shopping street.

Even if you're not staying overnight, swing by for tea on the café terrace (the royal milk tea is the famous item on the menu), then step into the lobby for a look at its classical furnishings and fireplace. There's also a small museum room where you can learn more about the history and culture of this classic hotel.