5 Unique Boutique Hotels In Tokyo
5. A theatre? An art gallery? No, it's Shibuya Hotel En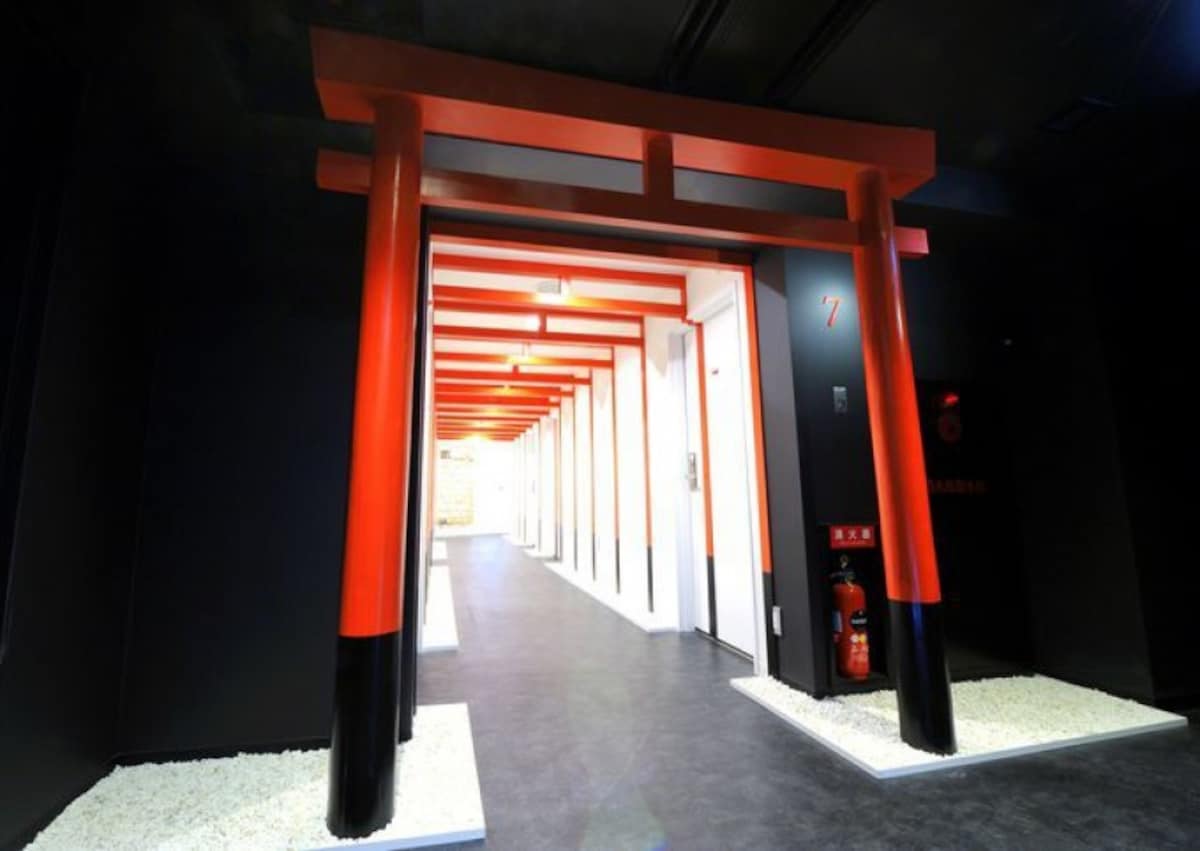 Located just 7 minutes from Shibuya Station by foot, Shibuya Hotel En is a hotel overflowing with creativity. The hotel, opened in February 2016, has a total of 9 storeys that are designed based on different concepts, such as Japanese culture and tradition, nature, and movies.

The corridors along the 2nd storey are designed in an anime-style, illustrating a girl riding on a motorbike. The 8th storey, on the other hand, will make you think you are walking in a spiritual forest, reminiscent of the acclaimed Ghibli film, Princess Mononoke. There are also designs that replicate the Senbon Torii (1,000 Torii gates – Torii gates are found in shrines and they serve as a boundary between god and humans) found in Kyoto, as seen in the photo.

The rooms, unlike the corridors, are designed in a simple manner and provide a perfect atmosphere for resting.

Shibuya Hotel En has a restaurant called Incredible Bistro Moderna & Bar Tokyo, which provides high quality Mediterranean cuisine. Quality black wagyu beef and seafood are popular, and you can enjoy both lunch and dinner there.
4. Enjoy Tokyo's night view at The Gate Hotel Asakusa Kaminarimon by Hulic
The Gate Hotel Asakusa Kaminarimon by Hulic is not just convenient, but is also the ideal place to enjoy the night views of Tokyo. The hotel lobby, found on the 13th storey, provides a splendid view of Tokyo city and the Tokyo Sky Tree.

The rooms in The Gate Hotel Asakusa Kaminarimon by Hulic have a simple design and come with basic amenities. The beds provided are from Slumberland, a renowned brand that was used even by the British Royal Family.

Though the room gives you a great city view, you can also access the rooftop observatory that is open from 6:00 to 24:00. There is also a bar up there where you can spend some relaxing time while enjoying the magnificent sights.

Breakfast is served at a restaurant within the hotel and comes with fresh fruit juice, salad, and more.

Located just 1 minute from Kaminarimon – a popular landmark of Tokyo located in Senso-Ji Temple – and 20 minutes from Tokyo Sky Tree, The Gate Hotel Asakusa Kaminarimon by Hulic is great for those who are planning to explore the city.
3. The bar style hotel: Hotel Bar GRANTiOS
Hotel Bar GRANTiOS was previously called the Classic Hotel Omori Seiyokan. It is just 3 minutes from Omori Station by foot. The stylish hotel's lobby is on the 2nd floor, and right behind the lobby is the hotel bar, after which the hotel was named. The bars boasts a wide selection of drinks; enjoy more than 150 options, including whiskeys, cocktails, and champagnes.

Created by the same renowned designer who took charge of the famous "aquarium restaurant & bar deep blue" at Roppongi, the hotel has a stylish ambience and many wooden details. There are 5 different styles of rooms in Hotel Bar GRANTiOS, with letters from A to E. They vary according to their sizes and the number of people that they can sleep. Some rooms feature relaxing Jacuzzis. Twin rooms have terraces that are beautifully lit up at night. Head up to the terrace in the evening and relax!

Extensive services are available at Hotel Bar GRANTiOS. You can look forward to delights like tasty Japanese cuisine, international dishes, Italian fare, and even shabu-shabu (a Japanese hot pot dish) when you order a bite to eat from room service. You can also take your breakfast in your room.