Osaka's 8 Best Guest Houses & Capsule Hotels
8. Designer's hostel - HOSTEL 64 Osaka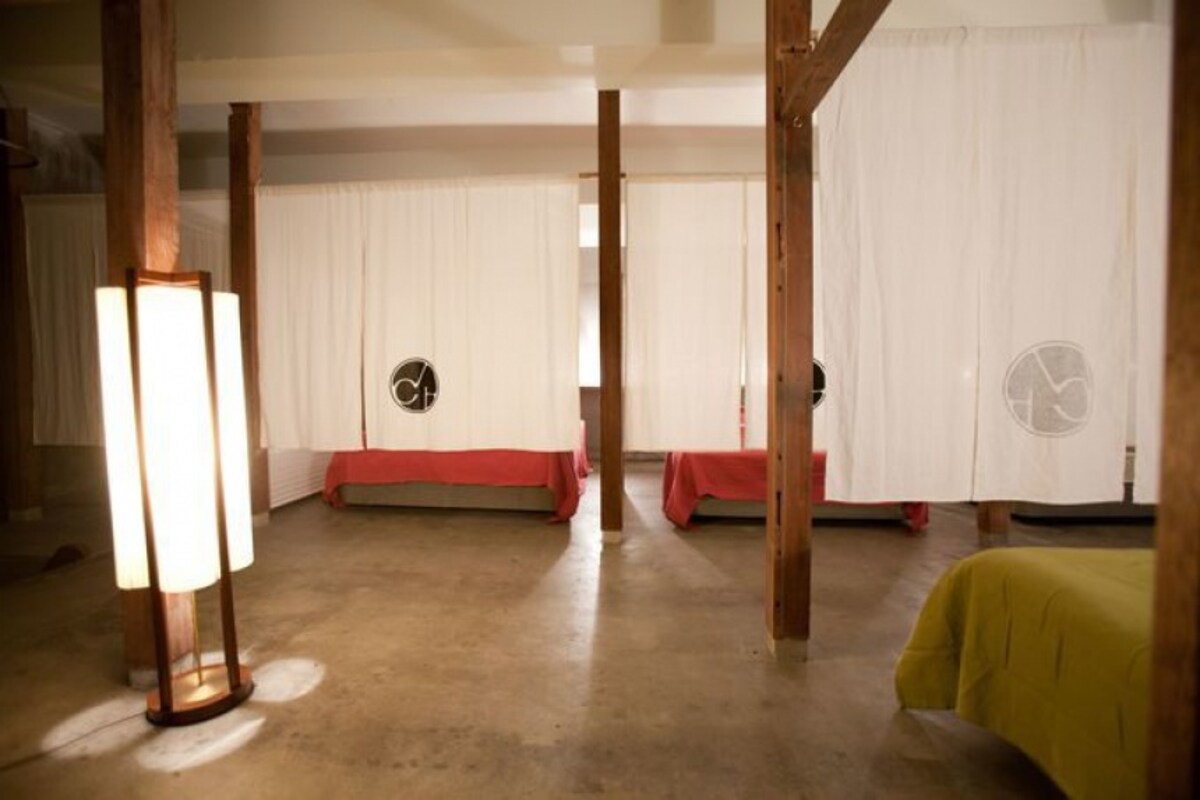 HOSTEL 64 Osaka is located near the Shinsaibashi area and each night can be as cheap as 3,500 JPY (33 USD). The stylish hostel is located in a retro building built in 1964.

The artistic design of HOSTEL 64 Osaka creates a cordial atmosphere, allowing guests to interact freely. The lobby lounge has various artworks and books on display, making the place look almost like a gallery.

Dormitories in HOSTEL 64 Osaka are unlike other hostels - instead of having double decker beds, each "room" is separated by a curtain as seen in the photo. Power plugs and lights are provided in the "rooms", as well as a safe box.

There are also private rooms available in HOSTEL 64 Osaka where each room is designed stylishly with a mixture of pop-culture and Japanese culture. Furthermore, both antique and modern furnitures are used, creating a unique atmosphere in the room.

Breakfast is available at HOSTEL 64 Osaka where home-made bread, fruits jam, yoghurt and orange juice can be enjoyed for just 300 JPY (2.8 USD)!
7. Drop Inn Osaka: great rest guaranteed
Drop Inn Osaka is located within walkable distance from the commercial districts and Umeda region of Osaka, yet is in a rather quiet area.

The capsules in Drop Inn Osaka are relatively spacious and the comfortable and clean beds will provide you with great sleep. Power plugs and lights are provided in the capsules, as well as a curtain to ensure privacy. There are also females-only dormitory in Drop Inn Osaka. Private rooms are available for those travelling in groups and coin laundries are also available.
6. A hideout in Osaka - Imazato Guest House (Females only)
Imazato Guest House is a guesthouse located in the Imazato area and is exclusive to ladies. It is located in a convenient area with supermarkets and convenience stores nearby.

Accommodation is provided dormitory style in Imazato Guest House. The rooms are designed in a colourful pop-manner. Lockers are provided and there are also basic amenities and free towels available. Each bed is allocated 2 power plugs, a towel hanger, a mirror, and is rather spacious. Breakfast is also served at Imazato Guest House. The delicious homemade sandwiches allow guests to have a great start to the day, and opportunities for interaction with other guests are also provided.
5. Marvellous Italian cuisine at Ark Hostel & Café Dining
Ark Hostel & Café Dining is near the business district and is located at the Higobashi area. It is a popular hostel not just amongst local tourists but also foreign tourists.

The hostel aims to provide comfortable accommodation and create opportunities for guests to interact with one another. Each floor within the hostel has different themes. Among the interesting ones is the Japanese-style "Wa Room". A mini-garden leads to the room which is designed in a traditional Japanese style with tatamis on the floor and futon mattresses to sleep on.

The café restaurant located at Ark Hostel & Café Dining is best known for their delicious meals cooked using the best seasonal ingredients. Italian cuisine is served and what makes it special is that they are all vegan foods, allowing people of different beliefs to enjoy. There are also sweets provided at the café restaurant.