Tour Ise-Shima with the KINTETSU RAIL PASS
The Splendid Scenery of Ago Bay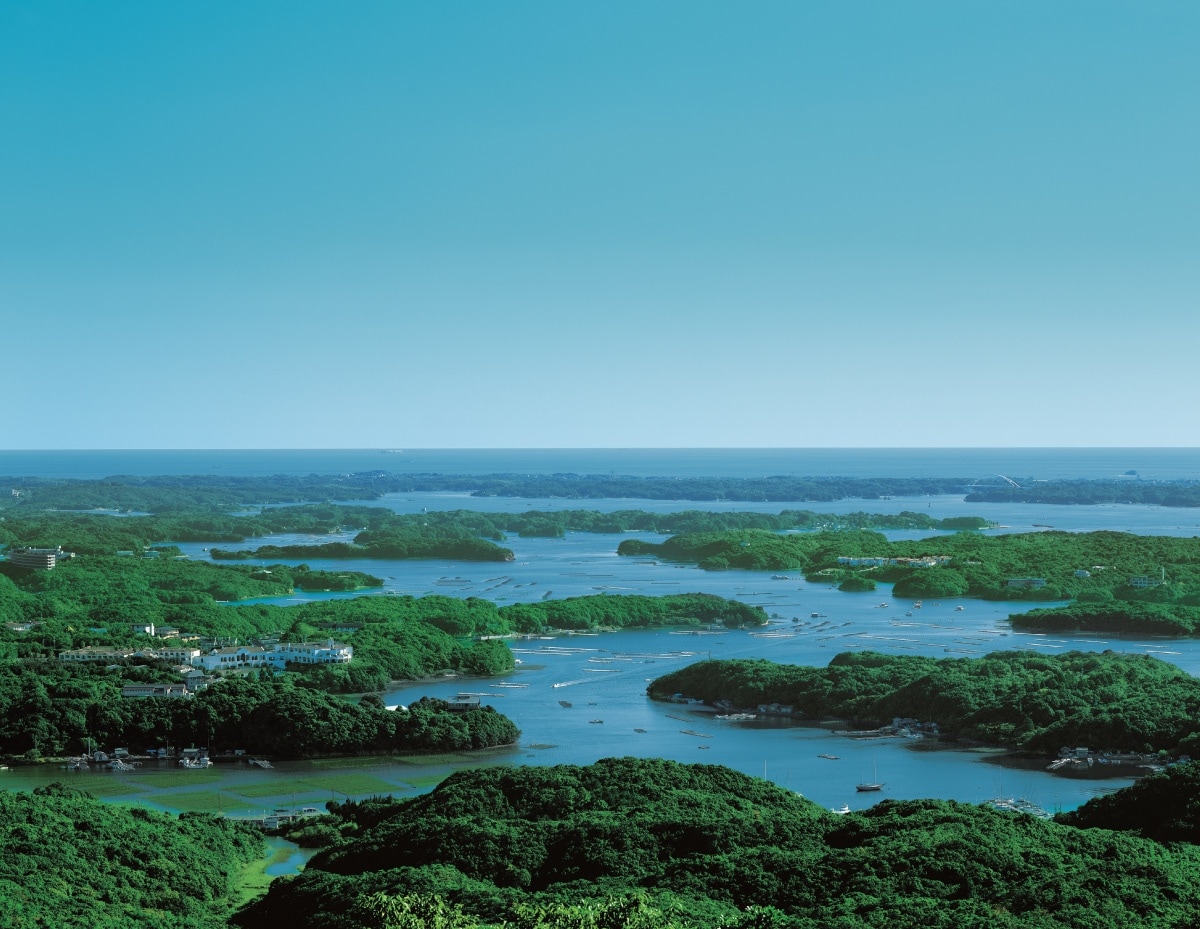 The topography of Ago Bay's deeply indented coastline interweaves blue and green to create gorgeous contrast. Many tourists and photographers visit to enjoy this magnificent scenery. Inside the bay float 60 lush islands of various sizes, and you can have fun cruising regardless of the season. Ago Bay contains various viewing platforms, but the highlight is the inner Yokoyama Viewing Platform with an unbroken view of the scenery.

Access:
• ~10 minutes by car from Kintetsu Ugata Station, or a ~40-minute walk from Shima-Yokoyama Station.
From the Tomoyama Viewing Platform on the east side of Ago Bay, you can also command a view of the beautiful Ago Bay sunset, which was selected as one of Japan's "Top 100 Sunsets."

Access:
• ~20 minutes by car from Kintetsu Kashikojima Station
Shima Kanko Hotel the Bay Suites
Shima Kanko Hotel the Bay Suites has a sweeping view of Ago Bay, and all 50 rooms of this resort hotel are suites of over 100 square meters (1,076 sq ft). You can enjoy a full view of the scenic Ago Bay from the spacious and elegant rooms, or from the rooftop garden. The Bay Suites are so stately they were even selected to host the leaders of the 2016 G7 Summit!

Access:
• ~10-minute walk from Kashikojima Station (~3 minutes by hotel courtesy car)
Restaurant La Mer
At the French restaurant La Mer on the top floor, you can look out at the sun setting over Ago Bay while enjoying the "seafood French cuisine" of Master Chef Higuchi.
Sightseeing Premium Express Shimakaze
On the way home you can ride from Kashikojima to Osaka Namba, Kyoto or Kintetsu Nagoya aboard the sightseeing premium express train Shimakaze, which makes one round trip each day.

As a "sightseeing premium express," this train has more special equipment than an ordinary train. It has premium seats as comfortable as sofas in the deluxe cars, salon seating where up to six people can sit, and both Western- and Japanese-style private rooms. You can also savor the fine products and sweets unique to the various regions along the railway in the café car on the second floor. We recommend enjoying these delicacies in the café car while passing by the coastal scenery.

The train is filled with many other premium facilities and services. Reservations and purchases of premium express tickets can be done at Kintetsu Station windows.