An Intro to Japan's 5 Big 'Eikaiwa' Companies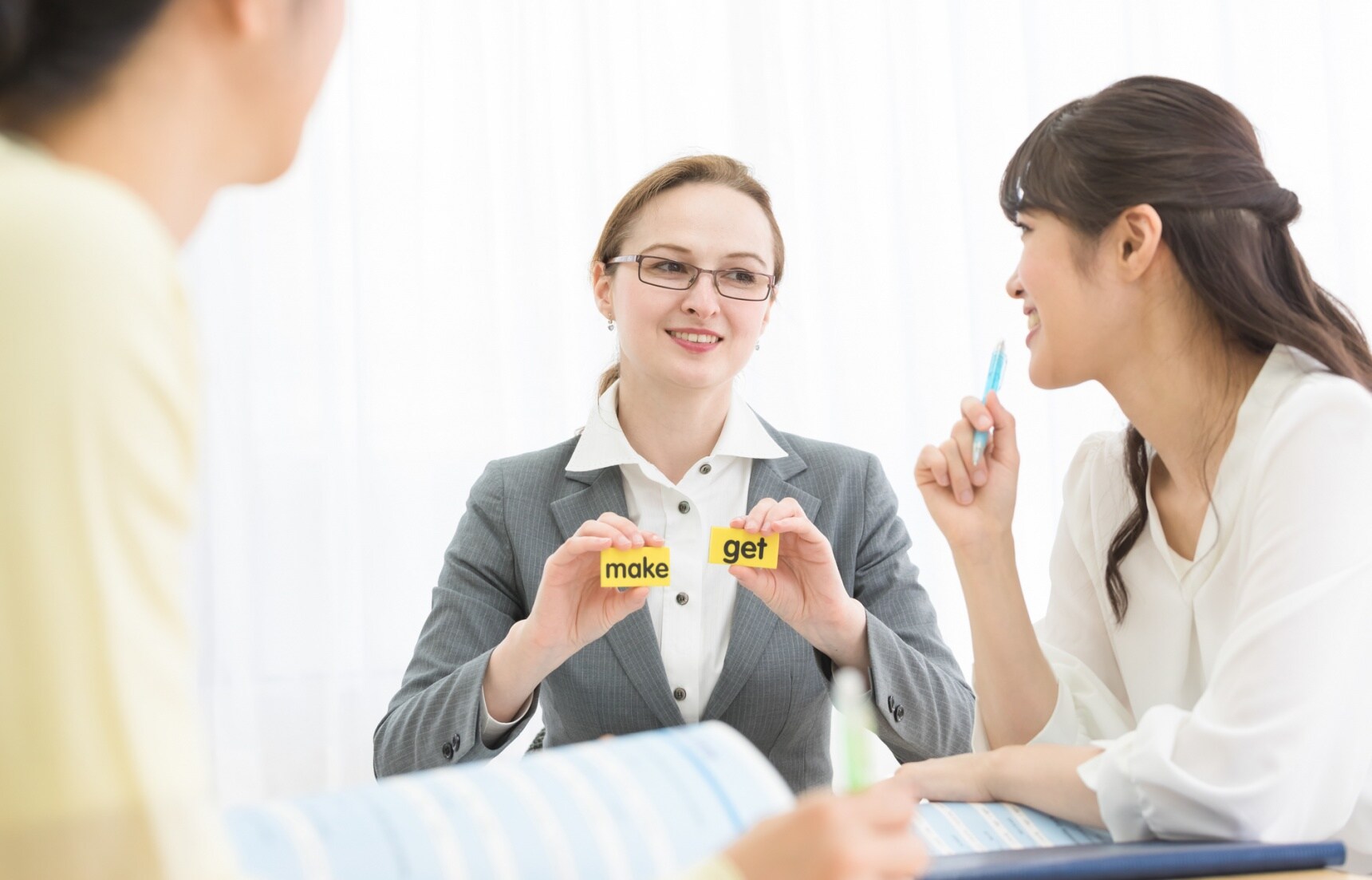 If you're new to Japan's eikaiwa (English conversation) schools, we've got a lowdown on the industry here. But then, where do you work? We've put together a list of five of the biggest companies accepting domestic and overseas teachers to help you get some perspective.
1. Berlitz

Berlitz schools are located in heavily urbanized areas like Tokyo and Kanagawa, but there are a few centers scattered in Osaka, Hyogo and Kyoto, as well as one each in Fukuoka and Hiroshima. About 75 percent of the students at Berlitz are business professionals or adults, so if you're looking forward to teaching kids you might want to consider another eikaiwa. Most of the students (around 70 percent) choose to take private lessons, while the remaining 30 percent opt for group lessons, which have a cap of six students per lesson.

There are three types of contracts at Berlitz: full-time, part-time and per-lesson. For full-time, you'll be expected to teach 26.6 hours a week and will receive a monthly salary of ¥250,000 (about US$2,250). National holidays and vacations are also included in the full-time contract, so you can still plan for that trip to Fukuoka's Cat Island. Even though you'll be teaching for 26.6 hours per week, you'll also have additional responsibilities such as writing reports, preparing lessons, helping with special events such as themed lessons or seminars, making customized curricula, scheduling or other administrative tasks, which brings your total to the standard 40-hour work week.

If you're working at another job, or attending university, you may want to consider the part-time contract that pays about ¥125,000 (US$1,130) per month. For both full-time and part-time, Berlitz will even pay for your commute, up to ¥25,000 per month. However, if you want more flexibility and a little bit of cash to supplement your income, you might want to go with the ¥1,900 (US$17) per-lesson contract, where, depending on how many hours you work, you can be eligible for sick leave as well.
2. Coco Juku
With its first six schools opening in 2012, Coco Juku is a relatively new player in the eikaiwa game. However, Nichii Gakkan, the parent company of Coco Juku, isn't new to English conversation schools thanks to its other eikaiwa subsidiary company, Gaba (see below). With a branch school located in each of the 47 prefectures in Japan, Coco Juku is known throughout the country.

For aspiring instructors who'd like to teach adults or teenagers rather than children, Coco Juku is probably the place for you. As the class size is set at three students, you'll really get to know them—even more so if they choose to take a private class.

If you're hired, you'll receive all the benefits of a full-time employee, like enrollment in Japan's national health insurance, pension plan and unemployment insurance. You can also choose which kind of contract you would prefer: a part-time hourly contract (¥1,740-¥2,100 [US$15-$19] per teaching hour), a fixed monthly part-time contract, or the full-time contract where you can receive ¥250,000 (US$2,250) to ¥265,000 (US$2,400) per month. In addition to teaching, you'll also be required to complete daily teaching records, counsel students about contract renewals and future courses, and attend meetings, seminars and other activities.
3. Aeon
Compared to other eikaiwa schools, Aeon (pronounced "ee-on") provides a lot of assistance in the getting-situated-in-Japan department. The company assists with setting up your bank account, getting registered at your local ward office and even picks up instructors who come in from overseas at the airport. If you're in search of a dwelling, Aeon provides single-occupancy, fully furnished housing for teachers at a subsidized amount of ¥55,000 (about US$500). Be forewarned, however, that this may be higher or lower than the local average depending on where you live.

All first-year teachers at Aeon will receive a monthly salary of ¥270,000 (US$2445) for teaching and conducting administrative work. This amount stays fixed regardless of the number of classes you teach, and is slightly higher than the going rate of ¥250,000 (US$2,250) per month for typical eikaiwa instructors. As only 25 hours are devoted to teaching per week, the remaining 15 hours of the standard 40-hour work week are spent interviewing prospective students, recommending texts, counseling students, completing progress reports and greeting students in the lobby. A typical work day usually starts at noon and goes to 9 p.m. A teacher will have five to seven classes a day, teaching many different age groups from infants to retirees.

In addition to a competitive salary and having national holidays off, teachers have five paid personal days and three separate one-week vacation periods in a year, so go ahead and plan a week-long trip to see the Top 6 beaches of Okinawa!
4. Gaba
At Gaba, you're employed as an outsourced contract worker, or gyomu itaku worker, which means you get to decide how many one-on-one 40-minute classes you'd like to teach. While you do get to choose your working hours (including vacation time), you are responsible for paying your pension, health insurance and commuter pass. However, you can write off these expenses—including dry cleaning and stationery—when you file for taxes between February 16 and March 15.

Depending on the Gaba branch, or studio, you're assigned to, you'll most likely be teaching businessmen and women, hobbyists and/or retirees. However, this doesn't mean the company's clients are exclusively adults, since there are some classes geared toward children at a select number of studios. Everyone starts at ¥1,500 for one 40-minute lesson, but unlike other eikaiwa, at Gaba you have the opportunity to increase your pay by "belting up." For example, if you're belted up from A1 (the lowest level) to A2, you'll make an additional ¥100 for each lesson taught during peak hours in the early mornings and evenings, and you can potentially belt up to ¥2,200 per peak lesson.

For those seeking a long-term position, the company also offers full-time positions in each of its six home office departments (sales, IT, marketing, instructor support, certification, recruiting and academic development).

Gaba does sponsor visas, but know that you'll have to meet a minimum earning requirement of ¥3,000,000 (about US$27,000) a year, or ¥250,000 [US$2,250] per month, to be eligible.
5. ECC
If you're looking for a company that provides a steady base of income with a great vacation package, look no further than ECC, where you can get up to seven weeks of vacation. The vacation weeks are scattered throughout the year, with one week in late April/early May, two weeks in August, two weeks in late December/early January, five flexible holidays and finally all national holidays.

Like Aeon, ECC provides housing that is fully furnished and clean. But if you want a change of scenery, there is an out-clause that allows you to move after four or five months. And if you feel that you'd need financial assistance to cover your housing payments for the first couple of months, ECC provides you with interest-free "living expense" loans shortly after your arrival in Japan. Getting acclimatized to a new country can be difficult, so the company provides useful information for obtaining a cell phone, English speaking medical contacts, resident registration and more.

As for ECC's 29.5 working hours, approximately 25 hours per week is in-class teaching, with the remaining time being spent organizing lessons and assisting staff, students and visitors as directed. ECC offers a wide variety of classes for many different age levels, starting as young as 1½ years-old to adults. And if you hope to make some extra cash, there's often additional work available to supplement your base income of ¥252,000 (US$2,280) per month.
Now that you have a grasp of how each company differs, use this as a starting point for your own research and try to find a company that best suits your personality, as well as your goals for what you wish to accomplish when you're in Japan. Good luck!