2 Sakura Cupcakes, 2 Very Different Flavors
New York's Magnolia Bakery in Omotesando and London's Lola's Cupcakes in Harajuku both offer many special, limited-edition sweets available exclusively to customers in Japan—and the cherry blossom cupcake is no exception. While the two delicacies both look enticingly beautiful, they offer two very different types of cherry blossom flavors.
Lola's Cupcakes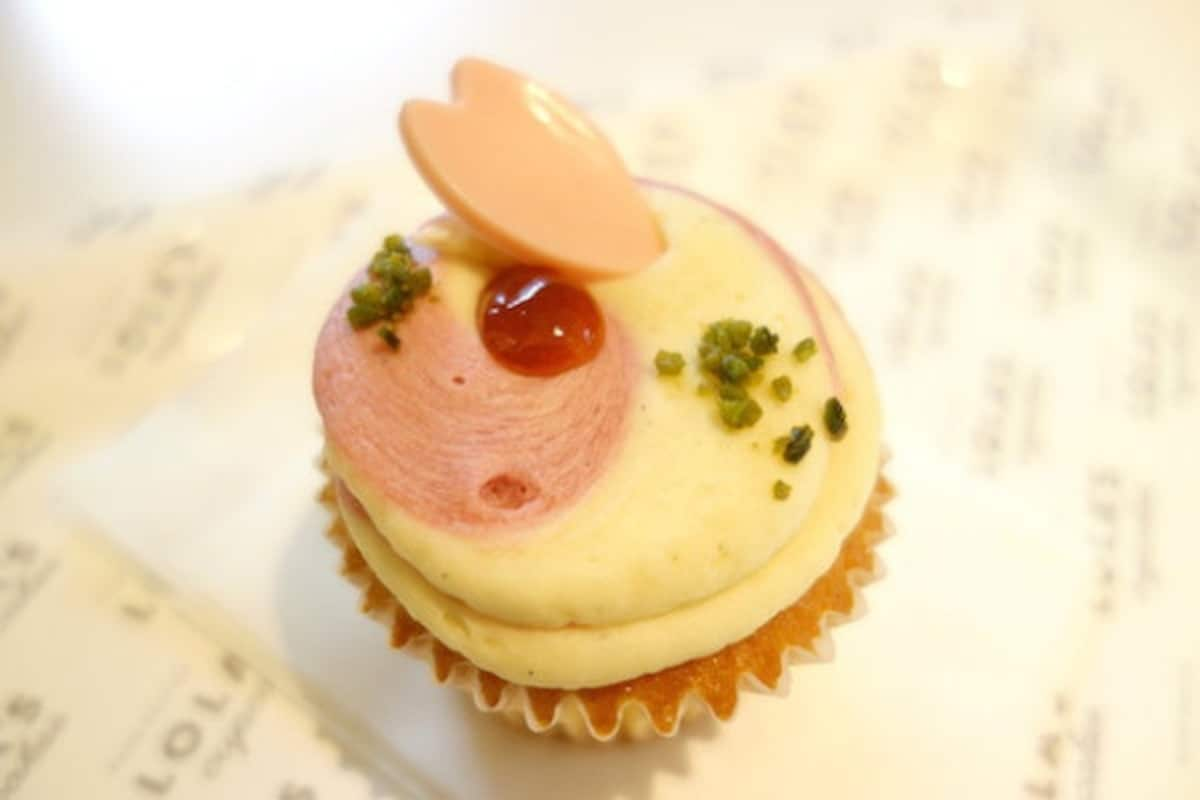 Having opened in October 2015, this is the first time for Lola's Cupcakes' Tokyo branch to release a sakura-flavored cupcake. And it looks absolutely beautiful!

Based on their popular Tokyo Vanilla variety, which has a topping made from cream and shiro-an, a Japanese-style white bean paste, the sakura cupcake incorporates a cherry blossom-flavored marbling into the icing mix. The decorative topping is complete with a dollop of glistening sakura jam, a sprinkling of pistachios and a chocolate sakura petal-shaped embellishment.
Slicing into the sweet reveals a firm cake base topped off with compact icing. The marbling looks gorgeous and has a very subtle cherry blossom flavor, while the jelly in the center provides a more dense sakura taste. The nuts provide the crunch element, along with the pink petal, which is made from white chocolate.

Overall, the cupcake has a very subtle sakura flavor, which is concentrated in the marbled icing, as the cake itself has a plain vanilla taste. If you like cherry blossom sweets that don't overwhelm the senses with floral aromas, then you'll love the understated hint of blossoms in this cupcake.
Magnolia Bakery
Walking down the bustling main street of Omotesando brings us to the Tokyo branch of New York's famed Magnolia Bakery, where sakura cupcakes are priced at ¥480 (US$4.26) each.
Exclusive to Japan, these cupcakes were created in collaboration with the head bakery in America, becoming the first flavor created for sale outside of the U.S.

Plain and simple, the cupcake features a beautiful pastel-pink icing, topped off with a tiny salted cherry blossom. Whereas Lola's sakura cupcake was neatly contained inside its wrapping, the cupcake at Magnolia Bakery spills over the top of its foil wrapper like a miniature muffin, all while holding up a generous serving of thick icing.
The cupcake is crumbly and falls apart easily, while the fluffy mound of whipped icing, made with buttercream and cherry blossom paste and petals, is light with a grainy, sugary texture.

The first mouthful reveals an intense, salty sakura flavor, both in the icing and in the cupcake itself, which is speckled with tiny pieces of pickled cherry blossom leaves. The strong sakura flavor is aromatic and delicious, with more salty-sweet tones than floral notes.

The whole cherry blossom provides an extra flavorful highlight to the sweet, and can either be enjoyed in one mouthful or in small pieces, depending on how much you'd like to extend the intense sakura taste. Far stronger in cherry blossom flavor than its counterpart at Lola's Cupcakes, if you like the complex salty-sweet taste of sakura, this is definitely the cupcake for you.

Both varieties are available only for a limited time, with the Magnolia Bakery sakura cupcake on sale until April 15 and Lola's cherry blossom cupcake available until April 10, 2016. If you're in the area, be sure to stop by for a taste of cherry blossom while you can!

Related Stories:
Healthy eating just got better with cupcake wrappers made from seaweed
Cute cats and sakura cherry blossoms meet for a deliciously sweet collaboration
We try the delicious new Japan-only sakura Pepsi