Travel Through Niigata in Artistic Style
JR East piqued the interest of modern art lovers everywhere with its announcement of the limited Genbi Shinkansen ("contemporary art bullet train") which is scheduled to begin running in spring of 2016 on the Joetsu Shinkansen Line.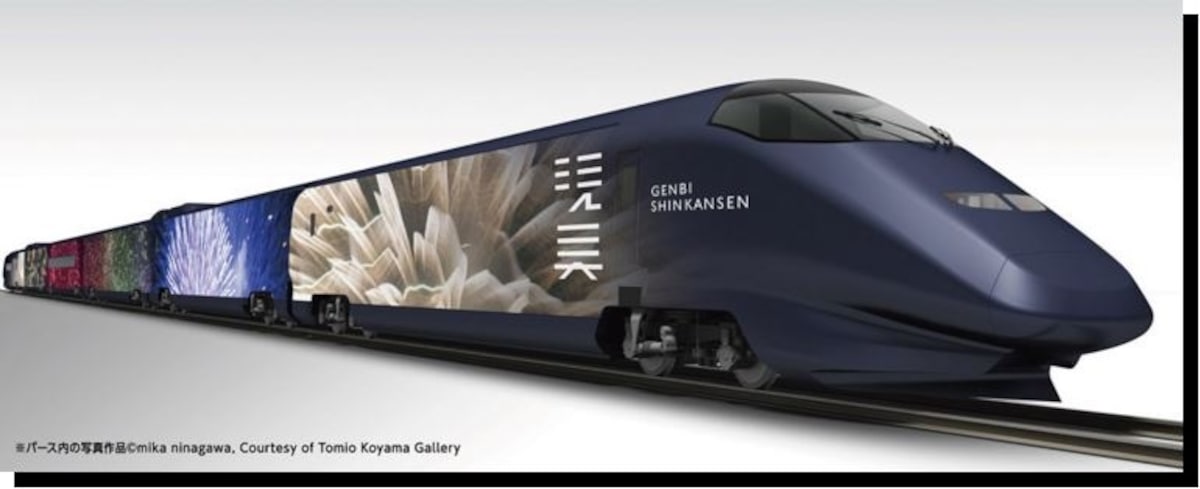 The special six-carriage "Toki" train (with cars numbered 11-16) is part of a campaign to bring more visitors to Niigata Prefecture along the Sea of Japan coastline. Inspiration for the train was drawn from the Echigo-Tsumari Art Triennial modern art festival, which is held in Niigata every three years.

The stylish exterior of the train was designed by Japanese artist Mika Ninagawa to evoke the night summer sky and a famous fireworks festival held in Nagaoka City, Niigata Prefecture.
The interior of each carriage was designed by a different artist.
In addition, the 13th car has been converted into a café featuring drinks and local Niigata specialties, including Uonuma City's vanilla cake made from rice flour, Tsubame City's special coffee, and Sado Island's cream cheese lemon cake.
JR East recently revealed new details about the Genbi Shinkansen, including its schedule from April through June. The train's first trip is scheduled for Friday, April 29, kicking off a special week-long service for Japan's Golden Week holiday. After that, service will continue every Saturday and Sunday through June 26, with the schedule from July onward still to be determined.

Furthermore, seats in the train's 11th car will be available to anyone purchasing a reserved seat, while cars 12-16 (excluding the café) will only be available for tour groups and other special package deals through June. From July onward, seats in cars 12-16 will be sold as unreserved seats. Tickets for the tour package seats in cars 12-16 went on sale beginning on March 1 at 2 p.m., while tickets for the reserved seats in the 11th car will go on sale almost one month later on March 29 at 10 a.m.

The Genbi Shinkasen is scheduled to make three round trips per day on the Joetsu Shinkansen Line between Echigo-Yuzawa Station and Niigata Station, both located in Niigata Prefecture. Pricing is as follows:

Between Echigo-Yuzawa Station and Nagaoka Station:
Adults: ¥4,200-4,600 (US$37-$41)
Children: ¥3,200-3,400 (US$28-$30)

Between Echigo-Yuzawa Station and Niigata Station
Adults: ¥5,400-5,900 (US$48-$52)
Children: ¥3,700-4,000 (US$33-$35)

For more information, including departure times, check out the Genbi Shinkansen website. Be sure to buy your tickets early in March if you plan to reserve a seat!

Related Stories:
Japan's newest Shinkansen is world's fastest gallery, packed with contemporary art inside and out
West Japan's new sleeper train looks more luxurious than most hotels
New ultra-stylish, extra-traditional Shinkansen has tatami floors, foot baths