Top 10 Coolest Toys at Tokyo Otaku Mode
This Top 10 includes a traditional Japanese religious figure, some Hollywood greats, and lots of Japan's finest anime characters. With such an awesome mix, we just know you'll want to know more! Just be aware that most of these items are no longer in stock, so in most cases we're limited to "drool-only"...
10. Tachikoma: Ghost in the Shell (Kaiyodo)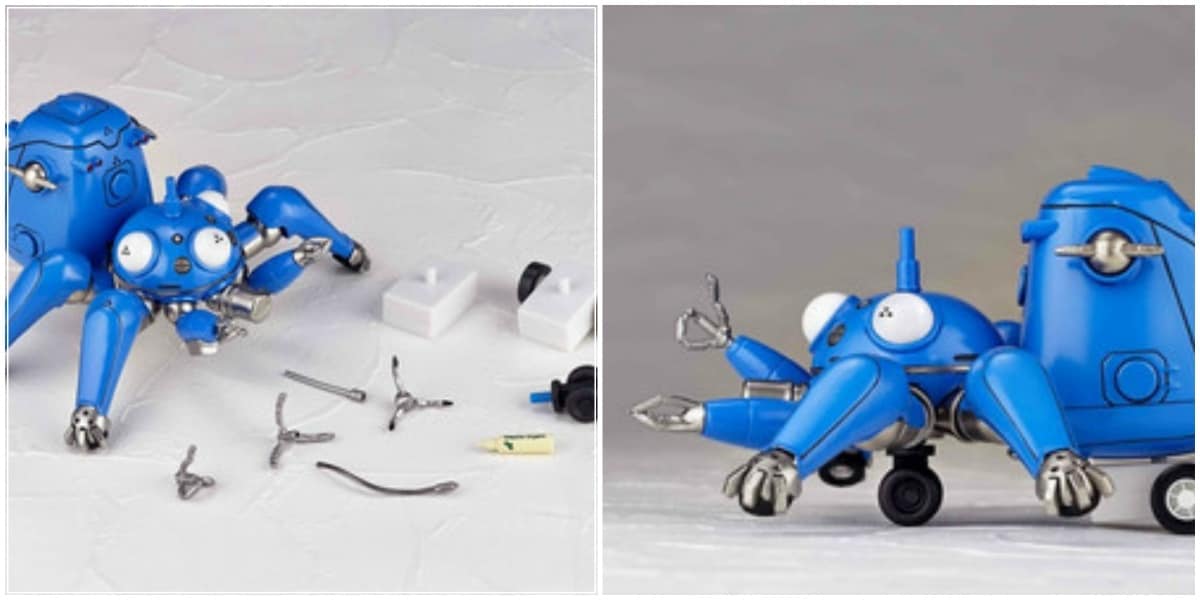 From the masterpiece series Ghost in the Shell: Stand Alone Complex comes the iconic Tachikoma, a spider-like quadrupedal AI with a plethora of functions and gadgets at its disposal. It has 18 points of articulation and comes with a wide range of extras for creating all sorts of poses. One cool feature: it can move unidirectionally by attaching the included pull-back mechanism, and you can even stick it to a wall with the included magnet. Adding even more freedom, each of its three eyes can be moved and the muzzle over its front-mounted grenade launcher can be removed. It may not be a true AI capable of carrying out your orders, but this conveniently sized Tachikoma is sure to bring some of author Masamune Shirow's futuristic flair to your collection.
9. Crystal Bowie (Max Factory)
The third addition to the figma Cobra series is Crystal Bowie. A golden skeleton with an indestructible glass shell, Crystal Bowie is a humanoid cyborg who regards Cobra as the only man worthy of being his adversary. His signature claw which he loves to use to crush things, or slit throats, is of course included, as is a standard arm and even a glass of whiskey! If you also buy the Cobra figure, you can re-enact all your favorite battles. And the best part: you decide who wins!
8. Cute Batman (Square Enix)
Batman has never looked so cute! Part of Square Enix's Static Arts Mini statuette series, the caped crusader has chibi (mini) proportions and a modern, high-tech design. Even though it's small, this figure is big on detail and includes small touches fans are sure to appreciate. Also included in this series are chibi versions of Superman and Wonder Woman, so you can get your favorite superhero or collect all three!
7. R2-D2 Moving Refrigerator (AQUA)
A life-size, moving R2-D2 that's a refrigerator! In addition to being able to keep drinks chilled, R2-D2 can even move just like in the movies by using the included remote control. With an elaborate construction that hits all the details, the fridge is a faithful replica in terms of sound and movement too. Crafted in Japan, the fridge is made to order and comes with a serial number, making it a collectible item for any serious fan.
6. Super Action Statue Silver Chariot (Medicos)
From part three of Medicos' JoJo's Bizarre Adventure Super Action Statue lineup comes this figure of the evolved form of Silver Chariot, the "Stand," or guardian, of character Jean Pierre Polnareff. Impressively detailed and expertly painted, the look and feel of Silver Chariot's cold metal armor really comes through. Like all Super Action Statue figures he is articulated and comes with many accessories, making him capable of the many nimble, dynamic poses that fans will remember from the series.
5. Samus Aran (Good Smile Company)
Samus Aran, the galactic hunter from the iconic Metroid game series, returns to the figma lineup once again with this re-release. Originally released in July 2012, this figure has sold-out time and again and was reissued for the second time in November 2014. Like all figma toys, Samus is fully articulated using the smooth yet movable joints that figma are known for, meaning she can be posed in a variety of dynamic, action-packed positions. Add to this the additional parts, including two different beam effects, a pose for shooting missiles and even her iconic "Morph Ball" and you can recreate Samus in all your favorite scenes from the Metroid series.
4. Metal Gear Rex (3A)
The Metal Gear franchise has been hugely popular ever since the first release in the series of games for the original PlayStation all the way back in 1998! Named after the Tyrannosaurus rex, which it resembles due to its bipedal nature and gaping "roaring" mouth that is the cockpit, the Metal Gear Rex is an almost impenetrable military vehicle. This great model from 3A perfectly recreates all the great design elements of Rex from the games and also features multiple points of articulation. In a particularly neat touch, the cockpit and railgun also light up (requires six AAA batteries to fully function, three for the cockpit and three for the railgun; batteries not included).
3. Zochouten Wood Grain (Kaiyodo)
Revoltech's Takeya lineup is dedicated to producing some fantastically detailed and highly articulated figures of Buddhist deities, and this Zochouten is no different. Zochouten is one of the four heavenly kings in Buddhist mythology and guards the south. He comes with his pole and six interchangeable hand parts so you have plenty of options when posing him! Like the other figures in the series, he also comes with a cool decorative base featuring a defeated demon. Another wonderful addition to the Takeya lineup, Zochouten is an essential purchase for fans of these excellent Buddhism-inspired figures!
2. Bahamut: Final Fantasy (Square Enix)
The ultimate Bahamut from the Final Fantasy series has finally been recreated in Play Arts Kai's signature Variant series. Its massive tail enables every divine pose imaginable, and it can spread its mighty wings and take flight using the exclusive stand. The "Dragon King" has been fully realized here in supreme detail consisting of high-quality painting and gorgeous sculpting. The gold engravings on its polished black and deep crimson body give it an even more divine air. Being the intimidating but imposing icon of the series, Bahamut's perfection is overwhelming.
1. Metal Gear Ray (3A)
Here it is, the winner! This fantastic and superbly detailed creation from 3A.

The Metal Gear Ray first appears in Metal Gear Solid 2: Sons of Liberty. Aptly named, the Metal Gear Ray is an amphibious craft which can operate either on land or in water and, although it is armed with conventional gatling guns and missile launchers, its primary weapon is a powerful water-jet cutter which can cut through the various Metal Gear derivatives. This model recreates the intricate design features of Ray from the games and also offers multiple points of articulation. Like 3A's other Metal Gear models, the Metal Gear Ray also has a cool light-up feature for the cockpit and eye area (requires three AG13/LR44 button cell batteries; not included). Perfect for fans of the Metal Gear franchise or just anyone who loves cool robots and military vehicles, this excellent model from 3A is a must-have for the serious collector!