5 Flavorful Finds from Under the Sea
5. Broiled Mackerel Pike (Iwate)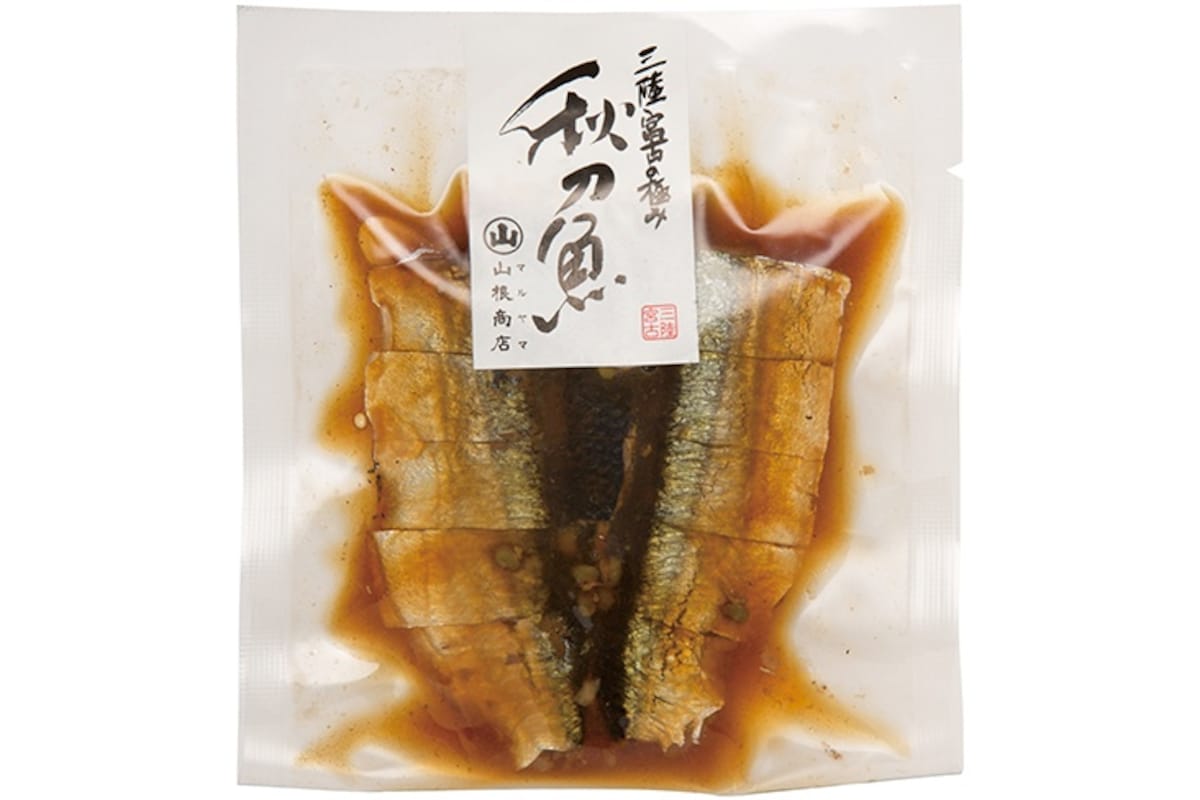 Yamaneshoten is located in the disaster-stricken city of Miyako in Iwate prefecture that was hit by the Great East Japan Earthquake. Though there is indescribable sadness, the love of the sea felt by the company president, Chieko Yamane, remains strong. Yamaneshoten works hard to develop seafood products that are safe and can be eaten with peace of mind. The company believes that if additives, even those harmless to the body when ingested in small amounts, are contained in many foods, then the amount ingested is not small. It ingeniously elicits delicious flavors by looking to age-old knowledge of food preservation, such as fermentation and sun drying used when additives did not exist.

Sanriku Miyako no Kiwami Sanma (Kabayaki) is broiled mackerel pike with the fragrant aroma of green Japanese peppercorn, made with sweet cooking rice wine and soy sauce produced from 100 percent soybeans and wheat from Japan. Simply place the frozen mackerel pike in the pouch in hot water for 5 minutes to eat. The high-quality flavor is just right for welcoming guests at parties or on other occasions.
4. Boiled Oysters (Miyagi)
The Mangoku-ura Bay in Ishinomaki City is a modern aquafarming base for cultivating oysters. Young shells are exported to the US and France, and about 70 to 80 percent of the global production of oysters has its roots in the seed oyster farms of Miyagi. The region boasts excellent natural conditions for cultivating oysters. The rivers of two mountain systems, the Ou Sanmyaku Mountains and the Kitakami Sanchi Mountains, carry abundant nutrients from the lush forests into the rich sea of the Sanriku region where the Oyashio Current collides with the Kuroshio Current.

This product is prepared in the traditions of skilled fishermen, by simmering freshly shucked oysters only in their own delicious juice, without adding or subtracting anything. The oysters are preserved plump and supple as if char-broiled in their own shells. Enjoy their rich and creamy texture, and use the nutritious broth to prepare nourishing tofu and vegetable dishes. This outstanding product of the Sanriku region guarantees a totally enjoyable culinary experience in preparing a wide variety of dishes: oyster rice, oyster pepperoncino, oyster gratin, and so on.
3. Clams Boiled in Soy Sauce (Tokyo)
A treasure from the sea recognized around the world! This modern tsukudani (preserved food boiled in soy) with a new sensibility created from our customers' suggestions overturns the traditional image of the tsukudani. Without sticking too closely to the traditional flavor, we cooked it up soft and fluffy with large clams to achieve a subtle flavor utilizing the taste of ginger. We are preserving the history and tradition of the tsukudani while making innovations in manufacturing methods to suit the times, and proposing new flavor ideas.

Since this product uses the flavor of ginger to steam large clams with a plumped subtle flavor, they can be eaten as is, or easily used as delicious ingredients in chirashi sushi (a sushi rice salad). Though lightly seasoned, it does not rely on synthetic preservatives or coloring, and gives a feeling of the spirit of the artisans who carefully boil down the ocean's bounty.
2. Smoked Oysters (Miyagi)
Japan's Sanriku region of Miyagi Prefecture is known for its spectacular geologic formations of mountains reaching out and surrounding the sea. Here, rain falling in the mountain forests cascades downward, carrying along with it soil rich in minerals, flowing into rivers then out to sea where it nurtures the plankton that feed sea life. Owing to this abundance of highly nutritious plankton, the fisheries of Sanriku are a source of delicious seafood. This coexistence of the forests and the sea is also what fosters the growth of delectable oysters, the peak season being from March to May, the oysters' incubation period. During this time the oysters begin to store glycogen, which gives their flesh an amazingly flavorful, rich taste.

Seasoned only with salt, over the course of two days these oysters are smoked using cherry wood chips, which gives it the literal name, Kaki Sakura Ibushi. This product of plump oysters is free of preservatives and offers a rich, high quality taste.
1. Anchovy Fillets with Yuzu (Chiba)
The Boso Peninsula has the largest haul of anchovies in Japan. To fully enjoy the huge catches of anchovies, ways to preserve the fish have been passed down through the generations and include dishes such as salted fish guts maburizushi (a type of sushi dish), and pickled anchovy with sesame seeds. Of those, the latter is the pride of Boso and was listed as one of the best 100 local dishes from rural areas by the Ministry of Agriculture, Forestry and Fisheries.

Zeitaku Iwashi Fillet / Yuzu (Anchovy fillets with yuzu) has improved upon that traditional taste to create a flavor that goes well with western-style dining, such as pasta and wine. Great care is taken to use only the freshest anchovies, which are carefully filleted by hand, then subjected to a unique manufacturing process that removes the strong smell and adds highly fragrant raw citron. Even those who are not fond of uncooked fish will enjoy this product. It was also served in first class on international JAL flights in 2011.