4 Cool Wooden Toys from The Wonder 500™
The Japanese kendama is a popular wooden toy that's been picking up steam all over the globe, so it could be a good idea to hand your children one while they're still young! Together with toy cars, building blocks, a fun little rattle and our final, secret dark horse, your children will have hours of fun enjoying this selection.
4. Mini Round Wooden Building Blocks (Gifu)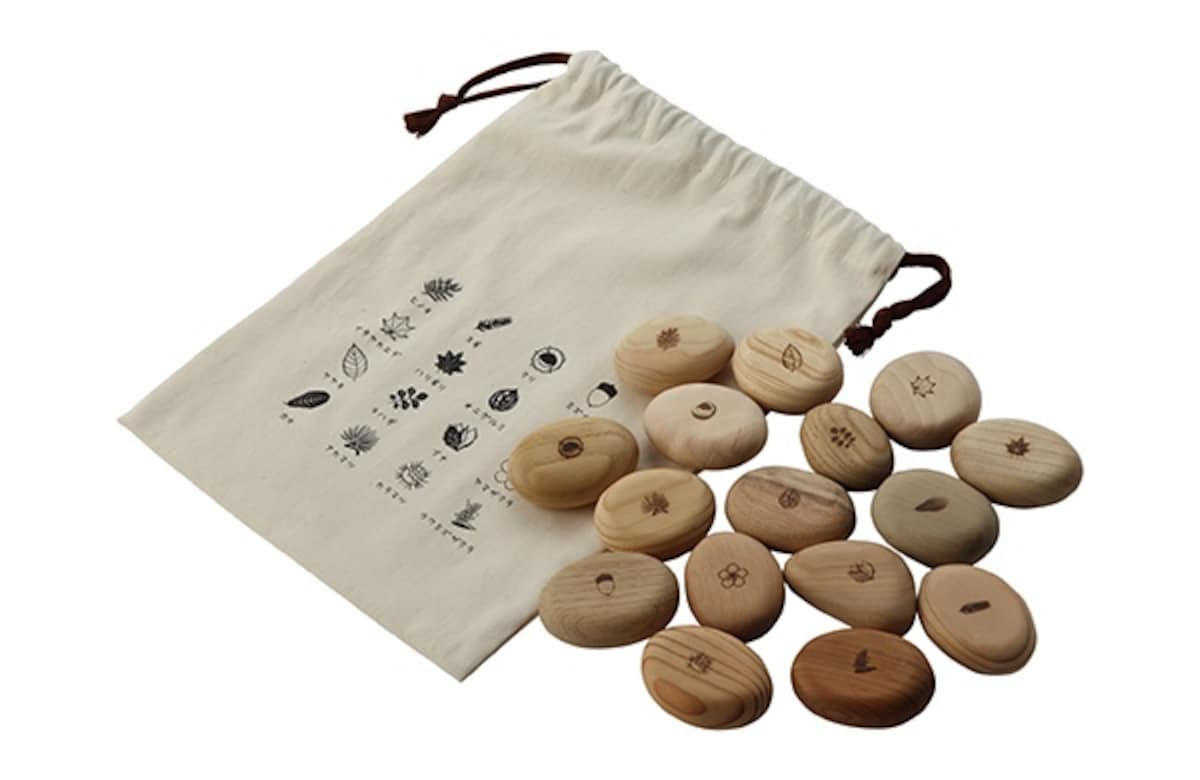 Japan is a land that has been blessed with forests and water since ancient times. In fact, 70 percent of the country is covered with forests. Gifu prefecture is also blessed with nature, and ranks second in the nation in the proportion of forested land. Maarui Tsumiki Mini (mini round wooden building blocks) were created from 16 types of wood, including Japanese cypress from Gifu Prefecture.

They're fashioned after the stones found in the numerous rivers that run through Gifu. Since they're unpainted, not only can the differences in texture, color and weight be felt, but the scent of the wood can also be experienced when played with. Stacking, lining up, rolling, hitting and touching the wood stimulates all five senses in children to boost their imagination and creativity. This outstanding, award-winning product won the Director General of the Forestry Agency Award in 2014 for utilizing the quality of domestic materials, a recognition given only to one toy.
3. Fava Rattle (Fukushima)
Fava, a wooden toy for infants, is what emerged from the idea that wooden toys from Japan should be brought to the world. This toy has been designed to simulate three peas in a pod that rattle when shaken or rolled about.

Keeping use by babies in mind, Fava was developed to have no sharp edges, and one of its appealing traits is its ability to be played with safely. Its unique form and the rattling sound it makes when shaken means it can be enjoyed not just by babies but adults as well. With the reliable technology of woodcrafters making each toy by hand, as well as the warm familiarity that is at the very essence of wooden toys, and its cute design, Fava is a great baby gift for a special someone. It's just one of many wooden toys from Mastro Geppetto.
2. Boo-Boo Series Toys (Aomori)
The town of Owanimachi is surrounded by nature, with two of Japan's three most beautiful forests: Akita Cedar at the northernmost point, and Aomori Hiba at the southernmost point. From long ago wood was considered a valuable resource in this location. This resulted in the area being a prosperous place for forestry and lumber industries, making it known for the furniture, plates and toys made out of rich Aomori wood.

Boo-Boo is a series of toys from a workshop in Owanimachi modeled after automobiles and animals, made out of natural Aomori wood with the idea of providing authentic items from childhood. The wood, whose warmth can be felt in these toys, is unpainted so your children are safe even if they try to put it in their mouths. Katsuhiko Ogino is the product designer behind the toys, incorporating local aspects into each item.
1. Kendama Cup & Ball for Competitive Use (Yamagata)
Almost all Japanese people have played with the traditional kendama toy, a cup and ball game. A uniquely Japanese originality has resulted in the current form of this toy, developing into a part of the culture that brings joy to children and the elderly. This is a competitive kendama from Yamagata Koubou, which has led the worldwide kendama boom.

Competitive kendama are those that have been certified for quality, accuracy and durability by the Japan Kendama Association. You can participate in kendama tournaments across Japan and take a test to determine your rank. To learn the various kendama techniques, be sure to try the high quality of this superb kendama created by the skilled hands and eyes of Japanese artisans. For over 40 years, Yamagata Koubou has been involved in producing competitive kendama, and has been certified as the No. 1 producer in Japan.
Bonus: B-Blocks (Shizuoka)
All right, so these aren't made of wood, but they're still cool. Hakimono (literally, "things worn on the feet," including shoes, sandals and slippers) manufacturing is a traditional local industry in Shizuoka City. B-blocks are toys that stimulate children's creative abilities, and are made by applying shoe sole processing technology from this industry. The blocks are safe for small children because they use the same light, soft foaming material that's used in footwear production, and don't cause injury if crashed into, and are harmless even if put into the mouth (not that we recommend it).

The colors, materials, textures, sizes and designs were all developed jointly with doctors of psychiatry so that the blocks naturally cultivate cognitive functions and motor skills. These blocks train the body and mind by offering many ways to play depending on a child's ideas: build a bridge and cross it, make a chair and sit on it, etc. These carefully created Japanese playthings will even keep adults fascinated. We guarantee they will be a very well-received gift! Think of soft Duplo, but triple the size.