7 Exquisite Bowls from Different Materials
7. Tsugaru Vidro Nebuta Tayobachi (Glass)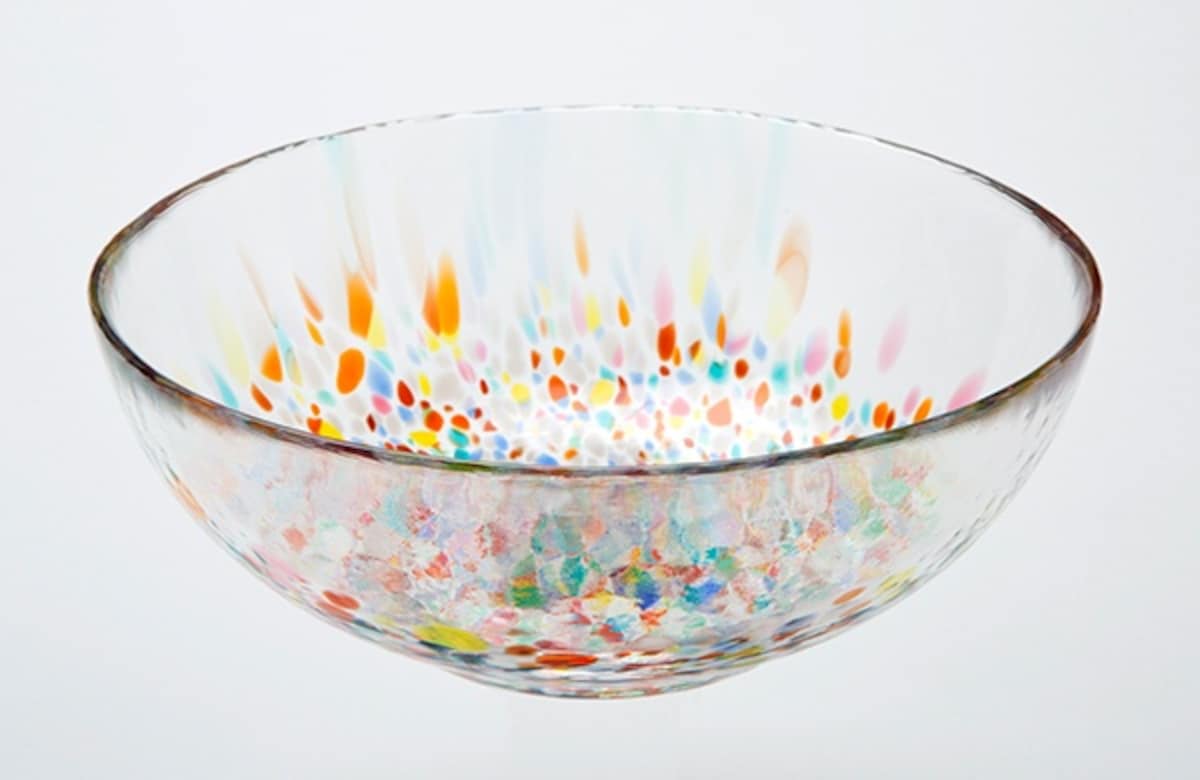 Tsugaru Vidro is handmade glassware resplendent with the vibrant colors of Japan's beautiful four seasons and filled with the warm ambiance inherent to handiwork. Its roots can be traced back to the manufacturing of glass buoys used for fishing, which were hand-blown in the style that originated more than 2,000 years ago. This multicolored glass bowl reflects, in eight abundant colors, the vibrant atmosphere of Nebuta, one of the three largest summer festivals in the Tohoku region and a summer seasonal tradition in Aomori Prefecture.

The colored glass was blended by manufacturer Hokuyo Glass Co., Ltd., which used colors that match the image of Nebuta, creating the perfect harmony between the transparence of the glass and the brilliance of the colors. Uniquely Japanese in its exquisite beauty, this glass bowl was created by a company with long-standing traditions in the manufacturing of glass, reflecting the spirit of each of the four seasons through combinations of more than 100 different colors.
6. Hasami Porcelain (Porcelain)
Hasami Porcelain comes from the town of Hasami in Nagasaki Prefecture, where ceramics have been produced for approximately 400 years. While steeped in this long history and tradition it's been infused with new design and technology. It's made from a unique mixture of clay and minerals that are naturally occurring and sourced on the Amakusa Islands in Kumamoto Prefecture. The mixture is finished with a glaze that embellishes its natural properties. Because of this, the porcelain is sharper than ceramic, but has a roughness to its texture that is unlike typical porcelain, providing a certain comfort to its touch and feel.

The clean designs and omission of décor lend to its very appealing aestheticism. Further, whether it's a mug, bowl or tray, they've all been designed with the same diameter, so that stacking is free and easy. Essentially, the idea is that even when they're put away they look beautiful, which is an idea borrowed from how traditional multi-tiered Japanese boxes were designed.
5. Kofukuwan Set (Lacquerware)
Normally, lacquerware is characterized by a soft texture, but these bowls are distinctive for a hard, easy-to-care for surface created by using the makiji technique, which mixes lacquer with chinoko (diatomaceous earth from Wajima City in Ishikawa Prefecture that's fired and powdered). This means that, unlike ordinary lacquerware, metal spoons and forks will not damage it, so there are no worries about harming the lacquerware and the bowls can readily be used every day.

The makiji technique is also known for being non-slippery, making it easy to carry. This particular bowl series, taking up the motif of green tea bowls, is great for foods such as dessert and soup, cultivating new possibilities for lacquerware being suitable for everyday use.
4. Tetsubachi (Iron-Style Lacquerware)
Akihiko Sugita is an up-and-coming young artist based in Kanazawa, Ishikawa who creates lacquerware with the feel and texture of iron using a unique technology for applying lacquer in layers. Attracted by the appeal of lacquerware, a traditional Japanese craft, he completed his apprenticeship and became an independent artist two years ago. His talent quickly gained recognition and today attracts great interest as evidenced by the fact that his works are used by top-rated restaurants in Paris. Drawing on his unusual background as a student of philosophy and a trained soba chef, Sugita designed this product after the image of the bowls used by Buddhist monks.

By blending the supple round shape of the bowls with the unique feel of lacquerware, he has created a product with a distinctively calm and tranquil vibe. The rich, poetic ambiance of the black color creates a modern impression and exquisitely sets off any dish. This is a piece of tableware created with a deep passion for food.
3. Triple-Layer Bowl (Cypress)
Hikiyose brand products have been featured worldwide and even carried in the Christian Dior flagship store in Paris. Although quite a simple wooden dish, the layers of wood grain visible on the inside give an impression of refinement. Each piece exhibits a modern sense of freedom intended by designer Kaichiro Yamada.

There are, in fact, two traditional Odawara crafting techniques at work here. The first is Odawara lacquering, passed down from the Muromachi Period (1336-1573). The second is an entirely different method used in the Edo Period (1603-1867) in which geometric patterns are created with the wood, called Hakone Yosegi Zaiku. Using such techniques, the craftsmen are able to showcase the wood's natural beauty. Additionally, for the process of having to glue together several pieces of wood, wood parts that would have otherwise been thrown out are used. The amount used is controlled and kept to one third of an entire tree log. These practices contribute to efforts in creating environmentally friendly products as well.
2. Oribe Chawan Teacup/Bowl (Pottery)
400 years ago, Oribe Furuta, who actively participated in the tea ceremony, developed a kind of pottery that was freely formed and strong, and that today is characteristically known as Oribe ware. Oribe's pieces were used by warlords on their way to fight during a time of upheaval in Japan.

Today, Takuya Yokoyama is breathing new life into this classic tradition by combining strength and vigor just as Oribe would have. Working out of Gifu Prefecture, Yokoyama believes that it's not about obeying tradition but about taking on new challenges as an artist. This Oribe chawan, or teacup, has a rustic feel when held, and an attractiveness that never bores. With its strong presence, it can also be enjoyed as a work of art.
1. Yoganyu no Utsuwa (Lava-Glazed Pottery)
A pottery glaze is something that creates a layer of glass on the surface material and gives pottery its color and luster. The glaze used by Futoshi Yamashita for his Yoganyu no Utsuwa bowl comes from the lava rock of Mount Aso, an active volcano in Kumamoto Prefecture where he grew up. Because he uses only lava rock and water without any other additives, the composition of the elements is subtlety different each time, so no one piece is the same as the next.

These pieces are born out of a humility toward nature and how it is constantly in flux. This pottery style is very rare, and pays homage to both Yamashita's hometown and the majestic Mount Aso. Its appeal comes from how he's harnessed this wildness in an original way. His use of clay from Kumamoto is the biggest expression of respect for the blessings of the natural surroundings where he was raised. In a nutshell, this piece is simultaneously easygoing and full of strength.