5 Cool Products Merging Tech & Tradition
Possibly the best image of Japan is as a place where ultra-modern, high technology meets traditional principles and design. These five items will give you a taste of that convergence, including a USB flash drive with a ceramic twist and the Tokyo subway map co-opted as an electronic circuit board on your iPhone case!
5. Dyed Fabric Device Case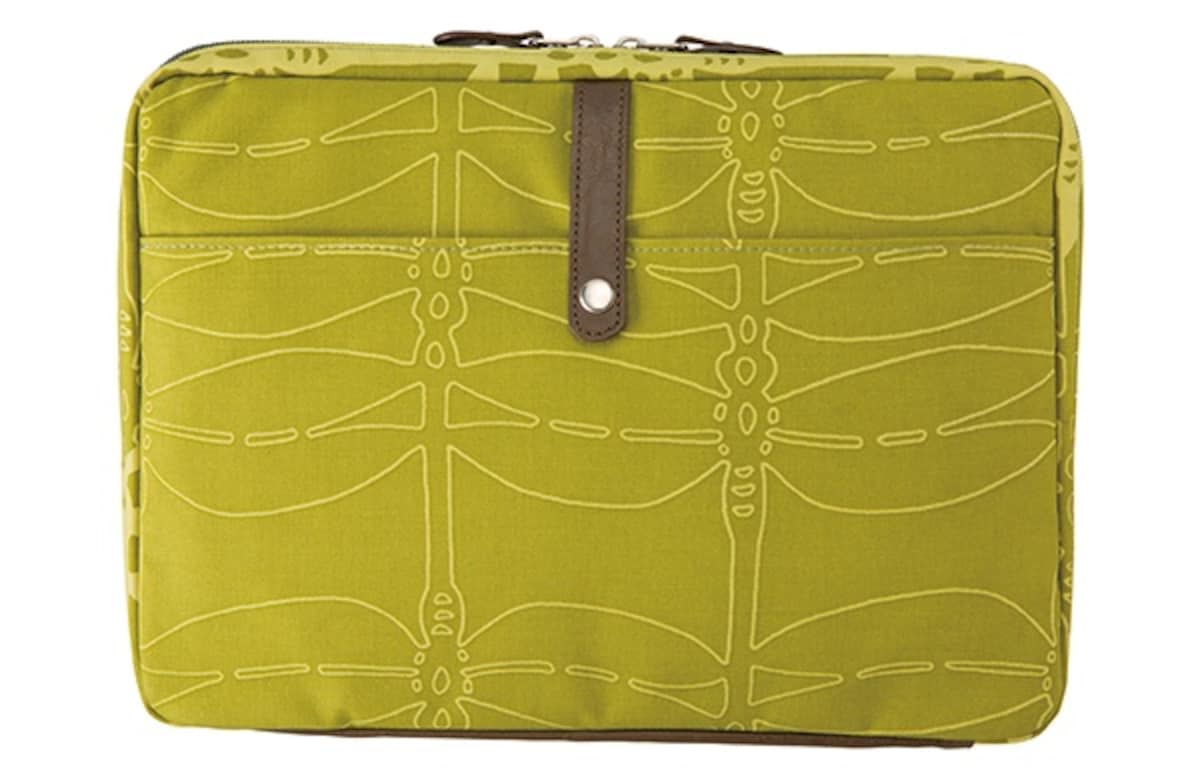 Kyoto is the scene of a vibrant textiles industry, represented by home-grown traditional Nishijin-ori fabrics and Kyo-yuzen dyeing techniques. This is further demonstrated by the kimono, much loved both in the distant past and today.

Emerging from the idea that people should enjoy the lovely designs of kimono in their everyday lives is this carry-around device case that offers a traditional Japanese beauty. Made from 100 percent natural cotton material, craftspeople use traditional techniques to print each device case one by one using starch mixed with dye. This method, called tanassen, creates vivid and aesthetic colors that make this case unique.

More than just its eye-catching beauty, though, is the full functionality provided by this case. Meant to hold a 13-inch note PC, the case uses a water-repellant finish and fabric cushioning materials to protect the device held within.
4. Chikuon-ki Wooden Smartphone Speaker
The unique Chikuon-ki Piano Black speaker connects traditional handicrafts with a discovery in everyday life.

This product came about as the result of riding in a car without a stereo. But when a smartphone was put into the console while playing music, the audio was unexpectedly good. Enchanted by the sound, the maker then repeatedly experimented with the most effective size and construction of wood boxes and then casually tried the local traditional lacquer finish, resulting in clear sound range from mid to high tones.

With a focus on enjoying the soft sounds of the wood and no need for electricity, there is no need for any power cables or connectors, and any kind of smartphone can be used in any location. With this box you can enjoy both the beauty of the jet black lacquer and comforting sounds.
3. Chiseled Magnets
This product is made with a chisel for metal carving, using a traditional process that has continued since the Edo Period (1603-1867). Chisel techniques were useful methods for creating embellishments on mikoshi, the portable shrines used in Japanese festivals. Although this technique is rare nowadays, Shiozawa Seisakusho in Tokyo has passed down this traditional method. The small, three-centimeter surface of the magnets features designs based on the ukiyo-eart of Katsushika Hokusai and the illustrations on the Scrolls of Frolicking Animals, or Choju-jinbutsu-giga, from Kozan-ji Temple in Kyoto, each one hand-carved with the chisel of an artisan.

The molds and chisels themselves are also handmade. The detailed, fine workmanship expresses the sincerity of the Japanese when it comes to manufacturing. It isn't an overstatement to call these true collector's pieces where traditional Japanese craftsmanship shines.
2. Kutani-yaki Ceramic USB Memory Stick
Kutani-yaki is a traditional craft from Ishikawa Prefecture that originated 360 years ago during the Edo Period (1603-1867). This USB memory stick was made with two goals in mind: first, to create a portable piece of Kutani-yaki, and second, to form a ceramic box storing precious memories.

Items made in a pottery workshop in the city of Nomi, the Mecca of Kutani-yaki production, are used for the body. These products are distinguished by a unique, weighty texture inherent to ceramics, along with the use of deep colors and patterns of bold composition that are characteristic of Kutani-yaki.

The unexpected application of finely detailed Kutani-yaki decoration to an electronic device generates a new kind of presence. This item has an air of uniqueness—at first glance, it does not look like a USB memory stick. These items are also high-grade decorative boxes, which are perfect for gifts for friends and family.
1. Moeco Flash iPhone Case with Tokyo Train Map Design
This iPhone case emits LED light without a power supply by converting the radio waves emitted by the iPhone into electricity. The design of the case features a complex Tokyo railway map imprinted as a wiring pattern on a circuit board. The elaborate design is truly eye-catching and infuses the circuit board with functional beauty. The elaborate railway map is perfectly finished and will mesmerize you with its precision, while the case itself is smooth to the touch and easy to use. This product truly exemplifies the high-tech spirit of modern Japan.