5. Nikko Cedar Sake Set (Tochigi)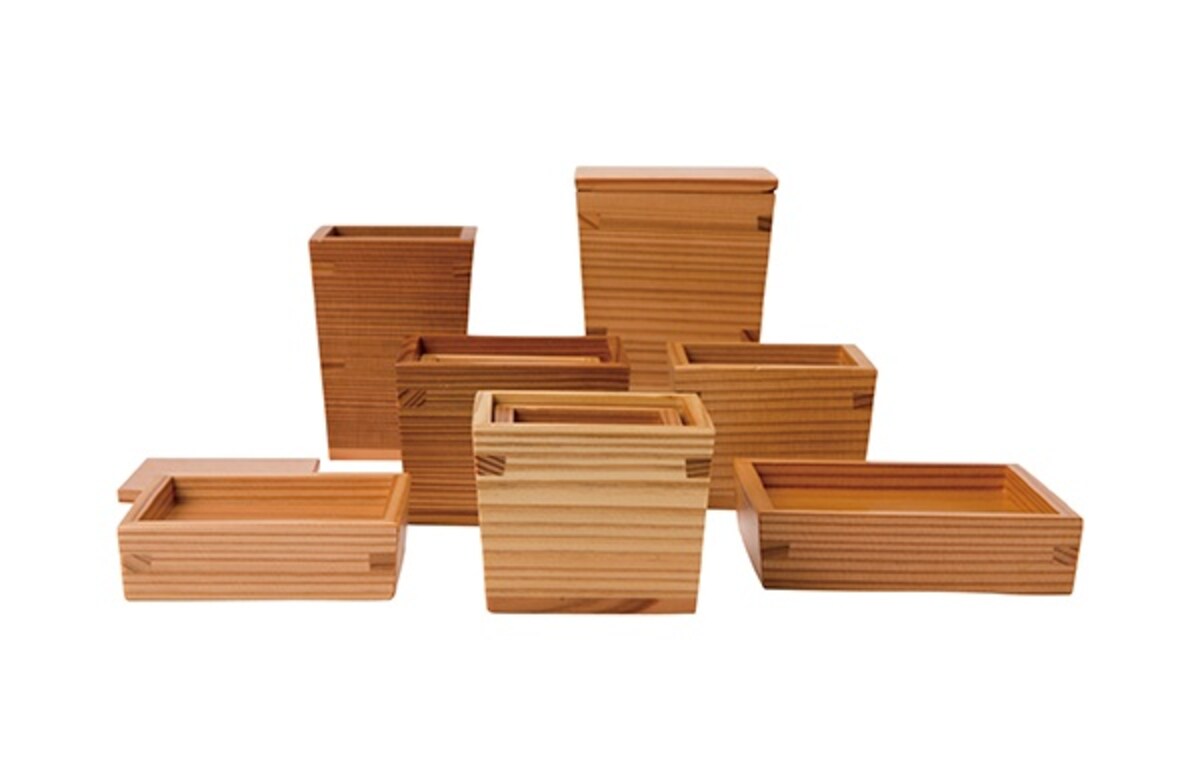 The Omoeraku Nikko-sugi Syuki Series of is one of the most beautifully designed sake sets, sure to impress any house guest!

The city of Nikko is famous as a home to UNESCO World Heritage sites such as Toshogu Shrine, Rinno-ji Temple and Futarasan-jinja Shrine. This is a series of tokkuri (earthenware sake bottles) and masuhai (square-shaped wooden sake cups) that use Japanese cedar from Nikko and are made by hand. Fine cedar grain and the delicate joining of wood through the precise skills of woodworkers have forged a new design for these measuring containers that have existed in Japan since olden days.

Avoiding showy decorativeness, these cups sport an unaffected, simple finish. The lid of the tokkuri has a dovetail design that's calculated to allow the sake to be poured slowly, finely and attractively when tilted while holding the lid down. These tokkuri and masuhai allow Japanese sake to be enjoyed in new ways, while the fragrance of cedar that comes from the light red bark sets the mind at ease, elegantly coloring your sake drinking experience.
4. Wood & Metal 'Guinomi' Sake Cups (Toyama)
The City of Takaoka, Toyama Prefecture, accounts for almost all of the bronze cast products in Japan. The origins of this began roughly 400 years ago when Toshinaga Maeda, who ruled over the areas Ecchu and Kaga (now Toyama Prefecture and southern Ishikawa Prefecture, respectively), launched a casting metal factory in what is today the town of Kanayamachi as a way to vitalize local industry when he was building the nearby Takaoka Castle.

The evolutionary brand Kisen was established as a way to promote a new appreciation of the copperware skills that those craftsmen handed down. It produced the these guinomi, or sake cups, using a novel and stylish combination of metal and wood shaved to a thinness of millimeters. The sake cup's graceful curves, reminiscent of the profile of Mount Fuji or traditional wooden kokeshi dolls, evoke the beautiful forms and spirit of Japan. These cups are sure to help make Japanese sake taste better and more stylish—particularly when used together with Japanese cuisine!
3. Kakiko Guinomi Lacquered Sake Cup (Iwate)
Only 2 percent of the lacquer used in Japan is produced domestically. The Joboji district of the city of Ninohe in northern Iwate is the biggest producer of lacquer in Japan, producing about 70 percent of that precious domestic lacquer.

The process of gathering the sap of the tree from which lacquer is produced is described as "tapping" rather than "harvesting." A molding plane is used to make long straight cuts on the bark of the tree. The cuts exude a milky white sap, which is then scraped off with a spatula.

This Kakiko Guinomi (where guinomi means sake cup) is made by the lacquer tappers, who apply many layers of the Joboji lacquer they tap themselves onto lacquerware for everyday use. Lacquerware is resistant to alcohol, acids, and alkalis. It also boasts excellent waterproof, insulation and antiseptic properties, making it ideal for use in sake cups. The Kakiko Guinomi fits the lips comfortably and makes drinking any kind of sake more enjoyable.
2. Cup Set for Chilled Sake (Kyoto)
The veteran Kyoto lacquerware maker Zohiko, with a 354-year history, provides a new way to drink Japanese sake with its Shiki Reishuhai Yonkyaku Set. Japanese sake sommelier Katsumi Kimura oversaw production of the set, ensuring a shape that fits the flavor and aroma of each type of sake, including kunshu (fragrant), jukushu (matured), soshu (light) and junshu (rich). This set of lacquerware cups is carved from wood as a single piece rather than being joined together, making them a shining example of craftsmanship. These are the perfect complement for enhancing the flavor of both Japanese sake and Western alcohol.
1. Lacquered Iron Sake Cup (Iwate)
Even the fall colors that paint the mountains as if ablaze begin to disperse as autumn deepens. Above the leaves sunk at the bottom of the river is a leaf, and another leaf. This sake cup seems to have been cut from primal Japanese scenes like this. When the cup is tilted, it is as if the autumn leaves at the water's edge shake slightly and a pleasant fragrance spreads. Delicious sake is conveyed from the lip of the cup to your throat. The time passes quietly on long autumn nights.

Iwate is Japan's No. 1 lacquer-producing prefecture. Joboji lacquer, known as "the lacquer among lacquers," is applied to sake cups made with Nambu cast-iron, another famous Iwate product, and decorated with gold or silver powder using the traditional maki-e technique.

The producers of this first-class product work to achieve ultimate functionality as a sake cup, and even invite Japanese sake breweries to check the quality of the lip.