48 Hours in Kyoto on a Budget
You can hit a half dozen major Kyoto points in a single day, ending with Kiyomizu-dera Temple.
1. Golden Pavilion (¥400)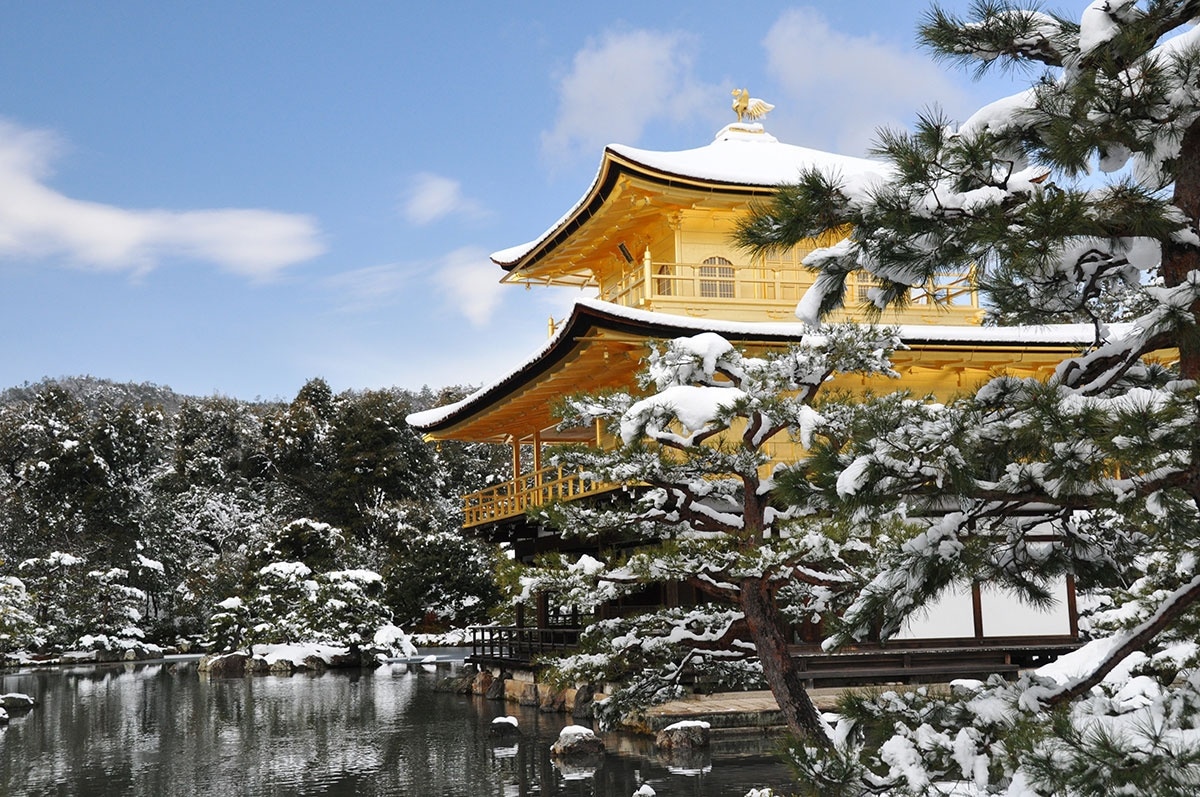 Bus travel in Kyoto is a flat-rate ¥230, so before you start you need to decide how you want to end your day. If you're prepared to walk back from Kiyomizu-dera, or plan to take a subway, pay the regular rate. If you'll be taking a bus at the end of the day, get the Kyoto City Bus & Kyoto Bus One-Day Pass at the Kyoto Station bus ticket counter for ¥500 and you'll save ¥190 on the day.

Regardless, start early and get out to Kinkaku-ji, Kyoto's iconic "Golden Pavilion," which opens at 9:00 a.m. It takes about 40 minutes via bus number 101 or 205 from Kyoto Station. There's only one thing to see, so it's a quick stop once you get through the crowds.
2. Silver Pavilion (¥500)
From Kinkaku-ji, take bus number 102 or 204 to Ginkaku-ji (35-50 minutes depending on traffic). This temple isn't actually that big a deal—the builders ran out of money before they could cover the "Silver Pavilion" in silver—so it's just a cottage in a garden, and the sand sculptures and hillside moss are really the main features. Note that it's called Higashiyama Jisho-ji on the maps, since Ginkaku-ji is technically just the one of the buildings in the temple complex.

There are a few cafés and restaurants on the approach to Ginkaku-ji, so you can head back there to fill up. And do: From here, it's a 5.5-kilometer (3.4-mile) hike to Kiyomizu-dera, with more shrines and temples en route than you can shake a Shinto stick at.
3. Philosopher's Walk
The Philosopher's Walk (哲学の道・Tetsugaku-no-Michi) follows a small canal to the south. If you've arrived in early April, you'll be treated to roughly 2.5 straight kilometers (1.5 miles) of pink cherry trees as you spend half an hour ambling to Nanzen-ji. Otherwise, it's just a casual walk with a whole lot of potential diversions on the way.
3.1 Honen-in Temple
If you've arrived during cherry blossom season, during the August Obon period, or when the leaves change in late November, you can afford to take your time. Kiyomizu-dera is best visited after dark, and will be accessible until at least 9:00 p.m. during these times. Otherwise, plan to get there by 5:30 p.m. or 6:00 p.m. or you'll be locked out.

If you have time—and aren't worried about getting templed out—dive into any of the various temples and shrines along the way. One good choice is Honen-in...
3.2 Eikan-do Zenrin-ji
...and another is Eikan-do Zenrin-ji, both of which look great in the fall.
3.3 Heian-Jingu Shrine
You can also jog a few blocks west to Heian-Jingu Shrine, which stands at the head of a street with a massive torii gate. It's just those two snapshots unless you go to the garden, which is best viewed during cherry blossom season (¥600). Fun fact: For no particular reason, a car from Japan's first passenger train is wedged just inside the garden gate.
4. Nanzen-ji Temple
This is one of the most famous—and eclectic—temples in Kyoto. Incorporating a number of sub-temples, its main features include an approach lined with massive cedars, a huge off-center gate that you can climb for ¥500, a detached palace crammed between two hills, and a gigantic red-brick aqueduct. Yes: an aqueduct. Take some time and explore—this is the grandest scale you'll see today (though it's hard to fit it all into any one photo).
4.1 Transit: Nanzen-ji to Chion-in
Navigating the streets south of Nanzen-ji is the one tricky part of Kyoto. Just head southwest toward Kyoto Tower, cross the train tracks and aim for the western face of the hills. You should spot a big, older hotel (the Westin Miyako Kyoto) up on the hillside to your left as you go. If you're still confused, check the link below.
4.2 Shoren-in
You'll hit a lovely little road winding through the hillside that will take you past Shoren-in (you can go in and buzz through if you like, it only adds a few minutes) and up to the massive gate of Chion-in.
5. Chion-in
While Nanzen-ji has the grandest overall scale, Chion-in has the biggest individual bits. It boasts what's said to be Japan's largest temple gate (the massive Sanmon), arguably the nation's largest bell, and the colossal Mieido main hall—though the the lattermost is unfortunately under reconstruction until 2019, so there may be little to see inside.
6. Maruyama Park
It's 2 kilometers (1.2 miles) from Chion-in to Kiyomizu-dera Temple. Just breeze through Maruyama Park, which you might recognize from last night, and follow the temples and pagodas as you immerse yourself in the traditional wooden houses and shops on the stone-inlaid pathways of the Higashiyama District. If you have time, stop anywhere you'd like—there are also little shops selling food here, so it might also be a chance for a snack.
6.1 Kodai-ji (¥600)
If you're around in April, early August or November and you've let it get dark, swing by Kodai-ji to check out the illuminated gardens and bamboo grove before going to Kiyomizu. It's quick, and it's worth it.
7. Kiyomizu-dera (¥400)
This is the big one. But unless you've come during cherry blossom season, mid-summer Obon season, or late November when the leaves turn, it won't look like much until you get through the main hall and clamber onto the hill behind it. Once you get there, you'll see the temple's massive veranda in front of the cityscape, and you'll understand why this is Kyoto's premier tourist attraction.
8. From Kiyomizu
Bus 206 will get you to Kyoto Station. If you'd like to go elsewhere, it's actually not that far back to the Kamo River—less than a kilometer (about 0.6 miles) from the base of the hill, or about 10 minutes' walk. There are a few spots to eat on the way, or you can just head back to the city center from there (Kawaramachi is less than 10 minutes' walk upriver). And if it's cherry blossom season, you can always head back to Maruyama Park!