6 Most-Visited New Year's Shrines & Temples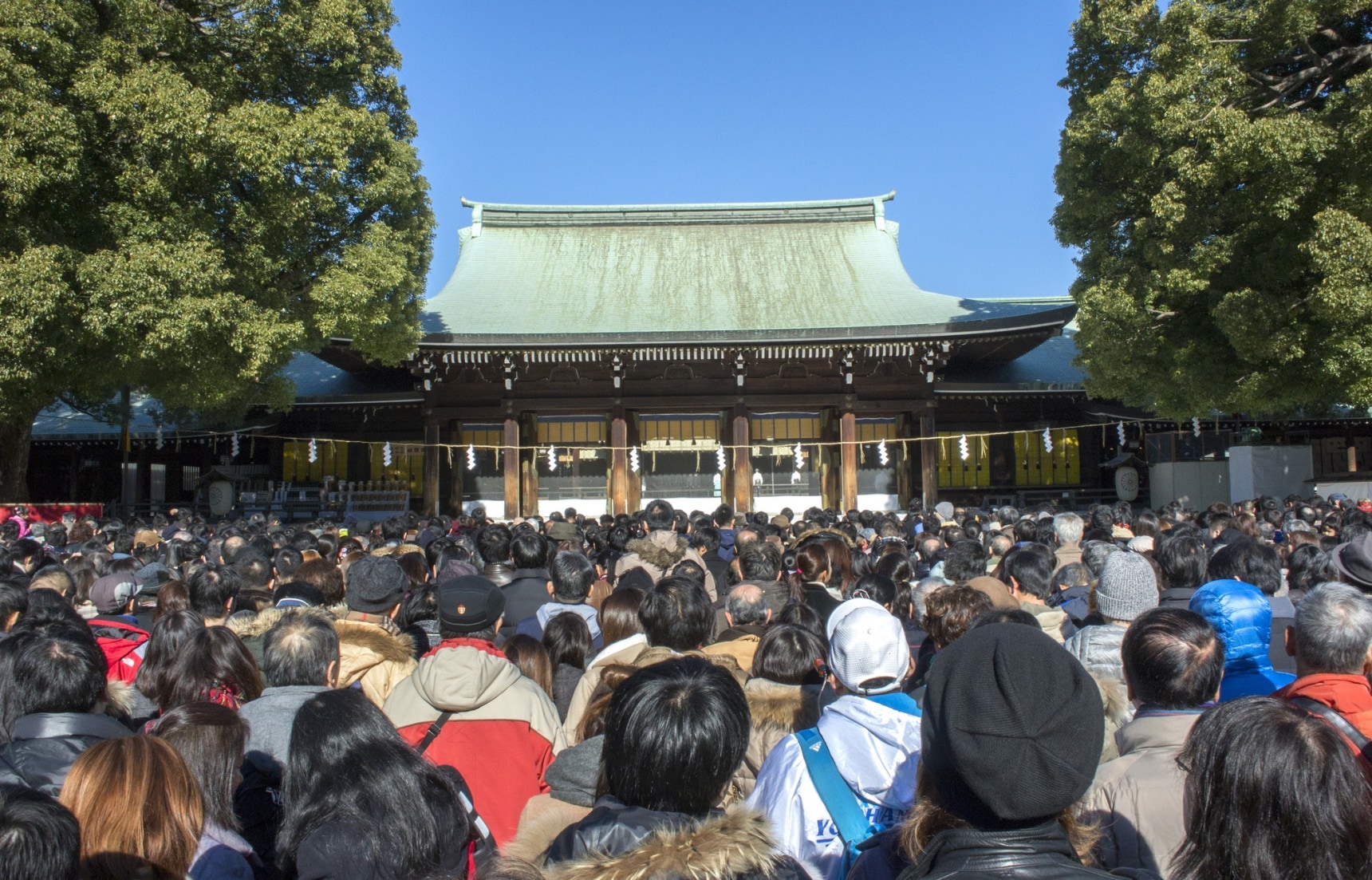 Just as the sun begins to rise over the Pacific Ocean on January 1, millions of Japanese residents flock to the shrines to pray for good fortune and wealth in the coming year in a tradition known as hatsumode. But just how many people go, you ask? While these stats are from back in 2014, they're still pretty staggering!
6. Tsurugaoka Hachimangu — 2.5 Million People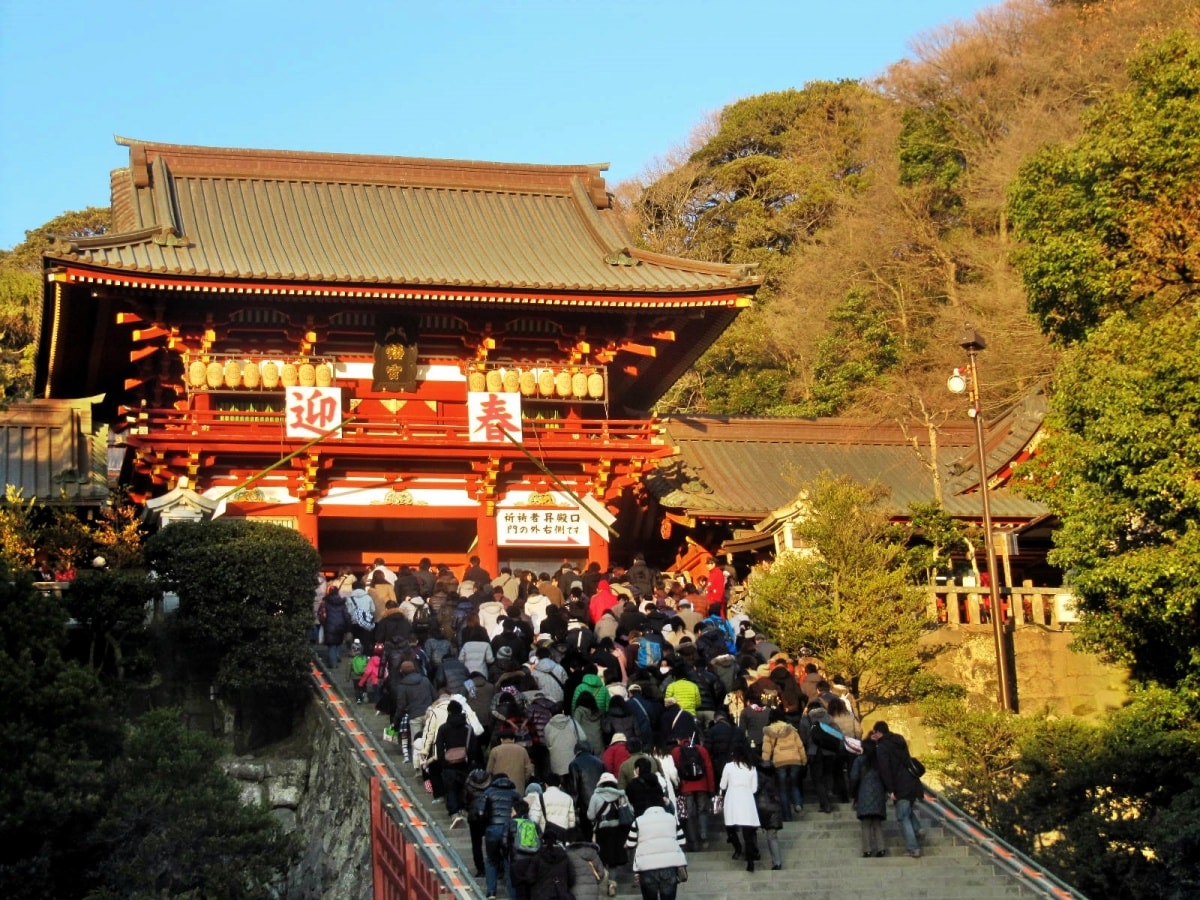 The principal shrine in Kanagawa Prefecture's Kamakura City is Tsurugaoka Hachimangu, which is listed on Japan's Cultural Heritage list and has been around since 1063—making it as old as some ginkgo trees!
5. Fushimi Inari-Taisha — 2.7 Million People
Go thorough the winding paths of crimson torii gates at the base of Kyoto's Mount Inari and you'll come to one of Japan's most popular tourist attractions—Fushimi Inari-Taisha. Each gate was donated by an individual or a company, with an inscription of the name on the gate itself. With the shrine's history spanning some 1,300 years, it's no wonder so many people gather here for hatsumode.
4. Senso-ji Temple — 2.83 Million People
Also known as Asakusa Temple, Senso-ji is located in the heart of Tokyo's Asakusa district. It's the capital's oldest and arguably most popular temple, as every year countless Japanese and international tourists flock to snap pictures and pray. After washing your hands in the purified water, fan the smoke from the incense onto the top of your head before entering the temple to be spiritually cleansed.
3. Naritasan Shinsho-ji Temple — 3 Million People
Designated as a National Important Cultural Property and one of the best-known temples in the Kanto region, Naritasan Shinsho-ji Temple is a 10-minute train ride from Narita International Airport. While it's some distance from the population center in Chiba City, residents still flock to the temple to pay their respects for the New Year.
2. Kawasaki Daishi — 3.02 Million People
Located in Kawasaki Prefecture, Kawasaki Daishi (formally Heiken-ji Temple) has been a popular place for hatsumode enthusiasts since its founding in 1128. Here you can purchase souvenirs such as daruma dolls, which are good luck charms in Japan, or if you've built up an appetite stop in at one of the restaurants that line the road from Kawasaki Daishi Station. Either way you won't leave empty-handed—or on an empty stomach!
1. Meiji Jingu Shrine — 3.16 Million People
Try to find a person in Japan who hasn't heard of Meiji Jingu and you'll come up empty-handed. This popular shrine, located near the trendy teen fashion spot of Harajuku, is where millions come annually to pray for a happy and healthy New Year. Even though they may be packed like sardines as they shuffle on toward the saisen-bako (a coin box you throw your ¥5 coin into when you pray), these hatsumode enthusiasts continue to brave against the cold.

If you happen to be in Japan at the turn of the year, don't miss out on this wonderful opportunity to experience a traditional Japanese New Year and to have your wish for the New Year come true!