A Perfect Weekend in Gifu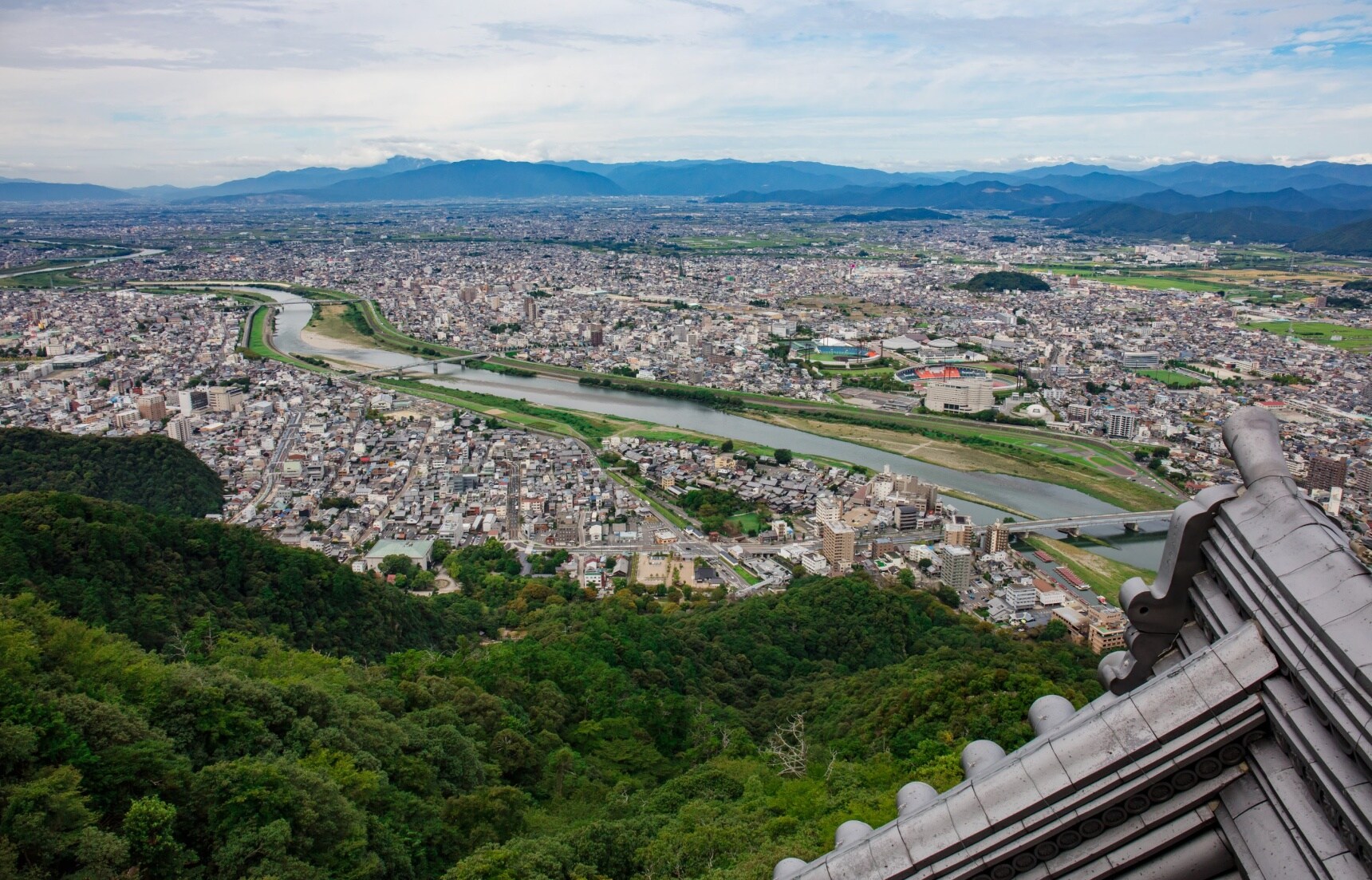 The city of Gifu is easily accessible, only a 20-minute train ride away from Nagoya. It's a perfect place to spend a weekend, with ukai cormorant fishing, a 360-degree spectacular view from the top of Mt. Kinka, and a gold-covered Great Buddha. Licensed tour guide Miyuki Seguchi recommends places to visit on a weekend trip.
Saturday 10:00 am: Stroll Around Shops for Washi-made Crafts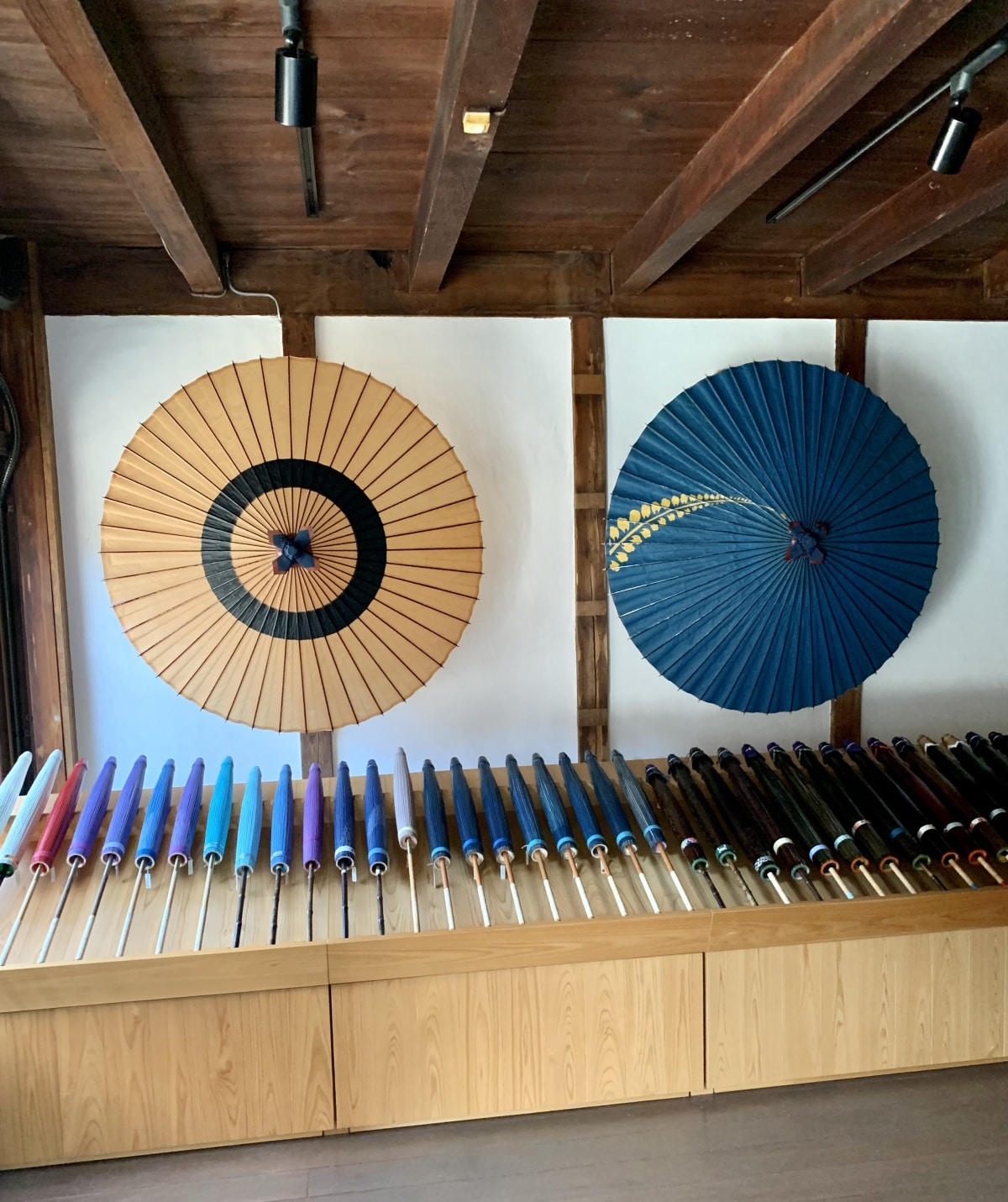 From Gifu Station, take a bus or taxi to Kawaramachi, a lovely riverside district with an ambience dating back hundreds of years. Kawaramachi is one of a few areas in Gifu City that were not damaged by the bombings during the World War II. Some of the buildings left intact are the traditional wooden merchant houses that have been here since the heyday when boats were the main transport method. Many of these houses have been renovated; some operate as cafés, restaurants and shops, making it a nice area to walk around and explore.

The Nagara River that flows through the city has been recognised as one of Japan's three cleanest rivers. This has helped the development of traditional crafts using Japanese handcrafted paper called washi, including lanterns, umbrellas and fans. Look for shops selling these items, which will be perfect souvenirs for your friends and family.

Sumii Tomijiro Shoten
Nagaragawa Depart
12:00: Lunch at an Old Town
If you want to have lunch in the area, the café Kawaramachiya is a good choice. It serves casual dishes like curry, pizza and the Japanese-style rice omelette known as omuraisu. When you go inside the front door, you will be led to a two-story building at the back through a little corridor. Designated as an important cultural property by Gifu City, the building is a traditional kura storehouse. Inside is a café, restored with a modern interior. If you're lucky, a piano performance may be on the menu. The front space of the machiya house displays and sells washi-made crafts such as lanterns and small Japanese souvenirs.
13:00: Deep Dive into the World of Ukai
After lunch, move to the opposite side of the river to visit The Nagara River Ukai Museum. Ukai is a type of fishing method in which fishermen and trained cormorants work together to catch river fish such as Ayu sweetfish.

Ukai fishing here is particularly famous because of its long 1,300-year history. Over the years, the unusual method has been watched and praised by many renowned historical figures including shogun Tokugawa Ieyasu, 17th-century haiku poet Matsuo Basho and Charlie Chaplin.

This museum walks you through the history of ukai, and illustrates how fishermen take care of cormorants 24/7, year-round. You'll learn the significance of the fishermen's costume, which will prepare you for a Ukai cormorant fishing performance later in the evening.
15:00: Fishermen's Village
For more about ukai, visit the Fishermen's Village, only a few minutes' walk from the museum.

Deep bonds are cultivated between the fishermen and their cormorants, as the birds live in a dedicated space at each fisherman's house. The Fishermen's Village is in a residential area, so it's recommended to go with a local guide when you make a visit. You can see how the cormorants are treated and you may be able to speak to fishermen. These cormorants tend to live two- or three-times longer than wild cormorants because of the favorable environment at Fishermen's Village.
17:00: Multi-course Kaiseki Dinner
Half a dozen hotels and ryokan inns are located on the river. If you'd like to watch ukai fishing at night, I recommend staying at one of these accommodations, and having an early dinner. A stay at one of these inns comes with a high-quality kaiseki meal, which includes a range of dishes cooked with seasonal, local ingredients. If you are lucky, you may be served Ayu sweetfish that have been caught by cormorants, not usually available in the markets.

Juhachiro
Sugiyama
19:00: Ukai Cormorant Fishing at Night
Once dinner is finished, transportation will be arranged to a place where a boat will take you to watch the performance. You'll share a boat with other passengers as you watch fishermen and their teams working on their boats with the cormorants.

The usho (master cormorant artisan) here have been given an honorary position by the Imperial Household Agency, a role that is handed down from father to son. Part of this tradition calls for Ayu sweetfish caught in Nagara river to be delivered to the Emperor and his family eight times a year.

Fireworks are set off to mark the start of fishing, followed by half a dozen fishermen clad in special costumes who come down the river in their boats. Bonfires are hung off the boats and cormorants use the light of the reflection to find fish. The fishermen guide them with ropes tied harmlessly to their neck. Ropes are tied so that cormorants can swallow smaller fish while holding several larger fish in its throat. The cormorants catch and release the fish so quickly that the fish remain fresh.

Ukai is usually performed every day from the second week of May through mid-October (except for nights with a full moon).

Ukai Cormorant Fishing
21:00: Soak in the Onsen Hot Spring
After the performance, you will be escorted back to your accommodation. The Nagara River is also famous for a hot spring with terracotta-colored water from its rich iron content, but clear water baths are also available. I suggest soaking in the hot springs to enjoy the river view and relieve fatigue.
Sunday 10:00: Gifu Castle on top of Mt. Kinka
After breakfast at your accommodation, make the climb up Mt. Kinka, only a few minutes' ride on the cable car. From the end of the cable car, it's about a 15-minute walk to the top of the mountain where Gifu Castle is located.

The castle is most famous as the base of the renowned samurai general Oda Nobunaga—recognized as one of the first Great Unifiers of Japan. Inside the four-story structure is an exhibition of items related to Nobunaga and his battles.

A major highlight is a spectacular view from the top of the castle, the same perspective enjoyed by Nobunaga. The height of Mt. Kinka is about the same as that of Tokyo Tower, which is 333 metres, so a 360-degree view from the top is a special experience. The area around the mountain is flat land, so you can see the Japan Alps, and Nagoya's highrises in the distance, as well as the Nagara River.

Gifu Castle
12:00 A Walk in Gifu Park
Below Mt. Kinka is Gifu Park, where locals go to enjoy urban greenery and shade during hot summer days. It's also a popular spot for cherry blossoms in spring and autumn leaves in fall. Japanese and Chinese-style gardens, a teahouse, and a museum are also situated in the park.

Gifu Park
13:00: Grilled Tofu Lunch
Murase is a cosy local restaurant in Gifu Park that serves tofu dengaku, grilled tofu with savoury and sweet miso sauce on top. If you order a set menu, dengaku will be served with a bowl of rice, soup and side dishes. If you'd like to picnic on one of the park benches, there are also some takeout items such as mitarashi dango (rice flour dumplings covered with a sweet soy sauce) and gohei mochi (flat rice cake with sweet walnut miso paste on top, which is a local speciality of the central region).
15:00 Gifu Great Buddha, Covered in Gold Leaf
A few minutes from Gifu Park is Shoboji temple with the Gifu Daibutsu (Great Buddha) statue, remarkable for its gold leaf. Its skeletal structure was made of a bamboo and clay foundation which was then covered entirely by hand-crafted Japanese washi paper with Buddhist sutras written on it. The paper was then coated with urushi lacquer before the gold was applied. This buddha is Japan's largest statue made using this technique.

Despite the large scale, the buddha's reassuring smile and hand gestures give visitors comfort and a peaceful mind, a perfect way to end your weekend in Gifu.

The Gifu Great Buddha