A Day Trip Exploring Japan's Feudal History in Mito City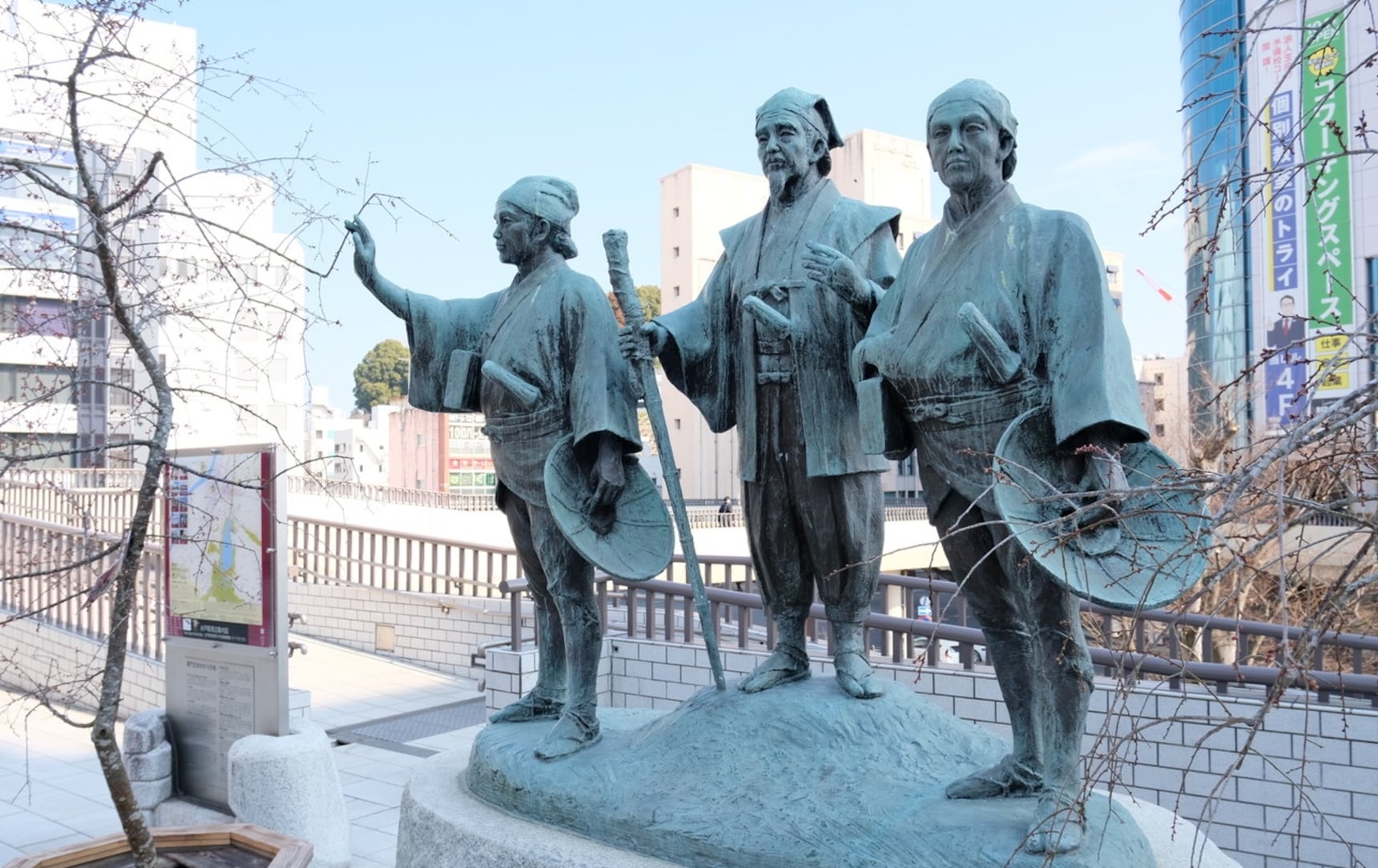 There are numerous sites of historical interest near the Tokyo metropolitan area, such as Yokohama and Kamakura. But visitors shouldn't overlook adjacent Ibaraki Prefecture to the northeast. Formerly known as the Mito Han province, it is an important hub with plenty of history. Mark Schreiber is the guide on this trip to the city of Mito.
Just to the right of the exit from JR Mito station is the statue (above) of the man who, thanks to a long-running series on TBS television, is perhaps the most famous denizen of the province: Mito Komon, whose image is flanked by two loyal servants named Suke and Kaku (on the left and right, respectively).

Komon was the literary name of Tokugawa Mitsukuni (1628-1701), a grandson of dynasty founder Tokugawa Ieyasu. He was born just a few minutes' walk from Mito station, where a signboard in front of a Shinto shrine that's dedicated to him marks his birthplace.

Around 1690 Mitsukuni withdrew from public life to a hermitage where he spent the remaining decade of his life working on the Dainippon-Shi, a massive history of Japan that took some 250 years to complete, and was officially published in 1906.

Films about Komon's incognito rovings about the country date back to the first years of the silent movie era. But it was a TV series that ran between 1969 to 2019 which made Mito Komon a household name. Unlike many period dramas on TV, the series emphasized kanzen choaku (rewarding good and punishing evil) and eschewed gratuitous violence, making it safe for prime-time family viewing.
Kodokan: An Ancient Campus
Go past the statues and across the pedestrian bridge, descending the stairs to your left. Walk up the hill a short distance and when you reach the next pedestrian overpass, turn right up the slope. At the crest of the hill, cross the street, turn right and keep following the sidewalk along the wall, which will soon take you to the entrance to Kodokan.

Confucianist philosophy, embraced by Japan from ancient times, placed a high value on education, and this was especially so among the ruling samurai class. From the 1720s under Shogun Yoshimune, its members began to seek new knowledge of the outside world through Rangaku (Dutch learning), which entered the country via Deshima, the port in Nagasaki that served as Japan's window on the outside world.
Another branch of education during the pre-modern era was Mitogaku (Mito learning), which owes its beginnings to the aforementioned Mito Komon, who dedicated his twilight years to scholarship.

Mitogaku was expanded by the 9th-generation clan leader Tokugawa Nariaki (1800-1860), who in 1841 established the Kodokan as the clan school. Toward the end of the Tokugawa Era, Kodokan became a center for one of the political movements and a driving force in the Meiji Restoration until it was closed in 1872.

Kodokan's history overlapped with the so-called Bakumatsu Era, one of Japan's most tempestuous periods, which lasted from the mid-1850s through 1868. In 1860, militant Mito samurai plotted the assassination of the highest administrative official to the Shogun. A year later they attacked the British legation in Takanawa. Shogun loyalists also occupied the Kodokan during the Boshin civil war in 1868, and the main gate (the large gate to the left of the entrance that is not in use) still bears visible bullet holes from that conflict.

Kodokan translates loosely as "Mission Hall." Promising young samurai of the Mito domain came to the Kodokan from the age of 15, and studied such subjects as medicine, mathematics, astronomy, Confucianism, history, music and martial arts.
What remains today is a meticulously maintained complex of three buildings and the surrounding grounds. Visitors can stroll at their leisure, entering lecture rooms with tatami flooring and brush calligraphy hanging on the walls.

Several rooms in the Kodokan are devoted to display of rare scrolls and documents related to its three-decade history and other aspects of the Mito domain.

A small gift shop sells postcards and various souvenir items. Hours are from 9:00 to 17:00 (16:30 from Oct. through February). Admission: ¥400 for adults, half price for seniors age 70 and over.
Mito Castle: Former headquarters of the provincial clan
Across the road from the Kodokan's entrance, a bridge and gate lead to the former site of Mito Castle. Just beyond is the old main gate, all that remains of the original castle's structures. Many of Japan's castles have been reconstructed on their original foundations, but this is only a partial restoration of the Ninomaru section, completed in June 2021.

Inside is a rebuilt section of elegant whitewashed walls topped with gray roofing tiles. At the apex of the walls is the 9.65 meter-high Sumi-yagura watchtower. It is open daily from 9:30 a.m. to 4:00 p.m. Entry is free of charge.
Kairakuen: A Garden for All Seasons
The sprawling Kairakuen garden has been named one of Japan's three great gardens—the other two being Kenrokuen in Kanazawa and Korakuen in Okayama. It combines the features of a botanical garden, museum and hiking trails over a 127,000-square meter (31.4-acre) area overlooking the Sakura River and Lake Semba.

When Tokugawa Nariaki began building the garden in 1842, Kairakuen was originally intended for members of the samurai class, but the grounds were opened to the common folk on certain occasions, making it a forerunner of public parks.
The best time to visit is from mid-February through the end of March, when dozens of varieties of ume (plum) trees, planted in the center of the garden, are in bloom. Part of the park's real charm can be found in its many unexpected corners of quiet beauty that make Kairakuen a photographer's dream in any season, as the next turn along the path reveals a bamboo grove, a tranquil pond, or steps along a hillside leading to a scenic thatched-roof gate.
Be sure to save time to visit the Kobun-tei pavilion, a photogenic three-story teahouse that's fully fit for a feudal lord. Remove your footwear and place them in the provided plastic bag and follow the arrow signs along the narrow corridors, where you can view a series of small rooms, each with stunning floral decorations on various seasonal themes. Facing the south is an engawa (porch) where you can soak up the sunshine while enjoying views of the garden.

A tip: It is strongly suggested you enter and exit the park by the Onarimon gate, which is near the geographic center of the garden and has easier access to the Kobun-tei. Beside the parking lot is nearby stop for the bus that runs to Mito Station. If you don't have an app to summon a taxi, the parking lot custodian receptionist will assist in summoning one.

Garden hours are 6:00 to 19:00 between mid-February to end-September, and 7:00 to 18:00 from October to early-February. Admission: ¥300 for adults, ¥150 for seniors and children.

Kobun-tei is open from 9:00 a.m., and charges a separate fee for admission, ¥200 for adults and ¥100 for seniors.
The Challenge of Exotic Mito Cuisine
Most Japanese would agree the food most associated with Mito is natto. These are fermented soybeans with a slimy consistency and distinctive odor that many non-natives, and even some Japanese people, find less than appealing.

On their plus side, natto are highly nutritious, high in protein, calcium, manganese and B-complex vitamins, among others. They stand out as one of Japan's big three soy-based foods along with tofu (bean curd) and miso (soy bean paste).

Natto can be consumed in a variety of ways: as-is, garnished with hot mustard, soy sauce and chopped green onions; rolled into rice and dried laver (natto-maki); served atop cold buckwheat noodles (natto soba); as a topping on spaghetti or pizza, or even as a meat substitute in fried gyoza (pot stickers).

For those determined to live dangerously, seek out the Tenmasa restaurant across the street to JR Mito station and try the ¥1,800 Natto Gozen, a set meal featuring natto in four different dishes: in an omelet, mixed with raw tuna, deep fried in tempura batter and in soup (plus rice and pickles on the side).
Sample the Local Microbrew
About two decades ago the Kiuchi family, traditional sake (rice wine) brewers located in Hitachi Konosu, began producing craft beer. Their microbrew has won awards in Europe and is exported to the United States.

Along with burgers and other food items, Hitachino Brewing Mito offers up to nine varieties of ale, pilsener, weitzen and original creations such as Daidai ale, all brewed locally under the Hitachino Nest label. Its sampler of three varieties is a good choice. It's close to the statue of Mito Komon on the 4th floor of the South Exel section of the station building. Open daily until 10:00 pm.

https://hitachino.cc/visit/brewing.html
Tokugawa Museum
Maintained by the descendants of Mito branch of the Tokugawa family, this small museum houses historical relics (weapons, armor, etc.) extending from the 17th century into the modern era with a British-built 1955 Rover 75. Photography inside is not permitted, but visitors can pose for selfies with the life-size statue of Mito Komon seated on a bench in the outer yard.

Opening hours: 10:00 to 16:00. Closed on Mondays except when the Monday falls on a national holiday. Also closed most of December. Before planning a visit, it's best to check the dates in the calendar.
Mitsukuni's Hermitage: Nishiyama-Goten Heritage
Definitely off the beaten track but well worth the trip is Seisanso (aka Nishiyama Goten), a reconstructed hermitage and garden where Tokugawa Mitsukuni (Mito Komon) spent the final decade of his life. You can travel back in time as you explore the beautifully maintained grounds—especially in the late autumn—and shop for souvenirs.

Located in Hitachi Ota City, Seizan-so can be reached by infrequently running public transportation, but due to its somewhat isolated location, a bus tour, rental car or taxi are recommended.

Admission: ¥1,000 JPY (adults). Open daily 09:00-16:00 (last entry at 15:30) except Monday (unless it is a public holiday). May be closed due to inclement weather.
Getting There
Mito is Ibaraki Prefecture's largest city. It lies about one hour from Tokyo via comfortable Super Hitachi express trains that run regularly on the JR Joban Line. Buses also run between Narita Airport and JR Mito station, making it an easy day trip even for short-time visitors.