Shop for the Best Japanese Denim on Kojima Jeans Street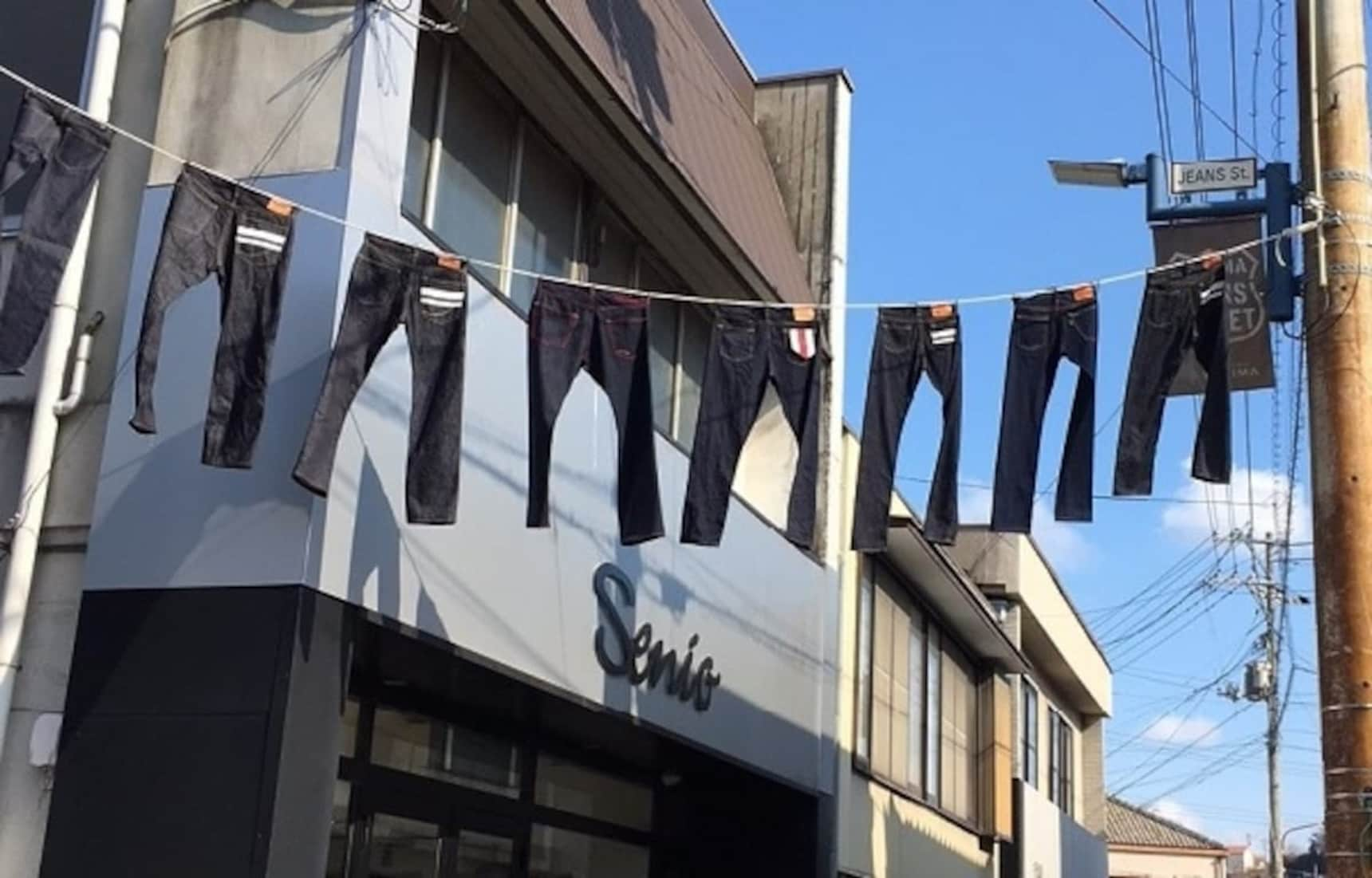 If you're serious about denim, Japan's indisputable jeans capital is well-worth a visit. The unassuming town of Kojima boasts an astonishing array of boutiques, parading a dazzling selection of styles and fabrics, including Kojima-only items. You need at least a full day to do it justice, writes Anthony Davis.
Japanese Denim? Kojima!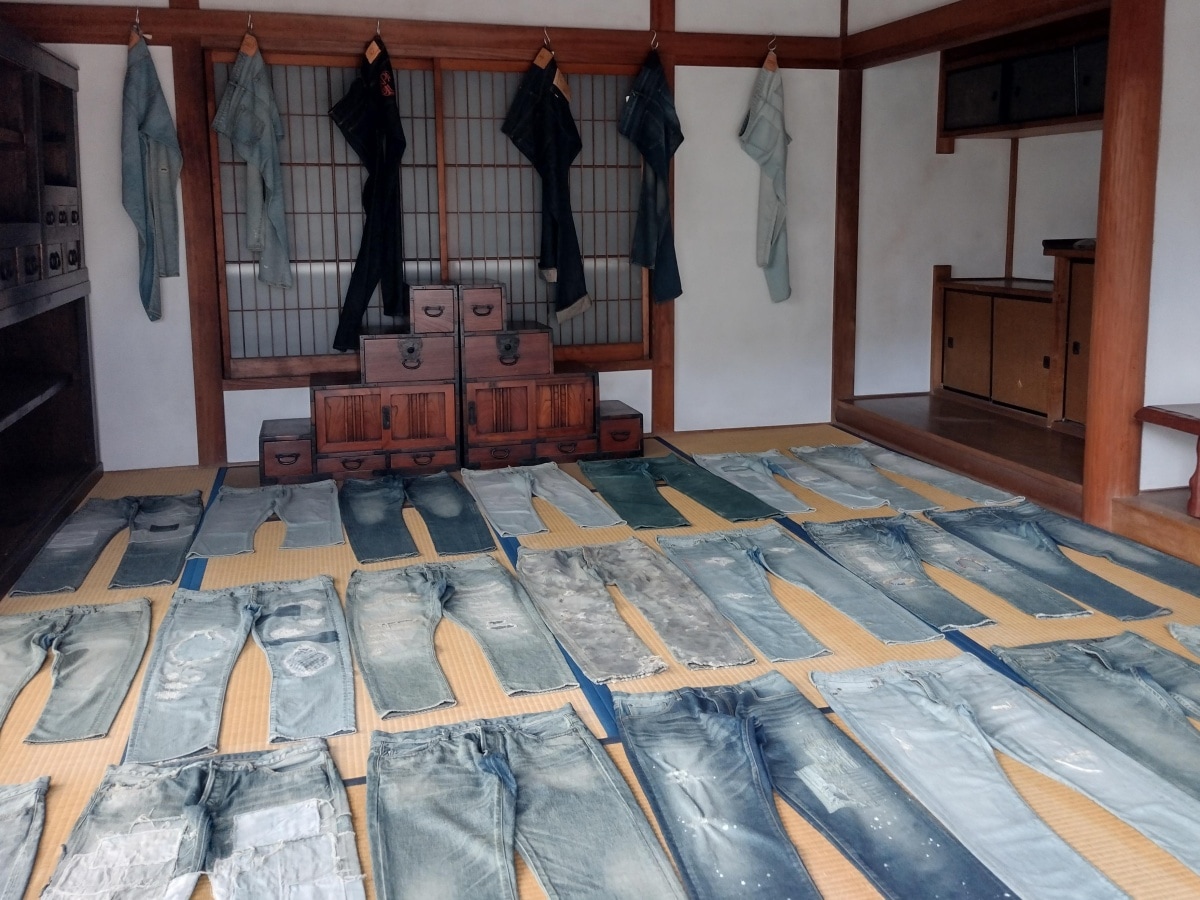 Cotton production in Kojima dates back to the Edo period (1603–1868), when it was originally woven to produce straps for swords and wooden sandals. A small coastal town in Okayama Prefecture, Kojima turned to the production of tabi socks in the Meiji era (1868–1912), then to the manufacture of school uniforms as Japan Westernized its school system. The production of jeans, using imported denim, began in the mid-1960s, and in 1973, the first Japanese denim was born.

Today, the area remains a center of jeans production, starting with cotton dyeing, now using imported cotton, and denim weaving. Consequently, many homegrown brands have stores in Kojima that showcase their products and go the extra mile to educate customers—the range of fabrics and styles is astonishing.
Riveting Jeans Street
Jeans Street, a 10-minute walk from Kojima Station, is actually two main streets (one 600 meters; the other 200 meters) that form a T-shape. They are home to over 30 boutiques, with a bewildering range of jeans and other denim clothing. It fact, the number of shops is so extensive that only the most fanatical of denim otaku would attempt to see them all in one day. I'd suggest a little advance preparation that might help you find the perfect pair (or two).

Kojima Jeans Street has a comprehensive website, mostly in Japanese, but with enough English to be able to navigate. It could be worth your while to check the shop list, containing links with details of each shop, and in many cases, another link to the brand website. That way, you can familiarize yourself with what is on offer ahead of your visit, to narrow down your search.

Kojima Jeans Street website
http://jeans-street.com
Seamless Knowledge and Service
Many of the shop staff speak English, and all seem to have an unrivaled knowledge of denim and jeans. Soon my head was spinning with information about premium cottons, growing regions, denim dyeing, weaving, weight and selvedge. This was before I even started contemplating brands and styles—from familiar, traditional cuts, to fantastic, out-of-the-ordinary contemporary designs.

Most of the denim here is manufactured with thread that is dyed conventionally, with synthetic indigo dye. Typically, the warp yarn is dyed and weft yarn left undyed, which is why jeans are "white" inside. But Kojima also has higher-end options made with thread dyed with Japanese natural ai indigo (the key word is "aizome"). Jeans made with this denim don't develop the white patches typical from wear, tear and fading of regular jeans. You can even find jeans crafted from denim made of warp and weft that have both been dyed, producing a more solid blue. This is just scratching the surface of the wonders of denim: the attention to the detail that goes into these Japanese brands is a huge part of the appeal.
Even Rookies Can Soon Cotton On
Shops differ in their offerings and their shop displays. Japan Blue Jeans fastidiously labels the regions where its cotton originates and the denim's weight, which gives you an opportunity to compare the different feel of the fabrics. Blue Wall has displays showing different cuts of jeans and samples that have faded over different lengths of time. That's a good indication of what you can expect over time depending on the frequency of washing. (Of course, die-hard denim addicts rarely wash their jeans.) The staff at both places were very friendly, with great service.
Customize and Tailor-made
Big John is a name that is synonymous with the history of Japanese jeans. It claims to be the first brand to make jeans domestically, from denim imported from the U.S. Their Kojima store is just like their name—big—and so is the selection. They offer hands-on workshop experiences in dyeing and attaching rivets, but this must be booked in advance. Even without joining a workshop, you can view the work areas, and it's worth noting that some of the in-store jeans artisans have been making jeans for 20 or 30 years. Big John has styles that can be ordered to fit. It is even possible to have a pair of jeans tailored from scratch, but those won't be ready for a few weeks—or months—depending on the degree of customization.

Nearby, Blue Trick has an extensive range of beautiful denim skirts, dresses, shirts and other clothing that transcends the category of jeans.
Jeans with Flare
The choices on offer at Dania Japan must be seen to be believed. Aside from their regular line, a section of the store is dedicated to hand-crafted "up-cycled," unique items that are veritable wearable art. While somewhat pricey, no two pieces are alike. The pants, jackets and accessories are cleverly patched together from denim salvaged from old clothing, labeled as "Bolo" (presumably from the word boro, meaning "shabby"). The clothing is crafted with sustainability in mind. Dania values "buying products directly from people," and so the head of the company also serves customers in-store. Aside from clothing, they also have cute denim backpacks and smaller, more affordable trinkets.
Indigo for Ingesting
There are a number of eateries and cafes aimed at tourists along Jeans Street, and others can be found on nearby side streets. Novelty treats with a jeans theme include "denim soft cream" available at Rivets—actually vanilla soft cream containing Kojima salt and colored with ai (indigo). Café Japan Blue Garden offers ai tea and blue lemonade.

G-Panda is the town mascot—a pair of jeans with a panda face who is featured on clothing, accessories and knick-knacks all over town. Just before the entry to Jeans Street, Kikuya Seika is an old Japanese sweets shop famous for dorayaki—small pancakes filled with azuki bean paste.
More than Just Jeans
Aside from the jeans boutiques, local shrines and temples offer a pleasant break from the shopping. But even more of a treat is the Nozaki Family Historic Residence—a beautiful, well-preserved house built by salt merchant Buzaemon Nozaki in 1827, now converted into a museum of the salt business. In addition to the house, there are original storehouses, and extensive gardens featuring three tea houses.

Nozaki Family Historic Residence
1-11-19 Kojimaajino, Kurashiki City, Okayama Prefecture
Entrance Fee: ¥500 (Closed Mondays)
Website: https://en.nozakike.or.jp/about-nozakike
Getting to Jeans Street
Kojima Jeans Street is approximately a 10 to 15-minute walk from JR Kojima Station, or 5 minutes by bus. Kojima is around 20 minutes by train from Okayama by the JR Marine Liner rapid service. The trains usually continue across the Seto Ohashi bridge to Takamatsu, the capital of Kagawa Prefecture on Shikoku island, making Kojima a convenient stopover. Alternatively, Kojima Station is accessible from Kurashiki Station by regular bus, which takes about 40 minutes, or by the direct Jeans Bus that operates from Kurashiki Station Fridays through Sundays, and public holidays.