5 Japanese Cooking YouTubers You Must Watch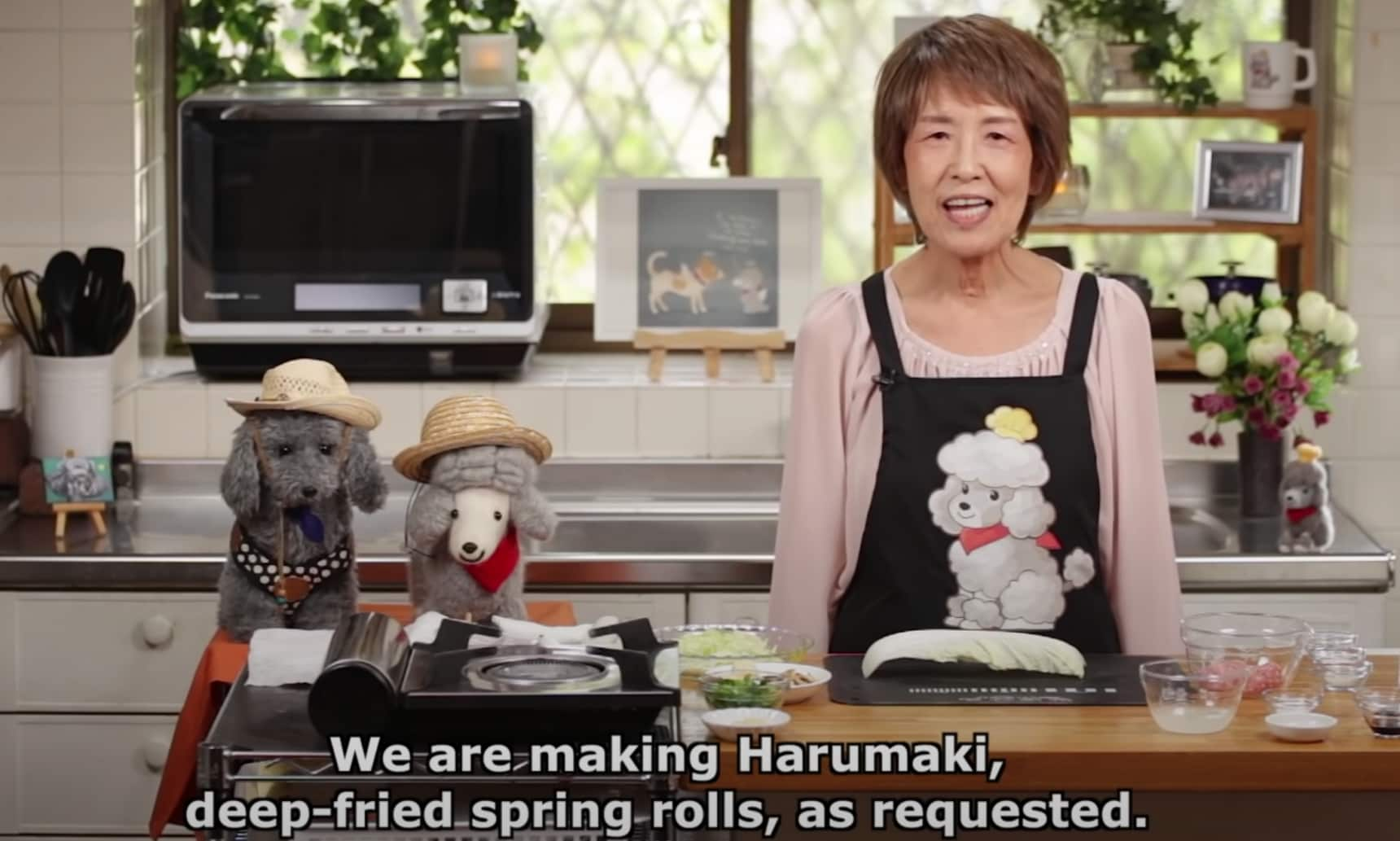 Cooking With Dog
The grandmother of Japanese cooking shows, "Cooking With Dog" debuted on YouTube as a weekly series way back in 2007, only two years after the platform launched. Until he ascended to the great kitchen in the sky in 2016, titular poodle Francis would sit obediently by its owner, a woman known only as Chef, as she prepared just about every Japanese dish imaginable. With her relaxed, homespun intros and outros in Japanese, and a mellow narration in English (supposedly by Francis himself but allegedly by Chef's son), the show has been wildly successful, racking up over 1.5 million subscribers and launching a spinoff series called "Go! Francis!"

The main show has downshifted in recent years to only one new episode every two months or so, but its beloved sous-chef lives on in the form of stuffed or animated animals as well as the narration. Some of the channel's most popular dishes include: perfectly balanced bento, yaki gyoza (fried dumplings), ebi furai (deep-fried prawns), futomaki sushi and California rolls, omuraisu (omelette over fried rice) and takoyaki (deep-fried balls of batter around bits of octopus). Chef is equally skilled at preparing treats like mouthwatering strawberry sponge cake, melonpan (a kind of sweet bun) and Japanese soufflé cheesecake. They'll make you sit up and beg for more.
Japanese Cooking 101
If you're just getting into Japanese cuisine, or you're still a beginner in the kitchen, this channel is a very helpful resource. Hosted by Noriko and Yuko, two cooks who were born in Japan but now live in California, Japanese Cooking 101 is focused on everyday home-cooked Japanese meals that are easy to prepare. While they're known for bento recipes—they coauthored the 2018 book Simply Bento: Delicious Box Lunch Ideas for Healthy Portions To Go—their most popular videos include how to prepare Japan's staple meals. Examples include curry and rice, known as kare raisu in Japan, miso soup, ramen, tonkatsu deep-fried pork cutlets, karaage friend chicken, onigiri rice balls, and, of course, steamed rice.

They also introduce some delectable recipes for Japanese sweets such as dorayaki (anko sweet red bean paste between mini pancakes, a favorite of Doraemon), mitarashi dango (skewers of mochi rice balls in sauce), and matcha green tea ice cream. Narrated in English, the videos are simple, straightforward and laser-focused on the cooking, with tips on how to source Japanese ingredients outside Japan, for instance swapping cucumbers for nagaimo, a type of mountain yam, when preparing vegetable somen.
Jun's Kitchen
"Jun's Kitchen" is a personality-driven cooking show, with emphasis on the host's lifestyle and pets; visuals are prioritized over cooking instructions. Junichi Yoshizuki is one half of influencer couple Rachel and Jun, whose "MyHusbandisJapanese" has accumulated 2.6 million subscribers since 2012. That channel has been dormant for several years, but spinoff series "Jun's Kitchen" is going strong, with a few dozen videos so far, corporate sponsors and double the subs. If you like cooking with cats, this will be your catnip. Not only does Jun prepare deluxe dishes for his cats, including cat food sushi and bonito flakes, he whips up human fare like katsu kare (pork cutlet), ramen, okonomiyaki crepes, crab cream croquettes, yakizakana (grilled fish), tempura udon and sukiyaki.

His repertoire of Western foods includes vegan burgers, beef Wellington, crepe suzette and blueberry cheesecake. Some videos are meditative and feature outings in Kyushu with cats in tow. An added bonus is the non-cooking how-to videos, some of which are big hits. A clip training cats (you'll need a lot of snacks and patience) has amassed 68 million views, while a DIY video on how to polish a rusty knife, in which Jun turns a tarnished second-hand blade into a gleaming, razor-sharp cleaver, has been watched nearly 54 million times.
Imamu Room
For someone who began cooking only seven years ago, learning from books and the internet, "Imamu Room" has an impressive following at around 850,000 subscribers. Online since 2017, Imamu Room is hosted by the titular Japanese chef who lives in Canada with her husband and young daugher. Known for bento, particularly bento created for her husband ("husbento"), the channel is all about family cooking. Imamu prepares a bento plan every week, carefully balancing the flavor, color and texture of the ingredients.

Her favorite bentos are corn rice and fried mackerel, fried quail eggs and sausage, and teriyaki salmon, fried chicken and konjac. As you can see, the channel leans heavily toward fried dishes and meat, but these are all everyday dishes in Japan. In terms of production, Imamu keeps things very simple: English subtitles, no narration, and only brief on-screen appearances by the family as they tuck into another homecooked meal. Her self-deprecatory comments are always amusing, and her humble, can-do attitude lends this channel an endearing quality. "Let's survive another week," Imamu writes before introducing a new recipe. That's something to which we can all aspire.
Miwa's Japanese Cooking
Started in early 2020, "Miwa's Japanese Cooking" already has close to 90,000 subscribers, proving that YouTube audiences can't get enough of everyday Japanese food. Kamakura-born Miwa has lived in the US and UK and has worked as a salesperson and yoga instructor. She's now the mother of two young boys and offers cooking classes based in Tokyo's Shinagawa district. Her channel gives us another look at what Japanese families eat on a daily basis, with voice-overs in English and easy-to-follow recipes.

What makes Miwa's channel stand out is its spotlight on healthy washoku meals and vegetables; the traditional Japanese culinary philosophy of ichiju sansai (one soup, three dishes) is the basis for her approach. Here popular videos include overviews of dashi soup stock and its health benefits, fermented foods like natto pancakes and traditional Japanese breakfasts of sautéed salmon, tofu, rice, miso soup and pickled vegetables. Miwa has also produced more specific videos on recipes like miso butter salmon, bento boxed lunches for kids, miso cream pasta, agedashidofu (fried tofu), vegan goya chanpuru (bitter melon stir-fry) and tamagoyaki (rolled omelette). On top of all this, Miwa has some interesting clips on supermarkets in Japan, pantry essentials for Japanese cooking, and Japanese comfort foods for when you're feeling under the weather.