Snowshoe Adventures in Japan's Powder Snow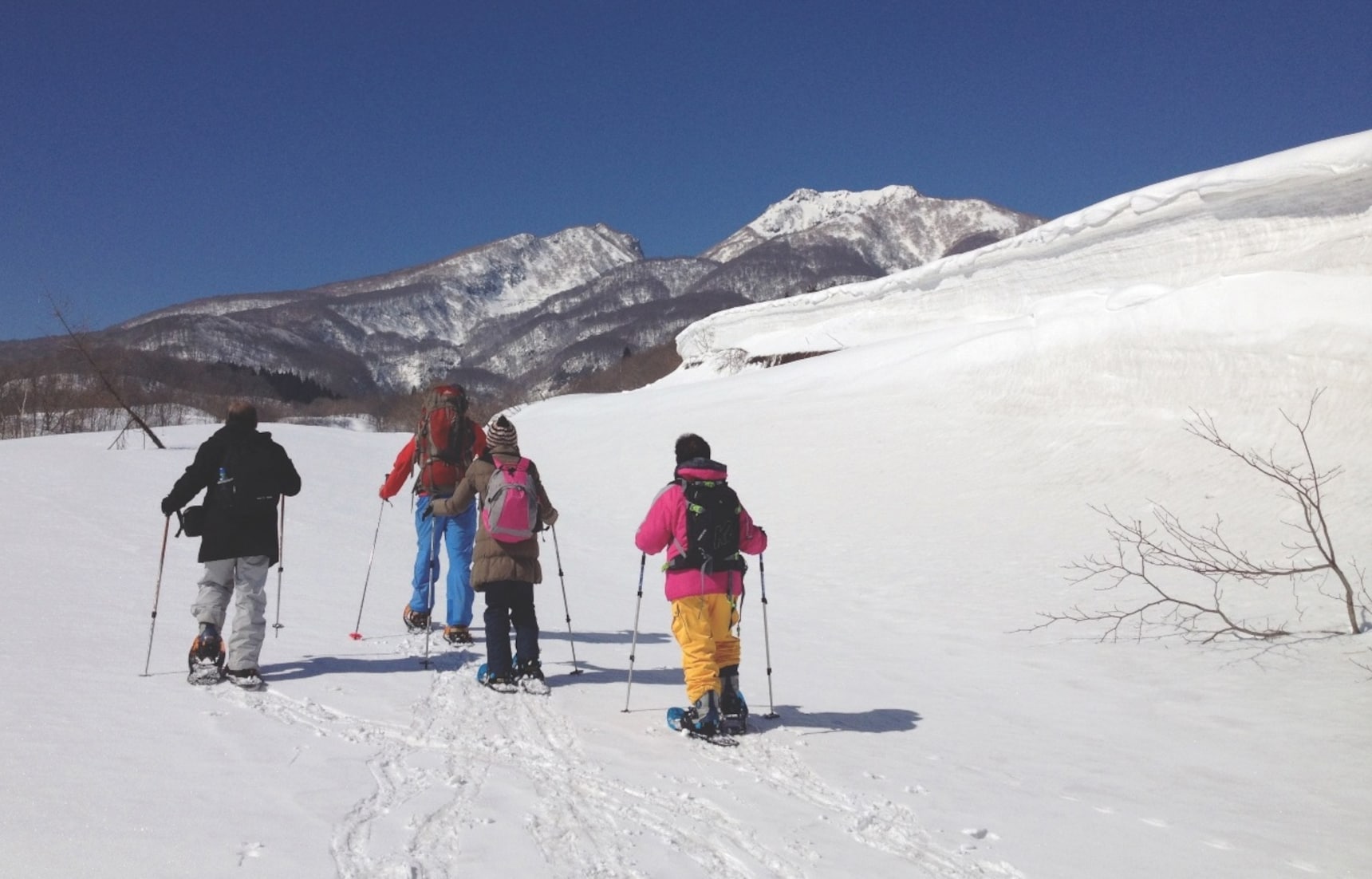 Not to the Japanese skiers, of course, who from the early days of the 20th century took advantage of the fact that, in winter, cold Siberian winds head across the Sea of Japan, pick up a whole lot of moisture, and then dump that water as unbelievable amounts of snow on Japan's mountains.

In the 2000s, international skiers began to discover that Japan, in fact, has some of the best winter conditions in the world. Niseko, on the western coast of Hokkaido, became famous early on and has developed rapidly as an international resort. Even more snow, however, falls on the seaside mountains of Niigata and Nagano. Consider that Joetsu City, Niigata, received 229 centimeters of snow in January of 2021. In one day.

Today thousands of international skiers now head for resorts in Japan, all of which almost guarantee excellent snow conditions and world-class facilities throughout the winter. "Japow"—Japan powder—has made the country one of the global must-visit destinations for skiers.

So what to do if those snow-covered winter mountains, the food, the saké and all the other Japanese attractions sound pretty good—but you don't ski? Or if you're looking for something to do in the mountains without lugging ski equipment around?
Snowshoe Basics
Old and New: Traditional kanjiki snowshoes on top of the modern version.



Modern snowshoes provide ideal access even in the deepest snows, and you'll be exploring the winter world in a way that the skiers will envy. Alright, you won't be slashing bottomless fields of powder, but you will be getting intimate access to the beautifully-shaped, tree-covered landscape that makes up most of the areas outside the ski areas. And there's much more out there.

Japan has long used kanjiki, a simple snowshoe made of a ring of bent wood with a lacing of rope across the form and a simple binding of tire innertubes to affix the feet. These still come in a variety of regional shapes and styles, and make a pretty good purchase, as any home center in snow country sells them at a reasonable price. They're perhaps the best footwear possible for shoveling off snowy roofs.

For real fun on a hike in the snow, though, modern plastic snowshoes with solid straps or the newer reeled-cable binding system are the way to go. They're light, stay on your feet, and provide plenty of floatation in even the deepest snows. Grab a pair of adjustable ski poles with big powder-snow rings for balance and to add some upper-body strength to the trek, pack up some food, water, spare clothes and gloves and you're pretty much ready to go (more on that later).

What you will discover, first of all, is wonderful solitude. Soon you'll notice, too, that the snow is not entirely unmarked: the tracks of rabbits, foxes, itachi (weasels), ten (martins) and tanuki (raccoon dogs) are likely to be heading from one patch of trees to another.
On the Watch for Wildlife
Keep an eye out for signs of wildlife like tracks of rabbits, or the claw marks from bears (who are hibernating in the winter) on the tree trunks.


Walk quietly, and keep your eyes open as you come to a rise, or a streambed: you're likely to see one of these animals in person, most likely a rabbit—really something like a snowshoe hare—in a winter coat of white, with just the black tips of the ears and eyes standing out against the snow.

Most of the ski areas are set at the bases of volcanic peaks, so trekking into the forest means entering a land of valleys and ridges that will begin to rise more steeply as you progress in the direction of the peaks. Here the footprints may also include the cloven hoofs of kamoshika, often called goat-antelope (but not related to either), and formally known in English as serow. A protected animal, their numbers have been increasing across Japan, so it's very likely that you may meet one of these shaggy creatures during a trek. They may run, even sometimes seeming to jump over cliffs, or simply stand motionless, staring at you with their strange goatlike eyes. Hopefully, you'll get the camera out before they bolt for the woods.

Another woodland resident whose numbers have been increasing is the tsuki no waguma, or black bear. They will be hibernating, so it's extremely unlikely that you'll meet one, but you will almost certainly see the marks of their claws on the beech trees—paw-shaped indentations on the way up, long scars from the slide down.

Even more interesting are the kumadana they build in summer, little nests way up in the trees where they may spend at least half of their day, up in the breeze and away from the bugs. In the summer the woods are almost impassable, covered in dense, jungle-like grass bamboo. In the winter you can walk almost anywhere, pausing to look up at the crazy bear nests way up in the trees.
When Guides are a Good Idea
That ability to go almost anywhere is a good reason to consider using a guide for more adventurous hikes. All those valleys and ridges mean terrain that can lead you astray and make it hard to get back home (especially if deep snowfall is covering your trail). If you are out alone, you do need to think about carrying a first-aid kit, and a map or GPS, or have a good app for tracking your hike so you can then follow your trail back out. Even then, a local guide can help give you the kind of experience you want and get you to the best possible locations, at a level that matches your fitness level.

Many towns throughout the resort areas have well-marked trails, a great choice for a first expedition out into the snow. Rentals are also widely available. All you need is some good skiwear and waterproof boots, items that are also often available for rent in ski towns across Japan.
Where to Go Snowshoeing
Almost anywhere there is snow in Japan there are places to rent snowshoes and find a guided tour. The quality of gear, and the types of tours, vary greatly—just make sure that the tour being provided is what you're looking for! More adventurous hikers may find some local tours, conducted on well-marked (and well-traveled) paths a little too restrictive.

Here are a few to start:

Hakuba, Nagano
Evergreen Outdoor Center
Provides group, private and half-day snowshoe tours in Hakuba. Rentals available.
4377 Hokujo
Hakuba, Kitaazumi District, Nagano 399-9301
Tel: 0261-72-5150
backcountry@evergreen-hakuba.com


Myoko, Niigata
Dancing Snow
Provides group, private and half-day snowshoe tours in Myoko. Rentals available.
218-196 Tagiri
Myoko-shi, Niigata-ken 949-2102
Tel: 0255-77-4931
info@dancingsnow.com

The border area of Nagano and Niigata
Shin-etsu Shizenkyo Activity Center
This regional outdoor center is located within Iiyama Station on the Hokuriku Shinkansen and Iiyama train lines. It provides a wide range of outdoor rental gear, including snowshoes, as well as introductions to guiding companies throughout the deep-snow region of northern Nagano and southwestern Niigata ("Shin-etsu" in fact combines the two traditional names for Nagano and Niigata, Shinshu and Echigo).
Tel: 0269-62-7001
https://www.shinetsu-activity.jp/en/contact/
Located within JR Iiyama Station

Niseko, Hokkaido
Backcountry Glide
Snowshoe tours and rentals in the Niseko area.
182-9 Yunosata, Rankoshi-cho, Isoya-gun, Niseko
Tel: 090-6994-5098
Mail: jun_skiman@bcglide.com