Top 11 Airbnb Vacation Rentals Near Mount Fuji
Mount Fuji is Japan's highest mountain, at a height of 3,776 meters (12,388 foot). It is a beautiful natural wonder that has inspired many Japanese folktales, with panoramic views and nearby hot spring resorts. If you are visiting Mount Fuji and need a place to stay, then be sure to check out the best Airbnb vacation rentals near Mount Fuji.
6. Accommodation near Fujisan Station (from SGD 44)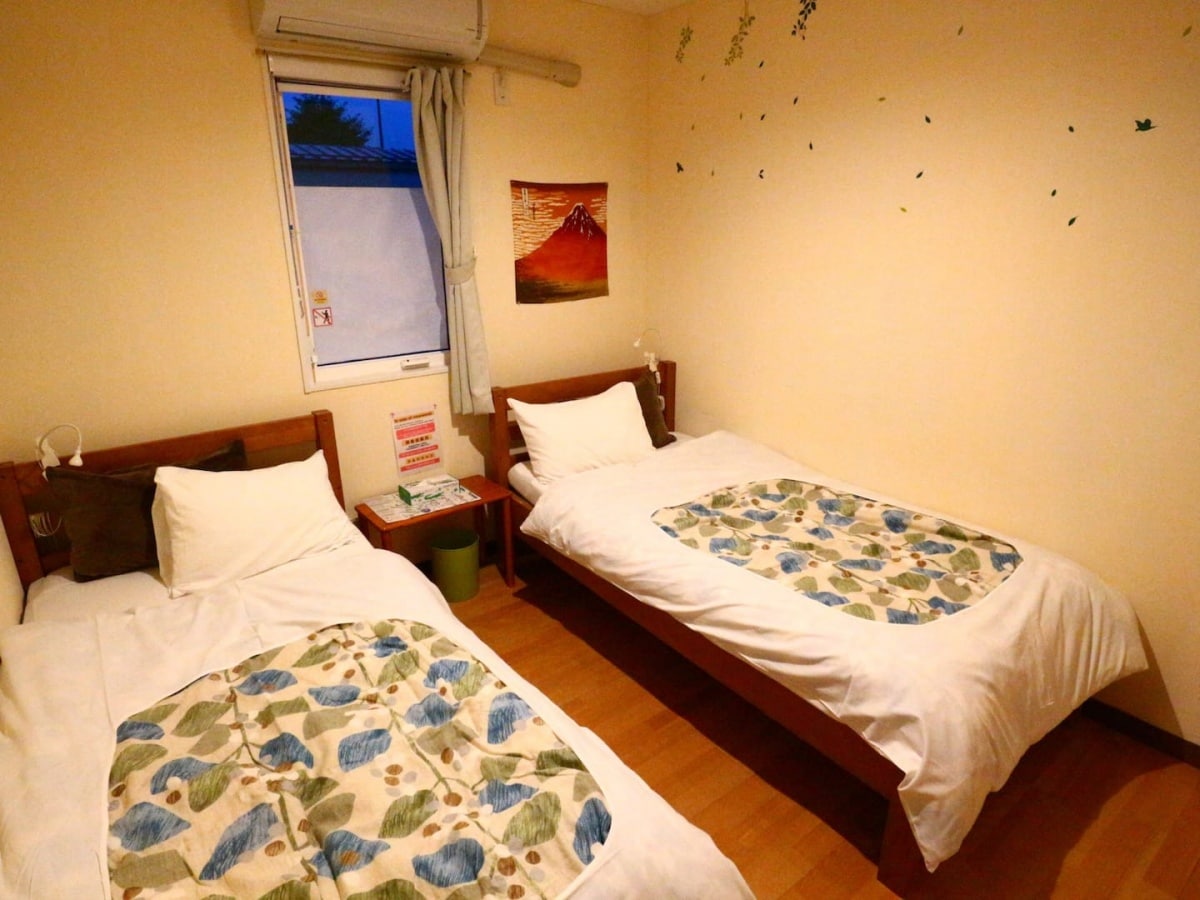 This hostel near Fujisan Station offers a private room with two single beds. Guests have to share bathrooms, the living area, and the kitchen. Complimentary breakfast is served to guests during their stay. Those traveling by car can also request for on-site car parking. If you are a business traveler, you will also find free Wi-Fi and laptop friendly desktops at this Airbnb vacation rental. A number of eateries are also located nearby, excellent for grabbing lunch and dinner.
5. Hostel near Mt Fuji
This hostel is located at a short walking distance from Mt Fuji's Chureito Pagoda. Although this is a hostel-based accommodation, this rental is suitable for couples, business travelers as well as groups. The common kitchen has a water boiler, microwave, toaster, and fridge. Both Gekkouji Station and Fujisan Station can be easily reached from here. Bus stations are also located nearby, which means you can explore other places with ease.
4. Garden villa near Mount Fuji
If you want to feel like you've stepped out of a fairytale, this private resort surrounded by peaceful forest woods may be just what you are looking for. A private condominium near the Arakurayama Asmara Park, you get to appreciate a slower pace of life. There are many activities found nearby. Skiing and golfing can be done at the leisure facilities nearby, and you can also climb Mount Fuji. There are amenities such as a kitchen, Wi-Fi, a TV, and access to a shared pool.
3. Mount Fuji loghouse
A cozy log house located near Mount Fuji that fits four guests, this place is perfect if you want to relax in a hot tub. Apart from the hot tub, other amenities include a kitchen, Wi-Fi, and a TV. An air-conditioning unit is not needed as the house is near the lake and temperatures reach a mild 23 degrees in summer. The hot spring facility, Yurari, is twenty minutes away, and it has sixteen different types of hot spring baths for you to enjoy. A ten minutes' drive takes you to shopping malls and restaurants near the villa.