This Restaurant Got a Star in 2 Months
Hainanese Chicken Rice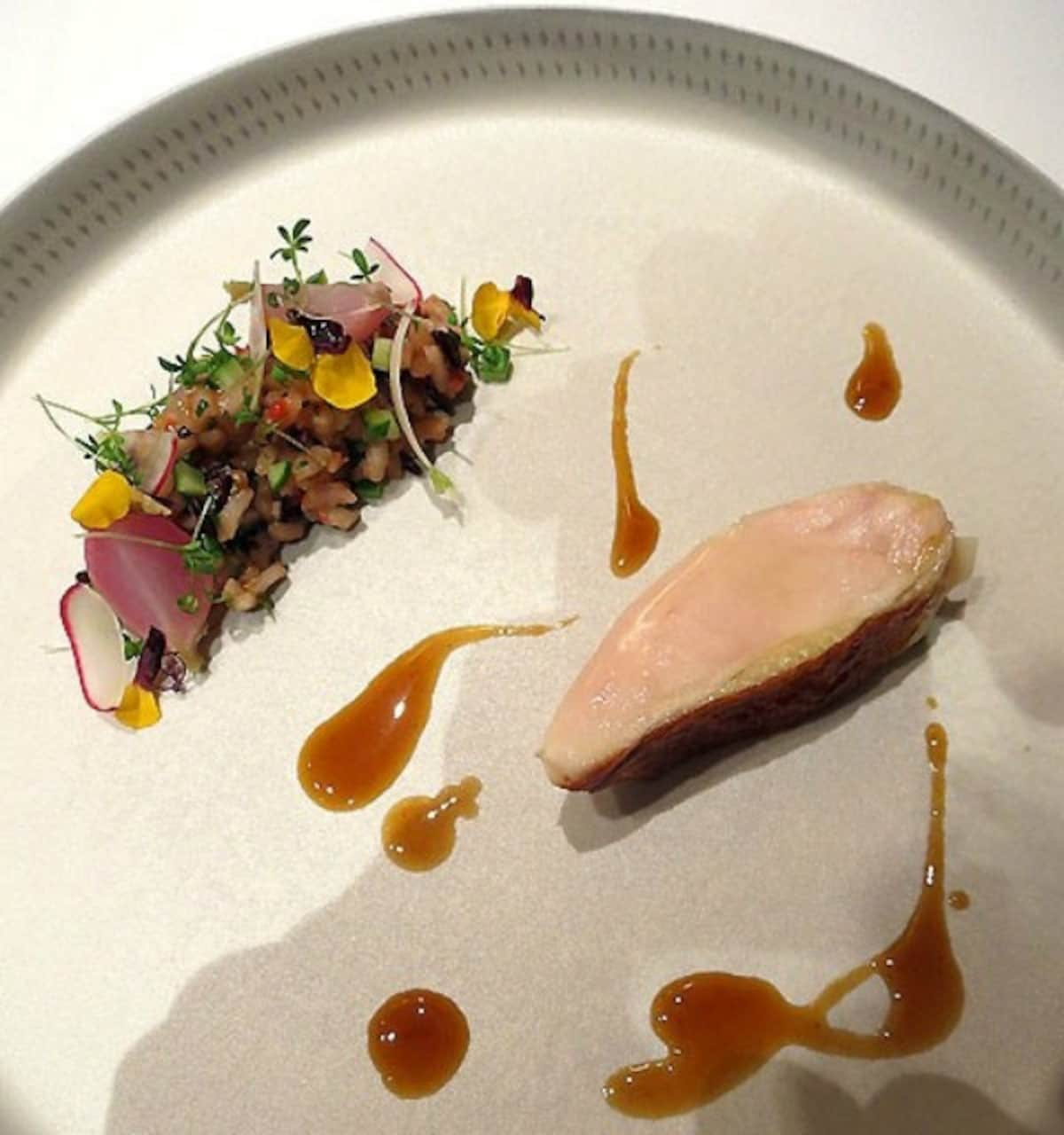 This is Singaporean chicken rice (Hainanese chicken rice) reinterpreted as modern French. Shamo, a game fowl with robust flavor, is cooked on low heat. Black rice cooked in stock with lime and coriander is combined with a sauce created from chicken stock and lemongrass. The lemongrass has an exceptional fragrance and a sharpness that penetrates the shamo meat.
Japanese Butterfish
This is Japanese butterfish caught in Hagi, Yamaguchi Prefecture, with a whelk sauce. The butterfish skin is light and crispy. The delicate flavors come through just as they are, while the whelk is truly delicious.

The dish is served with an artichoke frit and is sprinkled with fennel leaves. The fennel salad is also decorated with fennel leaves and seasoned with lemon.
Foie Gras
Contrary to what you would expect, the foie gras is served after the fish and not before. This is because white wine is served up to the fish dish, while sweet and red wines are served from the foie gras onward, so that guests can enjoy their wine in a more natural way.

A butter cream Paris-Brest serves as an alternative to a foie gras terrine. It's topped with an almond praline sauce and garnished with raisins soaked in whiskey. Surrounding the Paris-Brest are roasted nuts—pistachios, almonds and hazelnuts, which add both aroma and texture. The scent of the nuts and the crispiness of the pastry take your attention completely away from the heaviness of the foie gras.
Lacan Pigeon
This is pigeon from the region of Lacan in southern France. A whole bird is roasted slowly, allowing its soft meat and original flavors to be enjoyed to the utmost.

The pigeon thighs are wrapped in innards. The red beet sauce is sweet, while the spiciness of the Amanaga pepper adds zest to the dish.
Water Jelly
This is a refreshing dish to follow the meat dishes. Wasanbon sugar and sudachi vinegar, specialties from Tokushima Prefecture, are added to jelly that has been made using water from Mount Tsurugi in Tottori Prefecture. In a way that is unusual for French cuisine, the dish is drunk directly from the bowl. Each bowl has unique color variations that appeared while the bowls were being fired.
Pear, Grape & Acacia Flower
This dish is created from wood sorrel, fromage blanc mousse, fragrance, a compote of grape in sherry vinegar, grapes, and acacia flower ice cream. The delightfulness of autumn fruits can be enjoyed to the fullest.
White Pumpkin Truffle
This is a tuile filled with pumpkin mousse, white truffle ice cream, and finally chocolate gateau at the bottom. I held the white truffle ice cream in my mouth for a while before swallowing, its flavor filling my mouth.

A diagonal line of pumpkin paste runs along the plate and is arranged with roast pumpkin, apricots, hazelnuts and fresh cream. The Moriyama glass plate fits the dish well. The dessert was created entirely by pastry chef Kiriko Nakamura.
Coffee & Petit Fours
Coffee iis served in Raynaud cups and saucers, along with petit fours of cheesecake with framboise sauce and chocolate cake.

Read the original in Japanese from All About buffet and French restaurant guide Toryu. You can reserve Tirpse in English here.