Walk on the Wild Side in Akan-Mashu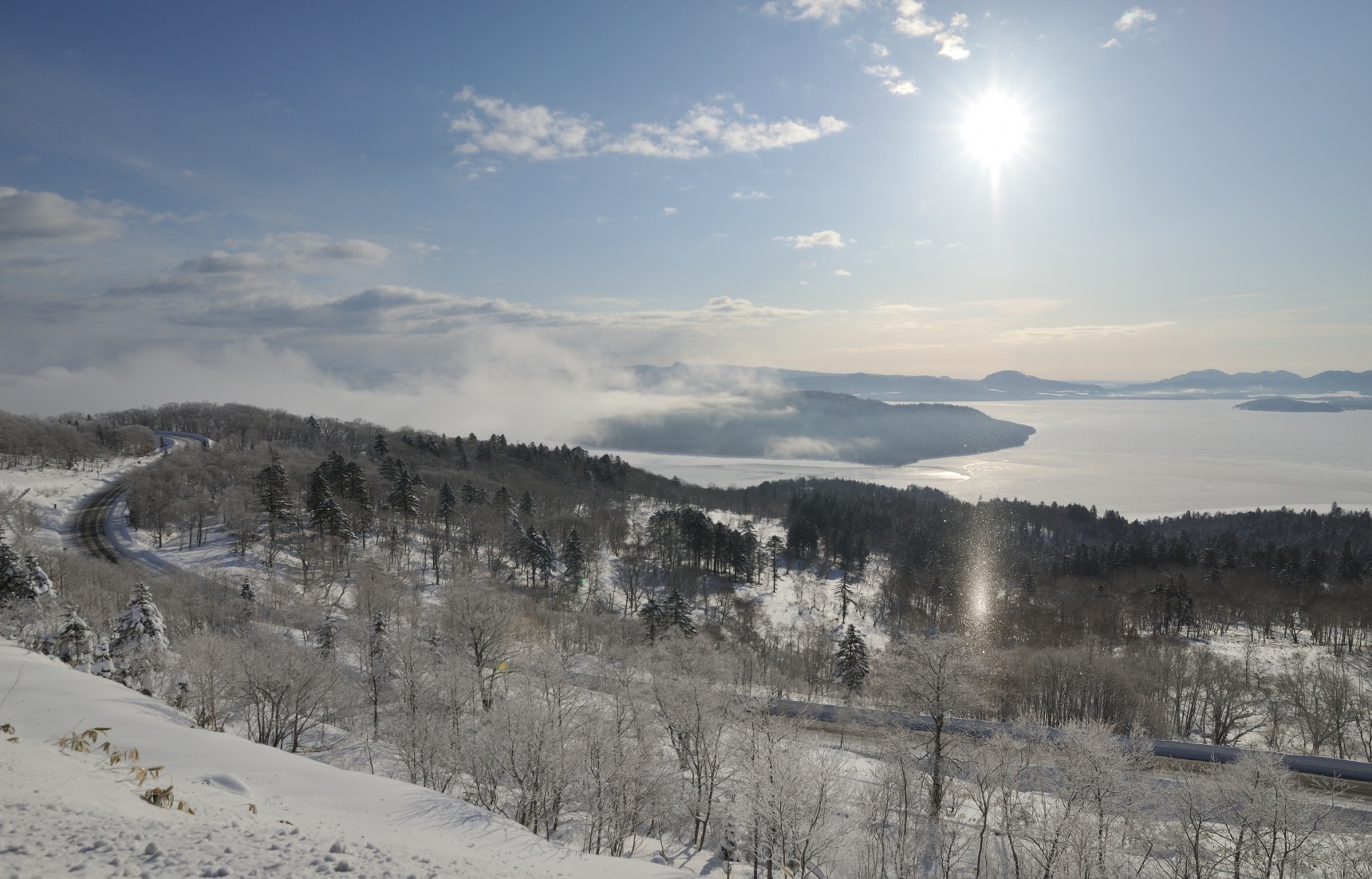 The park is also home to two villages of the Ainu, Japan's indigenous people , with Akanko Ainu Kotan serving as a representative place to learn about Ainu culture.

Top Photo: Lake Kussharo covered in glittering diamond dust.
Ancient Lakes
Lake Akan

Centrally located in the Akan caldera, this expansive lake is home to a variety of flora and fauna, of which the curious marimo is most notable. This rare type of algae grows underwater, and though it can be found in other parts of the world, only in Lake Akan does it take on a distinct spherical shape, like little green balls on the lake floor.
With a hot springs town right beside the lake, activities are available all throughout the year, including boating and fishing in the summer months and ice skating and snowmobiling over the lake's frozen surface in winter. Pleasant walking trails through the lakeside forest even offer glimpses of small, sputtering mud volcanoes known as bokke.
Lake Kussharo

The lake runs 26 kilometers from east to west, and 20 kilometers north to south, which makes Lake Kussharo Japan's largest caldera lake. When this massive body of water freezes over in winter, sheets of ice collide and push up fragments, forming a raised, jagged line over the lake surface in a phenomenon known as omiwatari—literally, "the passing of a deity."

Here, too, there are a number of scenic hot springs around the lakeshore to enjoy.

At Sunayu, the warm hot springs are so shallow that you can actually dig through the sandy shore and create your own footbath. While enjoying superb views of the lake here and at Kotan Hot Springs, you may also see flocks of migratory whooper swans hanging around nearby during the colder months.

Photo: Swans gathered on Lake Kussharo.
Lake Mashu

Surrounded by steep crater walls hundreds of meters high, this caldera lake has no connecting rivers or streams to deposit sediments or nutrients; the water only comes from rain and snowmelt. This is thought to be one of the reasons Lake Mashu features some of the clearest waters in all of Japan, holding records for the highest underwater visibility.

The high cliffs preclude public access to the water itself, but observatories and hiking trails around the caldera offer excellent viewpoints of the beautiful cobalt blue lake surface. In the coldest part of winter, the trees in the primeval forest around Lake Mashu become covered with hoarfrost, creating a fantastical winter wonderland.

Photo: The view from Lake Mashu First Observatory.
Rugged Volcanic Terrain
Mt. Io

Known as Atosa-nupuri ("naked mountain") by the Ainu and Iozan ("Sulfur Mountain") in Japanese, the name says it all. Sulfur and volcanic gases have rendered the upper slopes of this mountain free of all vegetation, giving it a strangely barren, rocky surface that contrasts strikingly with the surrounding forest. Regardless of the season, steam can be seen constantly gushing forth from openings in the ground.

The Japanese mined the slopes of Mt. Io from the late 1800s to early 1900s. The mountain played a significant role in the development of Hokkaido, and sulfur was transported by train down to the port of Kushiro for export to other parts of the country. Sulfur miners and their families lived and also relaxed in the nearby town of Kawayu Onsen.

Photo: Smoke billowing from Mt. Io.
Indigenous Culture
Akanko Ainu Kotan

Hokkaido is home to the Ainu, Japan's indigenous people, and the names of many locations around the island are actually from the Ainu language. Hokkaido offers visitors the unique opportunity to visit Ainu Kotan, the largest Ainu community, which is located in Lake Akan's hot spring towns.

At Ainu Kotan, visitors can learn different things about traditional Ainu culture; study their handicrafts, such as jewelry making, embroidery or wood carving, or explore traditional dwellings known as cise. There is also Hokkaido's only National Important Intangible Folk Culture, a traditional Ainu dance, which is performed at the village theater, Ikor.
Ainu Food Culture

While venison isn't necessarily common throughout the country, it is often used in Ainu cuisine. Deer are such an integral component to the Ainu that the very word for deer, yuku, can also refer more broadly to prey or meat. The Ainu consume venison throughout the year, and prepare it in many different ways. Beyond simply grilling or roasting, it is also often eaten as a soup.

Ainu cuisine tends to emphasize the taste of each ingredient with light seasoning, and ingredients are traditionally dictated by what is in season and available in any particular area. Mountain vegetables, for example, are more common in spring and summer, where salmon and mushrooms are available in autumn.