A Crash Course on Tokyo's Plum Blossoms
Although not as famous as their beloved cousin the cherry blossom, ume (plum) blossoms are delicate little flowers that bloom even earlier, and herald the coming of spring. If you're going to be in Japan from late February through early March, you definitely want to keep your eye out around Japan's capital city for these blooming beauties!
The Start of Spring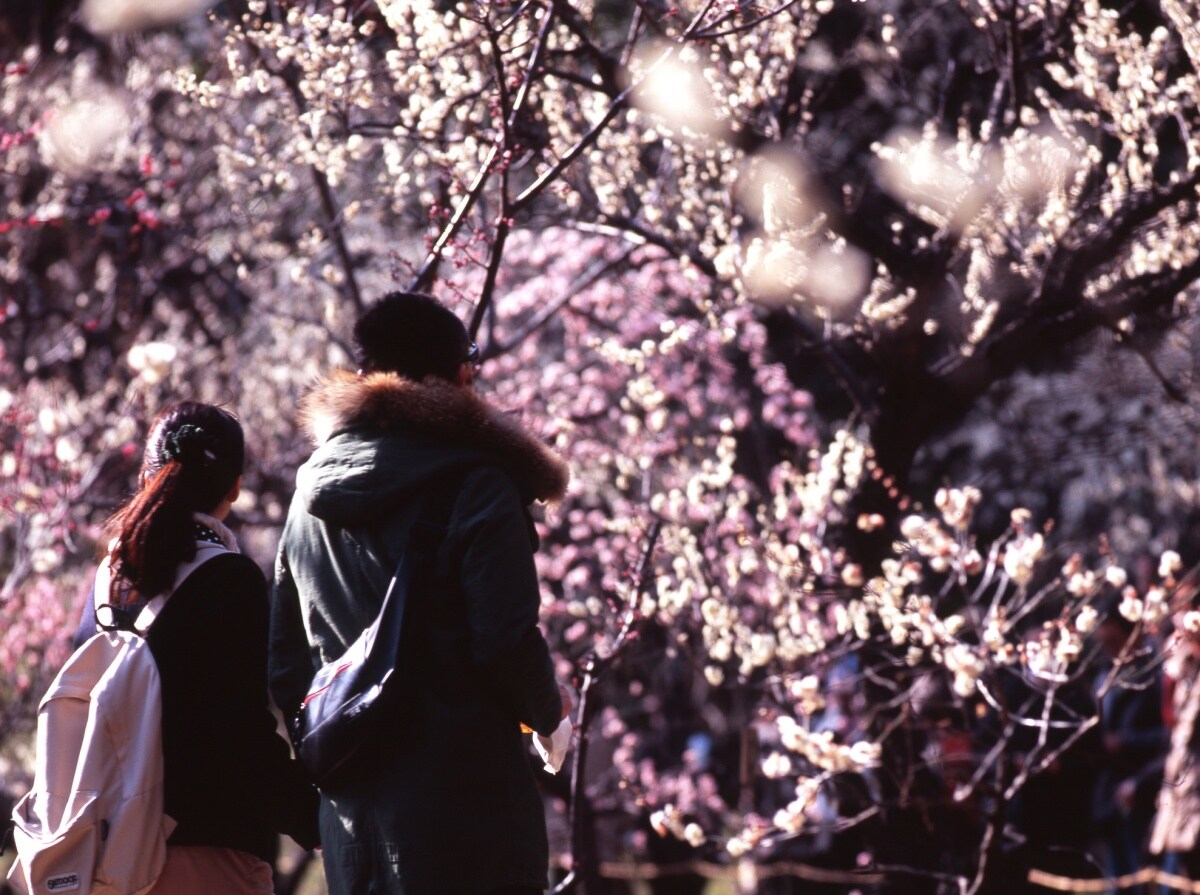 Like cherry blossoms, plum blossoms also come in varying shades of pink and white. Beyond their eye-catching pastel colors, the flowers themselves are quite fragrant, and act as the first sign of the change of seasons. Because they bloom earlier than sakura they are strongly associated with early spring—in fact, plum blossoms were supposedly the preferred flower for hanami flower-viewing events through the Nara Period (710-794).

Today, Tokyo and the surrounding area still celebrate the arrival of ume blossoms with a number of festivals, and though they're a bit more low-key than later hanami events, they're still an incredible way to kick off the festive spring season.
When is Peak Season?
As mentioned previously, plum blossoms come out a little earlier than most other spring flowers, typically while the weather is still mild and a bit chilly. Although it varies depending on temperature, blooming season usually kicks off from February to mid-March. They generally reach full bloom in late February or early March, which is the best time to see them!
Different Types of Blossoms
The leaves of a plum blossom are a dark purple-red color, and are flat and open, while cherry tree leaves are green and look like they've been folded down the middle. The petals are an easy giveaway too; the shape, color and number of petals on each flower will give you a good indication of which flower you're looking at. Peach blossoms, which also bloom quite early, are teardrop shaped. Plum blossoms are more even and round, while cherry blossoms have a cleft at their tip, like two little ears.

Color-wise there are a few defining factors, but similar colorations can make it a bit harder to identify by color alone. The general rule is that only plum blossoms get so dark they look almost purple. Peach blossoms are only ever pink, while both cherry and plum blossoms can also come in shades of white too.

You can also figure out what type of flower it is depending on how they attach to the tree. Peach blossoms have short stems from which two flowers sprout, cherry blossoms have long stems that connect the flower to the branch and plum blossoms have no stem—they sprout straight from the tree!
Where to See Plum Blossoms
Now that you know what plum blossoms are, here are a few great places around Tokyo where you can see them!

Hanegi Park
The Setagaya Plum Blossom Festival (Setagaya Ume Matsuri) is definitely a calendar highlight. Held in Hanegi Park, which is home to about 600 plum blossom trees, the 2019 event runs between February 9 to March 3. On weekends it features family fun celebrations, including performances of traditional Japanese music and poetry, as well vendors selling plum-centric foods and snacks.
Address: Hanegi Park, 4-38-52 Daita, Setagaya City, Tokyo

The Odawara Plum Festival
Make the trek out of the heart of Tokyo to check out the Odawara Plum Festival, which is one of the biggest plum blossom parties in the area. The festival runs from early February through to the first weekend of March and is held across four venues: Odawara Castle Park, Odawara Flower Garden, Tsujimura Botanical Garden and Soga Plum Grove. With a staggering 35,000 plum blossoms and Mount Fuji as the backdrop, Soga Plum Grove is usually the most popular location of the bunch. During this time of year, Odawara is in full festive mode, and hosts countless food stalls and public performances of traditional Japanese arts, as well as horseback archery!
Address: 282, Sogabessho, Odawara, Kanagawa

Shiba Park
Built around Zojoji Temple, Shiba Park in the Minato ward is an excellent place for those who want to snap a few shots of picture-perfect plum blossoms with a traditional Japanese backdrop. Home to around 70 white and purple trees in total, it's a photographer's delight. The park also boasts a great view of Tokyo Tower as well, which is downright photogenic in and of itself!
Address: Shibakoen, Minato, Tokyo 105-0011

Yushima Tenjin
For a little more shrine hopping, head on over to Yushima Tenjin in the Bunkyo ward. With a history that goes back to 458, this iconic Shinto shrine is a little escape into Japan of days past. If you're more interested in partying than studying history, Yushima Tenjin is also home to the popular Bunkyo Ume Matsuri which sees swarms of Tokyoites gather to enjoy the beginning of the spring picnic season.
Address: 3-30-1 Yushima, Bunkyo City, Tokyo

Sankeien Garden
Perfect for a Tokyo day trip, Yokohama's famous Sankeien Garden is also known as a great cherry blossom spot. But before that kicks off, it's home to some impressive plum blossoms too! From early February to mid-March, the traditional Japanese-style park is awash in white and pink when some 600 trees come into full bloom. If you're a flora buff, it's here you'll find some of the nation's rarer varieties as well. Keep in mind that there is an entrance fee to the garden of ¥700.
Address: 58-1, Honmoku Sannotani, naka-ku, Yokohama 231-0824